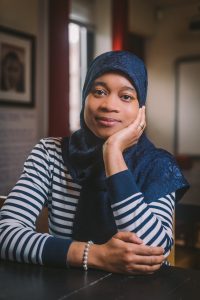 "Books are meat and medicine
and flame and flight and flower,
steel, stitch, and cloud and clout,
and drumbeats in the air." – Gwendolyn Brooks
"I am…a children's book author who aspires to be a griot." – Jamilah Thompkins-Bigelow
These quotes reveal much about today's honoree, her motivation as an author, and the soulful, healing nature of her stories. In a relatively short period of time, she has made a lasting impact on the world of children's literature by penning engaging and necessary stories featuring Black Muslim characters and culture.
Without further ado, we give three spoken word snaps for today's honoree, Jamilah Thompkins-Bigelow!
The Journey
My path was winding, and it was definitely not typical.
I knew I wanted to be a writer since the age of seven when I wrote a story called "Little Ballerina" and wasn't satisfied when I finished writing it. I added a sequel and then another and another until I had an impossibly long series. I wrote stories and poetry all through grade school and even college, but as an adult, I suppressed my dreams of pursuing professional writing.
I come from a working-class background and the idea of writing for a living felt impractical. What if I couldn't pay bills as a writer and wasted the college education my family had sometimes gone hungry to afford? More than that, I was too embarrassed to openly claim my dream. It seemed like too grand a thing to want.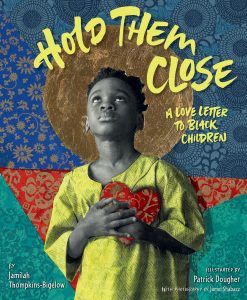 I loved talking about writing though and I loved sharing books with young people, so I became an English teacher. Occasionally, I'd publish an article or write poetry for myself, and I felt fulfilled just doing that.
In 2015, my longing to write more seriously started to gnaw at me. I tried writing articles and other stuff, but none of it was satisfying my craving. Although I was reading lots of children's books with my two sons and I adored those books, writing for kids didn't occur to me.
And then one day, l overheard a conversation in a Muslim women's group, a conversation that I had literally had many times before about the lack of children's books representing Black Muslim kids, and something clicked. I'm not sure why hearing it this time was different from any other time. It was a weird, revelatory, moment – the kind of moment that when I have described it to others has gotten me uncomfortable smiles in response. You know the smile people make when they're quietly thinking someone is crazy? That kind. Anyway…
In that moment, a voice in my head said, you have those stories. And then, I was suddenly flooded with ideas. I had characters and bits and parts of stories all fighting for attention in my head. I had to grab a notebook and jot them all down.
After that, writing for kids became an obsession. I started seeing those picture books I adored as mentor texts. I spent a lot of time in my local library studying kidlit, taking notes, and recreating my own versions of the great writing that I read. I wrote my own picture books and discovered that this was my writing passion.
Now, this is where my path becomes even less typical.
In 2016, I had told only my husband and kids about my books. I was still shy about sharing this writing with others. I had occasionally looked up stuff about the publishing process, but I wasn't thinking much about the submissions aspect yet. To be honest, I wasn't committed to ever sending my manuscripts out. I had a good friend who at the time was an editor at a Muslim journal and was trying to persuade me to submit my writing in a regular column. As a busy teacher with two small kids and a chronic illness, I couldn't write children's books AND articles. I would have to choose. I told her the truth even though I felt embarrassed about it. I shared my dream.
Less than two weeks later, I got an email from this same friend connecting me to a children's book editor at one of the biggest publishers in the world. This editor wanted to publish more books about Muslim children but couldn't find Black voices – a significant Muslim demographic. She had just sent an email out to Muslim editors looking for Black Muslim children's book writers and my friend was on that email list. A few months later, that editor offered me a book deal for my first picture book, Mommy's Khimar.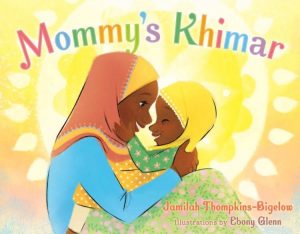 My Inspiration:
There are so many Black children's book authors that inspire me. I am particularly inspired by authors that have a musicality to their storytelling – a call and response and poetic vibe that evoke our griot heritages. They include people who have become ancestors like Virginia Hamilton, Eloise Greenfield, and Ashley Bryan as well as some living legends like Derrick Barnes, Nikki Grimes, and Jacqueline Woodson.
The Buzz: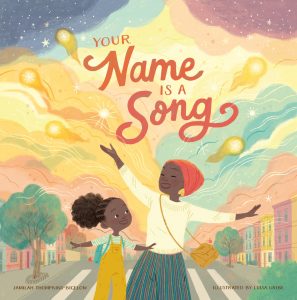 Mommy's Khimar received starred reviews from Kirkus, Publishers Weekly, and Shelf Awareness. It made several best book of 2018 lists, including School Library Journal's and NPR's lists. Probably the coolest honor to me though as a kid who grew up on Book It, was when FirstBook partnered with Pizza Hut to name it one of their five "Empowering Educators" books. They created special editions to give to thousands of students.
Your Name is a Song is an Irma Black Award Honor book and 2021 NCTE NCBLA Award Book. It earned starred reviews and made a number of best of and notables lists, including TIME Magazine's "10 Best YA and Children's Books of 2020." It was selected by the NEA to be the December Read Across America book in 2020.
The Journey Continues…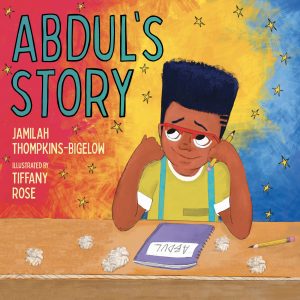 I have four upcoming books, including two releasing this year that I'm excited to share with you…
Abdul's Story features the eponymous main character who has great stories to tell about his Philadelphia neighborhood but needs to develop the confidence to write them. (Salaam Reads/ Simon & Schuster Books for Young Readers: March 29, 2022)
Hold Them Close: A Love Letter to Black Children is a poem that encourages young children to hold close their joy, the words of their ancestors and elders, as well as their power to change the world.  (HarperCollins Children's Books: October 4, 2022)
You can follow Jamilah Thompkins-Bigelow on Twitter @jtbigelow and Instagram @authorjamilah, and visit her website (jamilahthewriter.com) to learn more about her work.