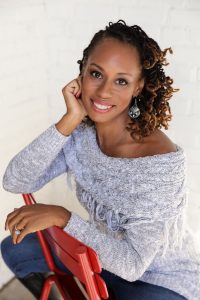 Nicole D. Collier, Ph.D., was born and raised just south of Atlanta, Georgia. After a short stint in journalism, she has spent the past two decades in education. First as an elementary school teacher, and now as a partner in an executive training, coaching and consulting firm.
Nicole writes for all ages, but her first love is middle grade contemporary fiction. Young people are trying to discern who they are vs. who they want to be, and how to bridge the gap between the two. Nicole's stories are in that gap. In particular, she writes about the interior lives of Black girls as they seek their authentic selves.
A self-proclaimed ever-victorious woman, Nicole has been known to run, dance, and turn cartwheels on sunny days.  But I think it's the "About the Author" page  shown here, clearly written by her at a very young age, that is simply adorable.
On this, the seventeenth day of February, The Brown Bookshelf is honored to highlight:
NICOLE COLLIER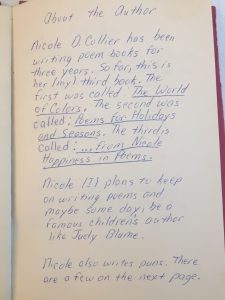 The Back Story 
I've always wanted to write for kids, but it took me over 30 years before I finally sat myself down and went for it. I carried the seed for Just Right Jillian for many of those years, but I knew it couldn't be my first attempt. Instead, I found a 10-year old short story that had never seen the light of day, took a couple of workshops, and taught myself to turn it into a chapter book. I was so proud of that story, that I'd made it to the finish line! I queried it for an agent, even though I knew it wasn't *the* story, because I wanted to teach myself that I really could follow through on my dreams. As expected, I racked up rejections, but two of them were personalized. Both agents said I could query again later, and I knew my next project would be stronger.
I spent the following two years writing, revising and then querying Jillian. In the end, I received offers of representation from two wonderful agents, including one I queried for a second time. She represents me now. We did a round of revisions, put together a submission list, and sent it out.  We heard back in less than a month!
The initial offer came November 2019, just before the COVID-19 pandemic. It was set to come out "Fall 2021," which I later discovered meant anytime between June '21 and Feb '
22. Finally, here we are, with Jillian making her way into the world.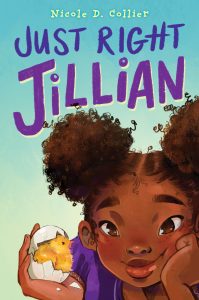 The Inspiration
I draw inspiration from a lot of people, places and things, but two authors who come to mind right away are Judy Blume and Jason Reynolds.
Judy Blume was far and away my childhood fave. I remember reading her books and first thinking, "Yes! This is what I want to do!" I loved that her books were honest. They explored the secret thoughts of young people and put them right there on the page. If you couldn't talk to anyone else about what you were thinking and feeling, you could go read one of her books, and see yourself, understood and validated, right there.
As for Jason, on his birthday, he posted pictures of himself, including one showcasing a tattoo of the word stet across his knuckles. It's a powerful image that will remain with me for a long time and it encapsulates what is so inspirational about him. Authors use the word "stet" with copyeditors to denote this is something that shouldn't be changed. This line or word was not an accident – it was a choice. Let it stand. The thing I love about Jason's work is his exploration, his audacity, his courage to be free on the page. He plays with language in ways that are fun and intriguing, but most of all, familiar. When I'm reading his works, I always feel at home. I know these people and these words. It's difficult to be courageous, especially when you know your words will be judged by gatekeepers and consumed by the public, but Jason shows us that you can take risks and be true to voice and create something beautiful time and again. He shows us the power of stet.
Other people who inspire me include Pearl Cleage and Alexis Pauline Gumbs. One thing I love about Pearl's work is her flexibility. She writes everything including essays, plays, and novels, but the truth rings out from every line. When I'm experiencing one of her works, I'm always nodding, yes. Alexis I love because she has a very clear and specific niche. She followed her passion and has built a life remaining steadfast and audacious in her love. Again, it takes courage to do that. To trailblaze and be non-conformist. I'm in constant awe of her and of anyone who chooses to express themselves so fully in their art. There are many, many more I could talk about, but these are a few who stand out.
The Process:
Usually I will get a clear snippet of a scene or a pivotal conversation and I will do my best to capture it in a notebook for later. I'll try to discern as much as I can about the main character and the story, and more or less leave it alone until I'm ready to work on the project in earnest.
Before I start writing, I review the beginning of Lajos Egri's, The Art of Dramatic Writing and key portions of Dara Marks', Inside Story: The Power of the Transformational Arc. Those books help me process the premise and the character's journey. Even though my understanding of both will likely change throughout the writing and revising process, I really enjoy the time I spend doing this. It's fun and low stakes, yet very informative. I won't say I do a full outline after that, but I do try to sketch the beginning, the ending, and any other important scenes so I can write toward them.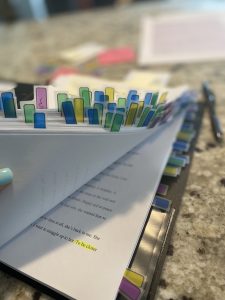 Once I have a solid draft and it's time for revisions, I start in my head first. I review any notes I've been given and journal my initial reactions. Without rereading the manuscript, I consult craft books, jot and journal various ideas, read good books, and spend as much time as possible thinking and daydreaming about the story. In particular, I like to try out ideas while I'm running outdoors. If a good idea comes to mind, I rehearse it until I can stop running and capture it. After a few weeks of this, things begin to click, and I feel a pull to return to the project. That's when I'm ready to dive back in.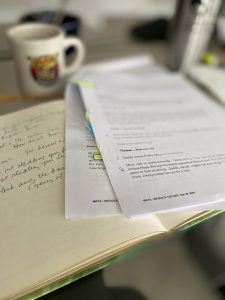 I'll print a copy of the work in progress and read it, usually front to back, taking notes longhand. Once I have a clear sense of where I am and where I'd like to go next, I create a plan and chunk the work into small tasks. It's important for me to keep my spirits up while writing or revising, and the murky parts can be quite daunting. Having small, manageable things to tackle – one page or one scene or one element – makes it easy to see tangible progress and feel successful.
I'm very tactile and visual, so I like to spread things out, use color coded tabs, and pull out scissors to actually cut and move things around. They help me "see" and "feel" what I'm trying to accomplish. Then one mile at a time, I make my way back to the finish line.
* The Buzz
"A heartwarming novel about developing the courage to stop hiding."—Kirkus Reviews
[Full review here: https://www.kirkusreviews.com/book-reviews/nicole-d-collier/just-right-jillian/ ]
"This relatable and emotional novel reminds readers that everyone might be fighting their own private battles and that losing or failing at something doesn't mean you're not a winner."—Booklist
[Requires subscription: https://www.booklistonline.com/Just-Right-Jillian/pid=9746667]
"Jillian perfectly encapsulates the contradicting feelings of adolescence, and her attempts to forge her own path and find her identity will be instantly relatable to anyone who has ever felt shy or small."—School Library Journal
[Requires subscription: https://www.slj.com/?reviewDetail=just-right-jillian]
"This first-person narrative introduces a brilliant, self-actualized preteen—Jillian knows she's smart; she just remains concerned about how others will interpret her words—whose past trauma is both cleverly revealed and compassionately rendered. Readers will cheer for Jillian as she is finally able to break out of her own shell." —Horn Book [Scheduled to appear in the January/February 2022 Horn Book Magazine]
Under The Radar
So many of my peers are great at what they do and the Brown Bookshelf has already identified several who come to mind as rising stars. I'd add HD Hunter and Jessica Lewis to the list. They're both versatile writers, debut authors already making a splash with both middle grade and young adult titles, and in multiple genres. It's inspiring, and I believe we'll see a lot from them both in the years to come.
You can keep up with Nicole through these social media links:
Twitter / Instagram / Blog / Newsletter
THANK YOU, NICOLE, FOR YOUR CONTRIBUTION TO CHILDREN'S LITERATURE!