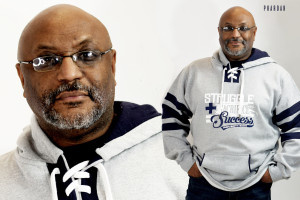 On this the 19th Day of February, The Brown Bookshelf is honored to highlight:
MAURICE BROADDUS
Maurice Broaddus is an exotic dancer, trained in several forms of martial arts–often referred to as "the ghetto ninja"–and was voted the Indianapolis Dalai Lama. He's an award winning haberdasher and coined the word "acerbic". He graduated college at age 14 and high school at age 16. Not only is he credited with inventing the question mark, he unsuccessfully tried to launch a new number between seven and eight.
When not editing or writing, he is a champion curler and often impersonates Jack Bauer, but only in a French accent. He raises free range jackalopes with his wife and two sons … when they are not solving murder mysteries.
He really likes to make up stories. A lot. Especially about himself.
Coming closer to the truth, he was originally born in London, England, but has lived in Indianapolis, Indiana for most of his life. He holds a Bachelor's of Science degree from Purdue University in Biology (with an undeclared major in English) and spends the bulk of his time doing community development work.
A community organizer and teacher, his work has appeared in magazines like Lightspeed Magazine, Weird Tales, Beneath Ceaseless Skies, Asimov's, Cemetery Dance, Uncanny Magazine, with some of his stories having been collected in The Voices of Martyrs. His books include the urban fantasy trilogy, The Knights of Breton Court, the steampunk novella, Buffalo Soldier, the steampunk novel, Pimp My Airship, and the middle grade detective novel, The Usual Suspects. As an editor, he's worked on Dark Faith, Dark Faith: Invocations, Streets of Shadows, People of Colo(u)r Destroy Horror, and Apex Magazine. Learn more at MauriceBroaddus.com.
He is about the pursuit of truth, be it by art, science, or by religion. He believes that lives should be lived missionally, that people should be about loving and serving one another, a lesson learned in his most important job: that of husband and dad.