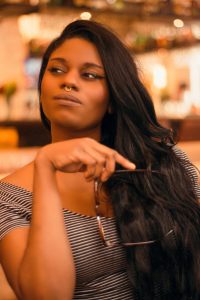 I am fascinated by today's honoree's writing style. Her micro-chapters are a sign that there are still new ways to execute an old Art. They're also something that a lot of young readers have probably been waiting for. Despite her books being nearly 400 pages, the 1-2 page chapters makes reading them feel like you're flying through. What a confidence booster to readers still finding their comfort level with larger books.
On top of that, Kayla's books centers LGBT teens at a time when readers are no longer willing to be erased from literature. There's power where young people feel seen and today's Brown Bookshelf Honoree is signal boosting power their way.
The Journey 
I started writing for teen readers because I had just finished being one. I wrote the very first book I queried from age 19 to 20 and the second book, THE WICKER KING, when I was 21-22 years old. The teenage perspective was fresh in my memory and adulthood was too unfamiliar to feel comfortable. So, THE WICKER KING is very much a book that is a writer speaking to her peers, and my second book THE WEIGHT OF THE STARS is very much a book by a writer speaking to a younger generation not so far removed. Like giving advice to a little sister.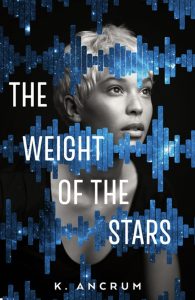 The Backstory
Both of my books cover similar overarching concepts: Diversity in worldbuilding, found family, and problem solving. Found family in particular is an incredibly important aspect of my work, because of the commonness of found family in LGBT communities. My showcasing of that reality in my work seems to be soothing to both the youth and adults who read it because its such a potent aspect of our culture that a lot of LGBT YA books seem to avoid. Instead, they tend to focus on the isolation of "not belonging". This is a massively important thing to have for isolated teens to read about, of course. However, when the only perspective is loneliness, it does a disservice to the special way that LGBT teens seem to cluster and offer each other support when often no one else will.  The isolation is a mirror, the found family is a fervent wish and a security blanket.
As for problem solving: I grew up on the sort of teen fiction that was all about lessons: Teens doing something bad and being punished, or teens being good and being rewarded. When I was finally put in the position to tell my own stories and the distribution to know that they would be read, I knew I wanted to write about a community filled with children who are neglected followed by a community where the very children who were neglected grew up to be the sort of adults who would never let a child feel neglect. So. My first book is filled with children trying extremely hard to solve problems that need the aid of their community and find none, and my second book is filled with children solving problems that are hard, but their community provides the sort of support echoed with the understanding of true suffering.
 The Writing Process 
As an author with ADHD accessibility is very close to my heart. When I originally began writing, I made the decision to write in a way that felt natural to me, because reading it might feel natural to people who are like me. Because of this, my first two books are written in a series of vignettes/microchapters, instead of block text and traditional chapters. Each vignette is about 1-2 pages long, and this makes them significantly less dense to read and appealing to reluctant readers. Additionally, the text is very dialogue heavy with little description, so  they're quick reads which should be encouraging for young people who read slowly.
My process is a bit fun too! Because my books are dialogue heavy, the flow of each character's speech patterns has to be perfect. So, after I write a scene, I use a text to voice app to play my own work back to me while I'm editing it.
The Buzz  
THE WEIGHT OF THE STARS: Starred review from Booklist
"The Weight of the Stars is one of the most gentle, gracious, and, overall, kind books that I've read all year … It's a YA romance about girls and stars and friendship and mercy and loss and regret and what we owe each other and what we give away to lift each other up … This book is starlight on broken concrete, it's flowers on a broken rooftop, and it's a masterpiece." —Seanan McGuire, New York Times bestselling author of Every Heart a Doorway
THE WICKER KING: 2018 Merit Award Hardcover Young Adult Fiction- Book Industry Guild of NY
"An eerie and mesmerizing thriller that questions the space where reality and perception overlap, The Wicker King is a spine-tingling read that will have you riveted." —Caleb Roerhrig, author of Last Seen Leaving and White Rabbit