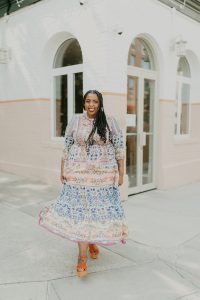 You may know her as The Tutu Teacher, a book influencer whose smile is as radiant as her book spotlights. Or maybe you've seen her viral video that has racked up more than  190,000 views on YouTube and been watched by millions, Let's Talk About Race. Vera Ahiyya celebrates reading and spreads understanding with her Brooklyn kindergarteners and readers around the country.
"As a child, I devoured books," she shared in a Scholastic article titled Cool Teacher. "Yet, I can barely recall 'seeing' myself in those books. After hearing Rudine Sims Bishop's quote about books being windows and mirrors, I knew that providing those experiences would be of the utmost importance."
Named The Tutu Teacher because of her affinity for wearing colorful tutus, Vera's first picture book, You Have a Voice, debuted in January. Lucky for us, she has more books on the way. We salute her for using her gifts to celebrate diverse reads and the power children have to change the world.
We are proud to feature Vera Ahiyya on Day 20:
I am so excited to announce that I am participating in The Brown Bookshelf's 28 Day Later Campaign.
This campaign highlights authors and illustrators of color.
2022 is a year of many firsts for me.
It is the year I started my journey as an author. In January my first children's book, You Have A Voice debuted. This is a story that celebrates the power every child naturally holds in using their voice to make change for good and empowers both kids and grown-ups to use their voice.
In March, my first Professional Development book will be released. It's titled: Rebellious Read Alouds and is a guide to spark meaningful conversations about race, identity, and social justice in your classroom using read alouds as an entry point.
Students need to see themselves and their peers in the books they read, and to engage with varying viewpoints.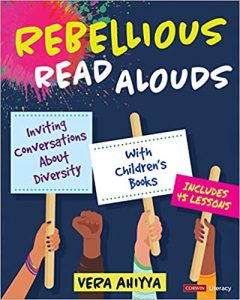 How can educators create a safe and nurturing space that inspires young children to explore diversity and ask curious questions?
Finally, in June my book KINDergarten: Where Kindness Matters Every Day debuts.  KINDergarten is a story about, a class that creates a kindness pledge to ensure that their class is the kindest it can possibly be.
It's the first day of Kindergarten and Leo isn't at all ready. Leo is a quiet kid and would prefer to stay home. Over the summer, his new teacher, Ms. Perry sent a letter asking her students to think about how to show kindness in school. She explained that they would be making a kindness pledge, and each student should bring one way to show kindness on the first day.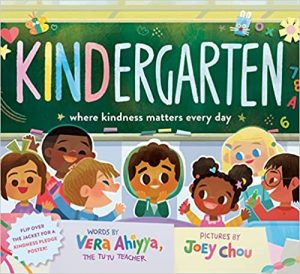 As it turns out, Leo's classmates have lots of ideas about kindness: like raising your hand, never leaving anyone out, and apologizing if you hurt someone's feelings. At the end of the first day, Ms. Perry asks if anyone witnessed something they'd like her to add to the kindness pledge? Lots of hands shoot up in the air. Several classmates say they noticed Leo returning crayons to the box, holding the door for everyone, and helping a friend who fell. Leo smiles as he realizes he really does know a lot about kindness after all.
Thanks for following along on my author journey! Here's hoping for more to come!
Visit Vera's blog at https://thetututeacher.com/.
Follow her at Twitter and Instagram @thetututeacher.
Check out her video, Let's Talk About Race: