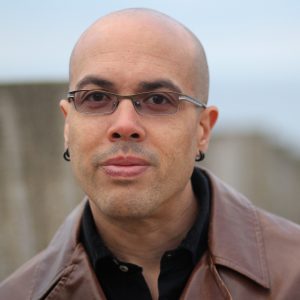 David Anthony Durham is the author of a trilogy of fantasy novels set in Acacia: The Sacred Band, The Other Lands, and The War with The Mein, as well as the historical novels The Risen, Pride of Carthage, Walk Through Darkness, and Gabriel's Story. His first fantasy novel for children, The Shadow Prince, was published in October 2021, and his next The Shadow Prince: The Longest Night in Egypt is forthcoming in 2023. He's won the Astounding Award for Best New Writer of Science Fiction, a Legacy Award from the Zora Neale Hurston/Richard Wright Foundation, was a Finalist for the Prix Imaginales in France, and has twice had his books named New York Times Notable Books of the year. His novels have been published in the UK and in French, German, Italian, Polish, Portuguese, Romanian, Russian, Spanish and Swedish. He also writes in the weird and wonderful Wild Cards collaborative universe – which is edited by George RR Martin. His stories appear in Fort Freak, Lowball, High Stakes, Texas Hold 'Em, with another in the forthcoming Pairing Up. Other short fiction has been anthologized in Unfettered III, Unbound, Unfettered, It's All Love, and in Gumbo: A Celebration of African American Writing. Four of his novels have been optioned for development as feature films, and he has been a screenwriter/consultant on several TV shows. He's currently on the faculty of the Stonecoast MFA Program of the University of Southern Maine and the MFA program of the University of Nevada, Reno.
On this, the twenty-first day of February, The Brown Bookshelf is honored to highlight: David Anthony Durham
The Journey
The Shadow Prince is my debut middle grade novel, but my path to publishing began two decades ago and included seven novels for adults. I began with a focus on African-American history. My first novel Gabriel's Story (Doubleday 2001) is about a black homesteading family in 1870's Kansas. My second, Walk Through Darkness, (Doubleday 2002) follows a fugitive slave from Maryland as he makes a dash to find his pregnant wife – while being tracked by a particularly persistent slave hunter. I've written two ancient war epics: Pride of Carthage (Doubleday 2005), about Hannibal's war with Rome, and The Risen (Doubleday 2016), about the Spartacus rebellion. And I wrote an epic fantasy trilogy for adults: Acacia (2007), The Other Lands  (2009), and The Sacred Band (2011).
Another thing I'd like to mention is that my entire journey as a writer has been supported by the Zora Neale Hurston/Richard Wright Foundation. Way back in 1992 – when I was an undergrad at the University of Maryland Baltimore County, the foundation awarded me the Hurston/Wright College Fiction Award, which was specifically for black college students. With it came my first publication of the winning story: "The Boy-Fish." That early support and recognition was crucial. It brought me to the attention of the MFA program at the University of Maryland College Park, where I got my graduate degree. Some ten years after that college award, in 2002, the foundation awarded me the Legacy Award for Debut Fiction for Gabriel's Story, and later made me a finalist in the Fiction category for Pride of Carthage. Over the years, I've returned again and again to the foundation: for readings an events, teaching in their writing workshops, judging for both the college award and the Legacy Awards. They've been a steady backbone of support, and I still owe them so much.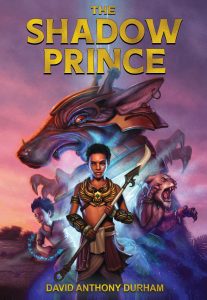 The Process:
The Shadow Prince is the only book that I can remember the exact day and moment that the idea for it came to me. It was a hot summer day. I'd just come inside sweaty from mowing the lawn, and sat down to cool off. I had the house to myself, and casually picked up a book from the coffee table. It was a book about Egyptian mythology that my son had borrowed from a neighbor. I began flipping through it…
I had been fascinated with Egypt for a long time, even taking a few Egyptian history courses in college. But on this day – perhaps because I knew it was here out of my son's interest – everything I read about the various gods and their shapeshifting forms and powers and their outsized personalities struck me as fun, humorous, and somehow perfect for a middle grade book. I started wondering – what if the god Ra – who passed through the sky every day as the sun – gave a magical gift to the people of Egypt. It was a metaphor for solar power, but in this case his energy could power ships that flew through the air, machines in factories, light sources, and fun things like floating skateboards and chariots. And magicians using sun-infused stylus's could write magical spells in hieroglyphics. I thought I was on to something!
I found my character, a boy from a remote village far out in the desert who learns that because he was born on the same day as a prince of Egypt he could on his twelfth birthday journey to the capital and compete with other boys and girls with the same birthday to become the prince's shadow – his bodyguard, confidant, and lifelong friend to the prince. (This applies to princesses as well – and will in future books!)  The testing includes lots of demon fighting – as that's something a shadow may have to do – as well as several days during which a different god each day whisks the candidates away to a different place for a very different type of challenge.
What I found so exciting about this as a series is that there's so much rich source material for new books. There are new gods to highlight each time, with new dastardly plots and the need for the kids to save Egypt over and over again. I aim to educate about Egyptian mythology, but also keep things light and humorous. This novel is the first that it was truly a joy to write. Usually, writing is hard, slow work. I'm always glad to have written a new work, but the process can be exhausting. It reminded me of how fun reading can be for kids; and taught me how fun writing for kids can be.
I loved creating a black and brown cast of characters in a unique culture all their own. These are kids finding themselves and forming bonds with new friends, setting out on adventures that I would have loved to have read – and seen myself in – as a young reader.
The Back Story
The Shadow Prince wasn't a planned project. I didn't have a contract for it. I was already late on delivering one of my adult novels when I started to write it. None of this made my editor or my agent happy at the time, but once the story got into my head I just had to write it.
Pretty quickly I had a first draft. I loved it. I was excited. My agency attached an agent focused on the children's market to work with me, and we went out to publishers. That's when things got strange. There was an odd amount of interest in the book mixed with unease about something they didn't seem to want to say directly. This was back before the blossoming of writers of color in the science fiction and fantasy genres. Many of the black stars of today were struggling to make their way into publishing then. Publishers were unsure if there was a market for diverse fantasy titles, whether there were enough young black readers, for example, to read my novel peopled with only black and brown characters, and… whether white kids would join in the adventure.
One of the major publishers offered a "development deal" wherein I'd sign a contract, get an advance, and then we'd work on the novel together until both sides were ready to flip the switch and make it a regular deal. If we didn't mutually agree about the book we could end the contract and part ways. This didn't sound too bad until I learned a rather important detail: if we didn't agree to go forward I was free to go, but I had to agree never to write or publish Shadow Prince stories or novels with anyone else. The series wouldn't be able to exist unless this publisher got the version they wanted. That was a dealbreaker.
I had to shelve the book for a while and get back to finishing the adult novel I had already been contracted for. But I didn't let go of The Shadow Prince. It lived me with and slowly evolved into a different first novel. I was lucky enough to have many beta-readers who helped me with it: fellow writers, students, friends, and kids!
Eventually, I had a new version of the novel that I was proud of, but I wasn't interested in sending it to the big publishers this time. I was drawn to Lee & Low (https://www.leeandlow.com/) because of their commitment to diverse books, authors, illustrators, and stories. And when I realized that their imprint, Tu Books (https://www.leeandlow.com/imprints/tu-books), specialized in diverse fantasy and science fiction for kids, I thought, "Okay, if anybody is going to get this book as I've written it is this publisher." I quietly submitted it to them via their only open submissions, and then I waited. I was patient.
A year passed and I finally heard from them. They liked my query and my first few chapters and asked to see the rest. I sent them that. And waited.
Another year and a half passed, and they wrote again, asking if the book was still available. I told them yes, since you all are the only ones it's out on submission to! We went from there. Stacy Whitman acquired the book. My wonderful editor Elise McMullen-Ciotti worked with me to make it stronger, and the amazing Eric Wilkerson (https://ericwilkersonart.com/) signed on to do the cover art. I couldn't be happier. The book found a home in exactly the right place, with exactly the right people.
The Buzz
From Publishers Weekly:
"In an inventive alternate Egypt where technology is solar-powered, dark brown–skinned orphan Ash, 11, has resigned himself to a prosaic life of bullying and drudgery in his desert village. On the eve of his 12th birthday, however, the discovery that he shares a birthday with Prince Khufu shatters his unexceptional existence, as it enables him to compete to become the future pharaoh's shadow, occupying the position of confidante, friend, and bodyguard. To win, Ash must overcome nine other highly trained candidates in a divine tournament filled with demons, magic, and deadly tasks proctored by gods. Though Ash befriends fellow competitors Seret, a talking lioness, and small, wavy-haired boy Gilli, not everyone he meets can be trusted. Set—god of chaos—harbors nefarious plans for the candidates, forcing Ash and his newfound friends into a battle to save Egypt itself… Bolstered by an accessible voice, Durham's middle grade debut weaves the power of renewable energy into a rollicking tale of gods and monsters. Back matter includes a glossary of the gods, as well as online resources."
From The Bulletin of the Center for Children's Books:
Durham offers up an action-packed, magic-filled adventure made all the more fun by its evocative world building—full of sun-powered vehicles, giant insects, and animal-headed gods—and many fast-paced fight scenes tempered by a notable lack of gore (defeated monsters simply vanish in a puff of putrid smoke)… Ash's narrative voice is distinctly contemporary, full of endearing snark and self-deprecating wit, and readers will appreciate both his happy ending and the unresolved mysteries that leave the door open for sequels. A solid introduction to Egyptian mythology, including a brief glossary of the gods, this may lead readers to explore more.
From School Library Journal:
"This entertaining fantasy, set in an alternate solar-powered ancient Egypt features Ash, a poor orphan boy of unknown parentage, whose skin tone is described as "the same red-brown as Egypt's…" Ash is destined to become one of the candidates in a multiday contest where the winner becomes the shadow to Prince Khufu, the future pharaoh of Egypt, charged with keeping the prince safe. Ash and the other diverse candidates (including a lioness) have to fight magical demons and monsters commanded by different Egyptian deities. A few candidates befriend Ash; others are hostile, like arrogant Sutekh and snotty red-headed Kiya. Prince Khufu's unscrupulous older brother Rami has also enlisted the deceitful god Lord Set to sabotage the candidates, so the rule of succession reverts back to him. Adult author Durham's middle grade debut is full of action, political intrigue, inventive solar powered gadgets, and quirky creatures. Ash is a sympathetic character who discovers his own self-worth and a surprising talent while competing in the grueling competition.
You can keep up with David through these social media links:
Thank you, David, for your contribution to children's literature!