An avid reader and writer, Kelly J. Baptist got her break when her short story, "The Beans and Rice Chronicles of Isaiah Dunn," won We Need Diverse Book's short story contest. It was published in the award-winning anthology, Flying Lessons and Other Stories. She was just getting started.
Kelly adapted that story, continued and expanded it as her debut middle-grade novel, Isaiah Dunn is My Hero. She said this about the concept of heroes in a Random House interview: "I want readers to remember that heroes aren't just the ones who do something big to "save the day." Heroes save the small moments . . . A kid is a hero when he or she goes from being someone's foe to being a friend. Being resilient and persevering when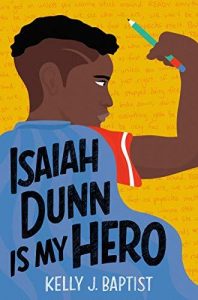 giving up seems easier is definitely hero activity!" Her coming of age novel won accolades from being an Amazon Editors' Pick to a starred Publishers Weekly review.
Now, she's back with the delightful, The Electric Slide and Kai, illustrated by our Day 24 honoree Darnell Johnson and published by Lee & Low. It won the publisher's 2017 New Voices Honor Award. Full of family love, culture, fun and joy, it's book that will make you smile. Kelly, a mom of five, said this book was inspired by her daughter watching a sorority stroll at a wedding reception and trying to nail the moves.
Kelly's journey is one of power, purpose and persistence. She submitted a story to the New Voices Award contest year after year until she got a yes. We can't wait to see what new books she brings into the world.
Join us in celebrating the amazing Kelly J. Baptist.
The Back Story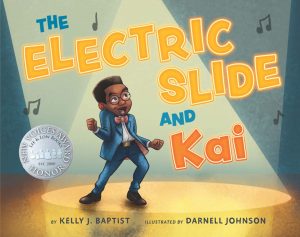 I came up with the idea for The Electric Slide and Kai after attending my cousin's wedding. His new wife is a member of Alpha Kappa Alpha Sorority, Inc, and in following tradition, at the reception, she and her fellow sorors strolled on the dance floor. My middle daughter, Micaiah, was about five at the time. She stood off to the side and followed them at a distance, trying very hard to copy all their moves!  It was super cute, and the whole thing sparked the idea to tell the story of a kid trying to learn a dance before a wedding. The Electric Slide is a staple at Black wedding receptions (or any family gathering, really J) so the stakes are high for Kai! The most rewarding part of the process was watching plenty of Electric Slide videos, and teaching my kids the steps. The most challenging part was waiting to see how my amazing illustrator, Darnell Johnson, would bring the story to life. Kai was awarded the 2017 Lee and Low New Voices Honor, and Lee and Low later decided to publish it!
The Inspiration
Outside of Jesus and my family, Kobe Bryant has served as my greatest inspiration. I realized early that he was great for a reason…he put in work! Perseverance, drive, focus, passion, and dedication can translate into any arena, so I put the Mamba Mentality into practice in my own life and approach to writing. Holding a baby? No worries; I'll type with one hand! Life got super hectic and busy? I'll try a novel-in-verse and write in shorter spurts. Tired? Write one more paragraph! I definitely carry Kobe with me every day.
Mildred D. Taylor and Walter Dean Myers are probably the biggest literary influences I've had, stemming from when I devoured their books as a young girl. More recently, I've found great inspiration from Angie Thomas, Jason Reynolds, and Elizabeth Acevedo. Christina Soontornvat's A Wish In The Dark was absolutely captivating, and I'm already thinking of it as a mentor text moving forward.
I'm also inspired by young people pursuing their passion! I recently watched a Christmas concert and discovered the 15-year-old GENIUS musician, Jaden Baker (check him out on Instagram!) Watching him pursue his passion with excellence is an inspiration to me.
The Process
In most cases, my stories begin with a particular character in mind; the character speaks to me and I listen. I usually take some time to think about the character and the world in which he or she will live. If that character is still heavily on my mind after a few weeks, I just begin writing. I typically don't do any intensive outlining, but one technique I started recently is writing a 1-2 sentence summary of what I envision happening in each chapter. That gives me just enough balance between plotting and pantsing! Life with five kids has conditioned me to be able to write in chaos, which has its pros and cons. I've written on bus field trips, in restaurants, at basketball games, and more, but my "official" office exists in my closet, which is nice and cozy and decorated with illustrator postcards that I receive at different kidlit conferences. Since I cannot lock my closet, the kids find me anyway!
The Buzz
So far, The Electric Slide and Kai has been reviewed by Booklist and received a starred Kirkus review! To me, success is young people (and older people, too!) being inspired by my work and creating amazing work of their own. Making my kids and family proud means a lot to me. I extend my definition of "kids" to the middle school students I work with as well. ACA LEADS THE WAY!
Under the Radar
Three illustrators come to mind: Darnell Johnson (OF COURSE!), Asiah Fulmore, and Jenin Mohammed. Each of these illustrators makes me feel something with their illustrations. They create stories either with or without words, and I believe that is an amazing gift!
Check out this wonderful interview with Kelly and her editor, Kandace Coston:
Learn more about Kelly at www.kellyiswrite.com. You can find her on Twitter and Instagram @kellyiswrite.