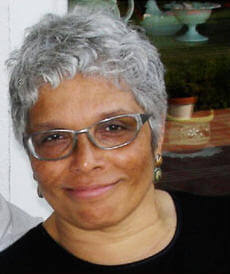 At 18, I had my first job as an advocate for Black children's books. I was working in Harlem and Washington Heights as a summer literacy intern for my college, knocking on doors and offering to read to children and families in their homes. It was a new program, which ended up meaning that we (there were four of us) had a lot of latitude and control over the books we chose to read. JUST US WOMEN, by Jeanette Caines, and illustrated by Pat Cummings, was one of my favourites. The children I worked with saw themselves and their aunties and mommas and cousins in Pat Cummings' art, and so did I — and that made our time together deeper and special.
Many years later, as a new mom, I introduced my six-month-old to CLEAN YOUR ROOM, HARVEY MOON, and it was an instant hit — her absolute favourite book. That book is a joy to read aloud — the rhythm and playfulness of Pat Cummings' language is alive, and the art..oh my goodness! So vibrant and joyful and fun.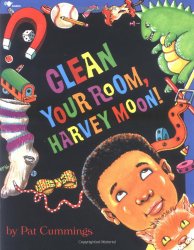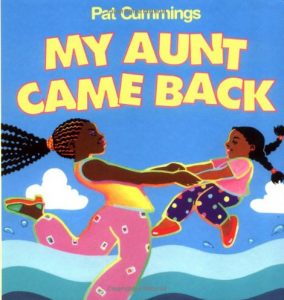 And don't get me started on MY AUNT CAME BACK — that board book was purchased many times over because it was so well-loved. That stylish, vivacious auntie in her braids and bright colours! A Black woman world traveler in a children's book!  I'd sing the whole thing through until my toddler daughter had it memorized, and we'd sing it together:
My aunt came back from Timbuktu
She brought me back a wooden shoe.
My aunt came back from Pakistan
She brought me back a painted fan.
Bars. How can you not sing?
"Please read again?"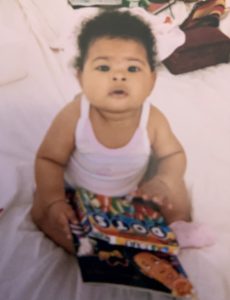 (no I didn't give my baby (delicious) candy, the Dots on top of Harvey Moon were mine, she just liked the empty box.)
When I finally met Pat Cummings in person, she was doing another thing she does with grace and exquisite skill — teaching and mentoring new children's book artists and creators. I was in awe. And I still am. Today, we welcome Pat Cummings to the Brown Bookshelf as we celebrate her middle grade debut, TRACE. Lauded as "suspenseful and well-paced" by Horn Book, "chillingly gothic" by the Bulletin for the Center of Children's Books, TRACE "tells a poignant story about grief, love, and the untold stories that echo across time." In a starred review, School Library Journal declared TRACE a page-turner from beginning to end: "From its dramatic opening to its satisfying conclusion, this is an absorbing, multi-layered novel." 
Friends, join me in welcoming the incomparable Pat Cummings to the Brown Bookshelf!
When I think about starting in children's books right out of college, I remember that every teacher I talked to told me it was impossible to break into the business.  Fortunately, I was raised by parents who made it clear that not only could my sisters and my brother and I attain whatever goal we went after, it was expected that we would.  So all of the naysayers I met only convinced me that I couldn't afford to be one of them. 
After visiting nearly every publisher in town (back in the day they reviewed portfolios in person!) I thought I had covered all bases. But an editor I hadn't met asked me to illustrate a book.  She'd seen my work in the Council on Interracial Books for Children Bulletin (Vol. 7, No. 1 1976) which showcased illustrators and photographers.
I hadn't realized that there were many editors in one publishing house. One might love your cat story while another may have been mauled by a cat as a child and would never publish it.  The decision can be that personal.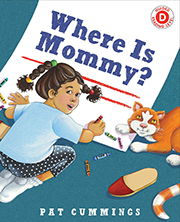 THE BACK STORY
After 40 years and nearly as many picture books, my middle grade novel, Trace was published.  It wasn't my first novel, though.  I was introduced to writing longer stories by Walter Dean Myers.  He was coordinating a teen series called 18 Pine Street, written under the nom de plume, Stacie Williams.  Despite the fact that my stories were usually two pages long, double-spaced, and often rhyming, Walter felt I could handle a novel.  He basically handed me a roadmap…a package that amounted to 'How To Write a Novel'.  He sent pictures of all of the principal characters, profiles for each one, an outline of the plot for my story, The Party, and even a sample opening chapter to establish the voice.  It was a crash course in constructing a novel and I loved it.
Years later, I worked on developing a middle grade series with my buddy, author/illustrator Sheila Hamanaka. Fleshing out characters and hashing out plots was huge fun but we went off the deep end, throwing in so many supernatural elements and outrageous plot twists that the publisher insisted we meet with 'sociologists' to vet our story lines. As we spooled out plots and character profiles (complete with visuals) the women around the table seemed to grow increasingly alarmed. Apparently, killing off all of the parents was bad. But frozen sorcerers, alien abductions and cross-dressing teachers  were really too much and the series was abandoned. Still, Sheila and I had researched so many subjects, scratched up so many interesting events in history that we tucked them away for our own future stories.
One day I heard a story about a miracle. A man's car had plunged off a bridge into a river. The electrical system failed and he could neither open the doors nor roll down the windows. As the car filled with water and sank, he wildly kicked at the windows but they wouldn't break.  At the last minute, someone's hands reached through the window to pull him out.  I even watched the video of the rescue on You Tube: EMT workers pulled the man onto their little raft as he popped up beside the hood of his submerged car. When the car was towed from the river, the windows were still rolled up. No one saw anyone, anywhere who might have reached in to save the man.
For some reason, that story and my earlier research into the 1863 New York Draft Riots began to work their way towards each other in my mind.  I wanted to adopt Walter's method of having a detailed outline in place but I'd also seen how Sheila could just let characters pull her along to shape a story. Then, a conversation with Ellen Hopkins helped me find an approach that worked for me. She said she begins with a structure in mind but then listens to the characters….letting them take the plot in directions she may not have anticipated.  Considering Walter's structure + Sheila's spontaneity + Ellen's intuitive plotting helped me relax and trust that I could put my foot on a certain path and let the story unfold…and that surprises might await me.
Character became the driving force for the story. Trace is a 13 year-old African American boy who, after losing both parents in a tragic accident (drowning in that car crash into a river) has come to live in Brooklyn with his aunt.  Only after the book was published and I began to speak about it in presentations, did I realize that the grief I had Trace work through paralleled my own feelings after losing my father shortly before I began the book. It's amazing to me that this wasn't obvious to me while working.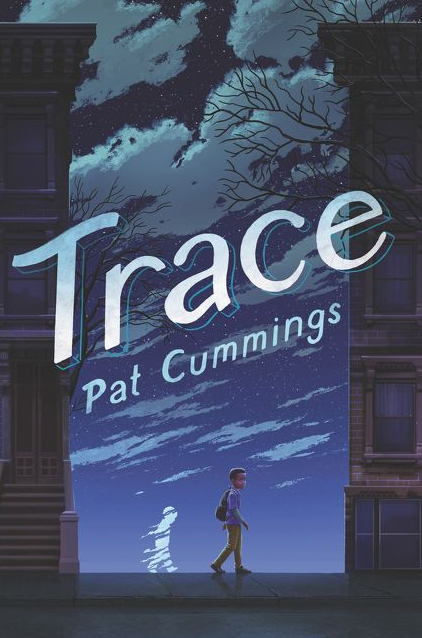 MY INSPIRATION
Knowing I wanted to tackle a middle grade novel, I began reading more in the genre: Walter Dean Myers, Joyce Hansen, Virginia Hamilton, Sharon Flake, Jacqueline Woodson, Meg Medina, Tracey Baptiste, Louis Sachar, Adam Rex, Alan Bradley, Christopher Paul Curtis, Jerdine Nolen, Rita Williams-Garcia, Hope Anita Smith…and so many more writers. Their work offered exquisite lessons in pacing and voice and structure.
I realized I needed a writers group and know I might never have finished Trace without them. Having to meet a self-imposed deadline helped get the story out of my head and onto paper. And it was fun. In my group of five, everyone writes in whatever genre appeals to them.  Listening to, analyzing and critiquing other people's stories helped me focus on plot, theme and character and their feedback helped me polish my own work.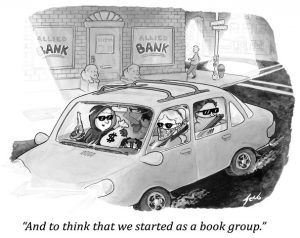 MY PROCESS
Quotes from other writers helped me get started.  I often thought of E. L. Doctorow's description of writing: "It's like driving a car at night. You never see further than your headlights, but you can make the whole trip that way." Still, I work in a scattershot way, snatching time now and then, accumulating scraps of paper with notes, filling folders with openings, character profiles and charts to refer to as needed. I keep every version. Years ago when I worked on the Nickelodeon show Gullah Gullah I was teased for never tossing any versions of stories. But it seems better than losing a line or a passage that works.
I keep folders for every story idea, some with no more than a doodle or a line of text in them.  Whenever I run across something that pertains to a story, I drop it in the related file.  Any time I feel stuck with one story, going through those files can jumpstart action on another one. Sooner or later, just like pushing a car to get the motor revved, one narrative starts to gather speed.
I'm drawn to stories that acknowledge there is more to life than the visible, overt world. The label 'paranormal' can confine work to a section of the bookstore but the realization that other realms exist doesn't strike me as 'fantasy'.  I grew up in a military family, living overseas for a significant part of my childhood. In Germany, we'd troop through castles along the Rhine River, and their crumbling, sometimes scorched stones seemed tangible evidence that fire-breathing dragons. In Okinawa, I'd explore villages with friends, convinced we'd had brushes with witches and sorcerers. Accounts of ghostly appearances even made the front page in the main newspaper on the island. Even the nonfiction I read tended to be biographies of saints, marked by the miracles they performed. Childhood held little separation for me between reality and other realities.
OTHERS UNDER THE RADAR
Watching the growing careers of talented illustrators like Sharee Miller and Xindi Yan is exciting. I'm trying to get my husband, H. Chuku Lee to tackle a second book.  He's a former journalist and one of the founding members of NABJ, the National Association of Black Journalists. That background came in handy when he retold Beauty and the Beast, the only book we've collaborated on so far.  But he's started another story so I'm keeping my fingers crossed.
THE STATE OF THE INDUSTRY
So much focus on 'Own Stories' and the need for diversity  is encouraging. Waaaay back when, I sat on a panel whose title used the then new buzzword 'multicultural.' It consisted of Walter Dean Myers, Mildred Pitts Walter, John Steptoe and myself. I remember pointing out that we were all African American…it wasn't 'multi' at all.  Now, at least, there's recognition that 'non-white' means more than 'black'.  But, until publishing staffs are more diverse, I suspect disproportionate representation will continue. Because, while more poc are the protagonists in…and creators of…books for young readers than when I began, according to recent stats I read, the overall percentages haven't changed much. There are simply more books in general.
Given the burgeoning number of writers and illustrators of color and the amazing stories they're producing, I can't help but be encouraged that the future of children's publishing is bright…and it will be decidedly diverse.