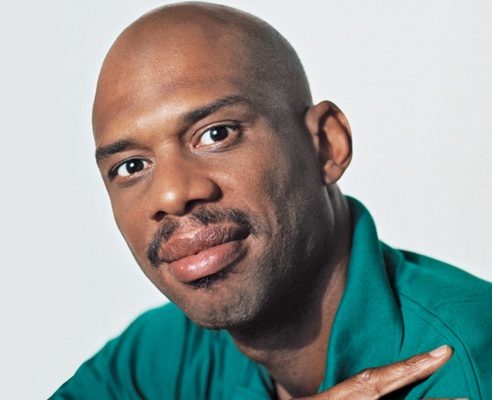 He's far more awesome than I realized.
When I went to Kareem Abdul-Jabbar's website to get a little background info on him for this post, I discovered a man that has contributed more to our society than I believe most people are aware of. While I don't have the space to recount all of his accomplishments here, I'll bullet-point a fraction of them:
NBA All-Time Leading Scorer
US Cultural Ambassador, 2012
California's STEAM Education (Science, Technology, Engineering, Art & Mathematics) Afterschool Ambassador, 2012
Cancer Research Advocate
Columnist for TIME Magazine and LA & OC Registers
Award-winning Filmaker
New York Times Best Selling Author of 9 Titles (including 3 children's books)
Two-time NAACP Image Award Winner (What Color Is My World & On the Shoulders of Giants)
It is his for work as a children's book author that we celebrate Kareem Abdul-Jabbar on this final day of 28 Days Later. The three, well-reviewed children's titles he has co-authored with Raymond Obstfeld (thus far) are:
Streetball Crew Series, Book Two: Stealing the Game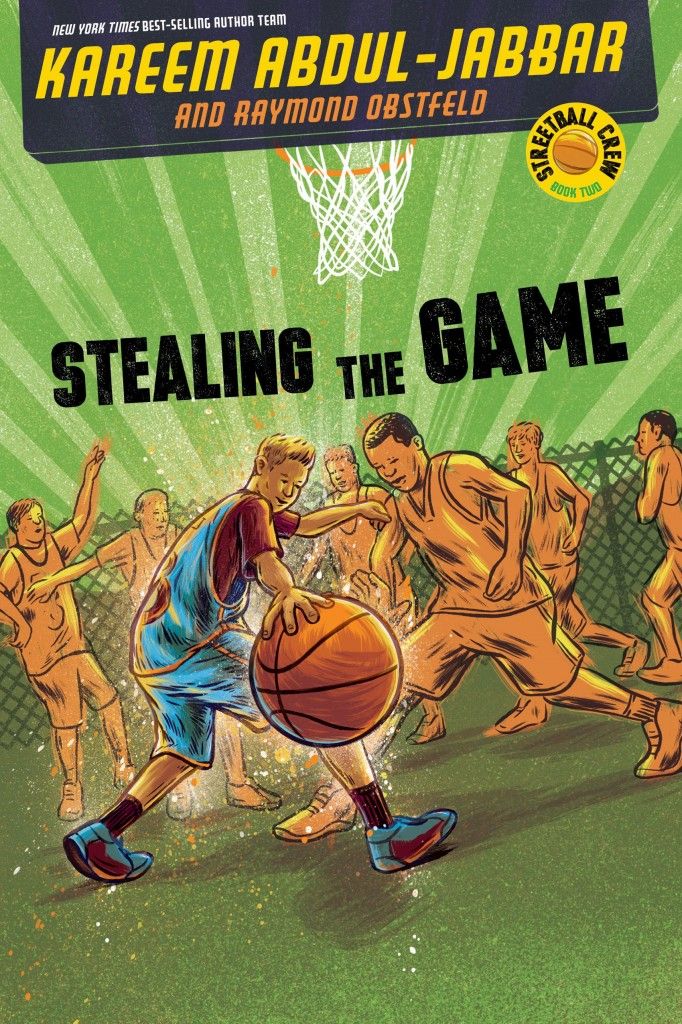 "Abdul-Jabbar and Obstfeld…team up for another exploration of the intersection of sports and life conduct. Chris is a good, quiet kid who likes to keep his head down. As he says, 'I was friendly to everyone but friends with no one.' Still, if the machinery of thought made much noise, Chris would be a one-man band. For a 13-year-old, he does considerable shrewd, high-ground thinking, as do his friends ('You know,' one says, 'not talking about things doesn't actually make them disappear'). Where it really shows itself is on the basketball court, where he plays a savvy, court-wise game. Enter his brother, Jax, a golden boy who appears to have fallen from the pedestal upon which his well-intentioned parents have placed him, and Chris' still waters are about to feel a hefty stone break their surface. Add his classmate Brooke, a sharp girl with plenty of her own baggage, and a waterspout is in the making. The authors' light hand allows readers to inhabit the characters; to taste the value of respect, dignity and vulnerability; and to embrace the elemental joy of sports-all without ever feeling like they are being tube fed. The shifting structure of the story and a clever series of blind alleys keep readers on tenterhooks. A deft, understated sports thriller with a solid moral compass." —Kirkus
"In another exemplary mix of issues and action both on and off the court, the middle-school cast of Sasquatch in the Paint (2013) returns to take on a team of older, bigger, thuggish rivals amidst a rash of local burglaries. Thirteen-year-old Chris is stunned when his golden-boy big brother, Jax, suddenly shows up at home with gambling debts after (he claims) dropping out of law school. With extreme reluctance, Chris agrees to help Jax get out from under-both by enlisting his street-ball buddies against a club team to settle a bet and by helping his brother break into a pawnshop. At the same time, Chris asks his Sherlockian friend Theo to check out Jax's story, and he also definitely beats the odds by finding common ground with brilliant, acid-tongued classmate Brooke. Along with vividly drawn characters, the coauthors craft a mystery with artfully placed clues that Jax might not be the loser he seems to be, and also inject plenty of exciting, hard-fought basketball in which speed, strategy, and heart play equally strong roles. Flashbacks crank up the tale-s suspense, flashes of humor brighten it, and the end brings both surprise twists and just deserts all round." —Booklist Online
Streetball Crew Series, Book One: Sasquatch in the Paint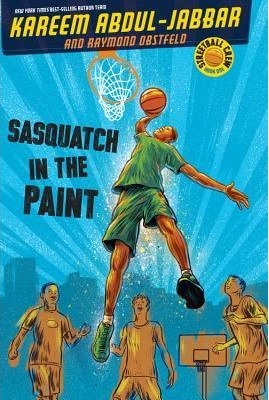 "The author team behind What Color Is My World? opens the Streetball Crew series with the story of Theo Rollins who, though only an eighth grader, is already more than six feet tall. A self-proclaimed nerd, Theo gets recruited for the school basketball team, even though he's terrible at the sport. Additionally, Theo is puzzled by new girl Rain, who's smart but being threatened by a guy on a motorcycle; his widowed father is unexpectedly interested in dating; and he might be kicked off the school's Aca-lympics team if he can't balance his responsibilities. The depth and realism Abdul-Jabbar and Obstfeld bring to the novel keep it from being a run-of-the-mill sports story. Rain, for instance, is Muslim, while Theo is one of only a few black kids at his school; their ostracism doesn't overshadow the action, but it isn't ignored, either. Perhaps most refreshing is the fact that the authors allow Theo to gain confidence in basketball without the predictable game-winning shot. Readers will feel a kinship with Theo as he maneuvers through tough but realistic choices." —Publishers Weekly
"A crisp tale of sports, smarts and what it means to be your own man or woman-or boy or girl, if you happen to be 13. It seems to be an embarrassment of riches to be, say, one of the best basketball players in history and also write tightly entertaining novels for kids, but there you have Abdul-Jabbar. Surely Obstfeld added polish and framing, but this obviously is a work of someone intimate with sports and, by extension, how sports can serve as metaphor for a way of being in the world. Here, newly tall eighth-grader Theo Rollins is trying to find his way between the brainiacs and the basketball players. Along the way, he meets Rain-aka Crazy Girl-a sort of 'girl with the dragon tattoo' minus the heaviest baggage. Characters, both friend and foe, feel real; there is talk of abandonment as well as serious comments about the skewed vision Americans have of Islam. The deepest running narrative pivots around sports, but the story has much to give. Theo's cousin's taxonomy of basketball players is broadly applicable: There are the happy-go-lucky, the self-conscious and 'those who never want the game to be over, because each minute is like living on some planet where you got no problems….[They are], for that brief time, in a place where everything they thought or did mattered.' Fearless, caring sports fiction." —Kirkus
What Color Is My World?: The Lost History of African-American Inventors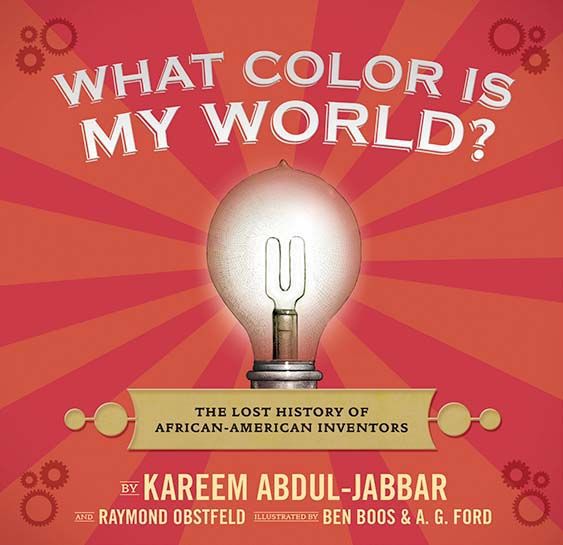 "Making use of an unusual format, former NBA star Abdul-Jabbar and his On the Shoulders of Giants coauthor Obstfeld offer an upbeat history lesson set within a fictional narrative framework. Siblings Ella and Herbie, whose story unfolds in typeset chapter booklike pages surrounded by warmly lit paintings of their adventures, are less than enthusiastic about their fixer-upper of a new house. But as eccentric handyman Mr. Mital unveils the house's potential, he also teaches them about contributions made by African-American inventors ('There's more to our history than slavery, jazz, sports, and civil rights marches,' he says). Flaps show lifelike portraits of individuals like Dr. Mark Dean, a v-p at IBM; Dr. Charles Drew, who developed the concept of blood banks; and nuclear engineer Lonnie Johnson, inventor of the Super Soaker squirt gun. Ella's off-the-cuff notes appear inside the flaps, while several spreads provide detailed profiles of other inventors and graphic novel–style passages. The banter between the siblings and, in particular, Ella's snarky zingers keep things from feeling didactic—it's an entertaining and often surprising exploration of lesser-known innovators, past and present." —Publishers Weekly
"A fictional story lies at the heart of this unusually formatted collective biography. Twins Herbie and Ella and their parents have just moved into a run-down older home; while they work to fix it up, Mr. R. E. Mital, an eccentric handyman hired by their parents, recounts the contributions of African American scientists and inventors. As the figures are introduced, foldouts on the sides of the pages contain Ella's notes (full of humor, as well as facts) about each one. More detailed profiles of other inventors fill the spreads, and some are introduced in graphic-novel-style pages. Instead of famous inventors such as George Washington Carver and Benjamin Banneker, readers are introduced to lesser-known individuals, including Alfred L. Cralle (inventor of the ice-cream scoop), Dr. Henry T. Sampson (gamma electric cell), and nuclear engineer Lonnie Johnson (Super Soaker). Information about the subjects' home, lives, and avocations is a welcome addition…the large trim size, numerous illustrations, and unusual format (not to mention the celebrity author) will certainly attract browsers. And a surprise discovery about Mr. Mital's identity at the end will leave readers with something to ponder." —School Library Journal
For more information on Kareem Abdul-Jabbar and his work, please visit his website.