While working with this talented author on her 28 Days Later spotlight, I asked if there was something she would like for people to know about her.  The email I received made me have one of those constant blinking moments. I'll let you read it for yourself.  Pay specific attention to her question at the end.
…I organized my own "Malaika's Costume" tour of book presentations and signings at schools, festivals, libraries, and bookstores in Toronto, Brampton, Ottawa, Kingston, Montreal (all in Canada) as well as New York City, Boston, Detroit, and Atlanta (in the United States).  I popped in to sign copies of my book in New Orleans and Miami all in 2016.  I have recently moved to Abu Dhabi to teach and have done a few presentations so far.  I am in the line-up of presenters for the Emirates Air Festival of Literature (EAFOL) in Dubai this March 2017. 
Is this stuff worth mentioning?
 Yes.  It is worth mentioning.  It gives all of us an idea of her amazing determination, and how passionate she is about her work.  It is with great pleasure that on this, the 4th Day of our 28 Days Later Program, we present to you:
NADIA HOHN
The Journey
My earliest memories of writing and book making were around the age of 6. I remember having this excited feeling that I could make a book about anything.  At age 7, it was all about the Miss Universe and Miss World pageants.  Each page featured a contestant from a different country, speaking a different language.  I also made books for school assignments and then a few on my own.  I started writing my first novel around the time I turned twelve.  I never finished it though. I wrote to The Toronto Sunday Sun newspaper hoping that my letter would be printed in the kids' section of the comics.  It never was but the first time I was ever published was for a Black Canadian women's magazine called "Ember (?)" in which I wrote a letter to the editor thanking them for their feature on Cree Summer-Francks (a Canadian actress who played "Freddie" on the sitcom a Different World").  I believe I was thirteen when it was published.  That was the first time I saw my name in print and I loved it.  I think I was hooked from then on.  In the ninth grade, I began to write for my high school newspaper everything from poetry to articles to the advice column and features.  I continued this writing for student newspapers even through my university years.  At the time, I considered journalism and starting a Christian youth magazine so I completed my degree in psychology and while working at Serve Canada, a non-profit, completed a required internship.  I went out on my own and found an internship at Psychology Today magazine in New York City.  Since then, I continued to write articles off and on over the years and started a few blogs in my thirties. I was invited to submit a poem to T-Dot Griots: A Tribute to Toronto's Black Storytellers which was published in 2005.  At that time, I was so involved with starting my teaching career, graduate school, and wrapping up ICED IN BLACK: Canadian Black Experiences on Film, a touring film festival that I started, that I did not make the connection that I should be writing books.  I even took a course in Multicutural Children's Literature back in 2001 which I loved but the of becoming a writer still seemed lofty to me.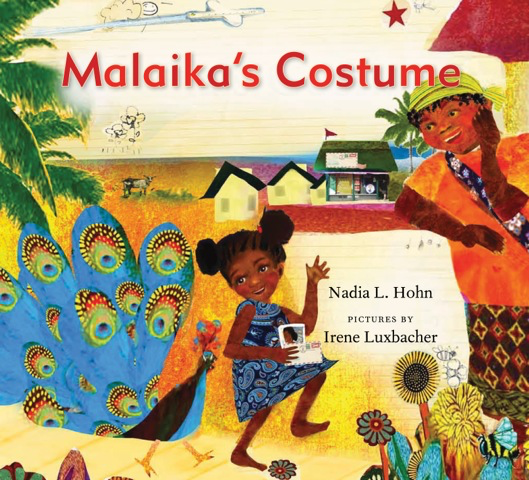 How did I meet my publisher for Malaika's Costume? In 2011, I attended a workshop on Writing and Getting Published in Children's Literature in the backyard of A Different Booklist, a Black-owned bookseller of diverse books in Toronto. The workshop featured a few panelists including Sheila Barry who was then a publisher at Kid's Can Press.  I took Sheila's e-mail address and stayed in touch.  I let her know I was working on something but the truth is I didn't feel ready nor that it was good enough to submit.  By that time, I had taken a few night courses in writing for children and later children's illustration at George Brown College Continuing Education in Toronto.  There, I wrote the manuscript for Malaika's Costume, for a picture book assignment in Writing for Children 1 with educator/author/musician, Ted Staunton.
In 2013, I finally had the nerves to send Sheila my manuscript for Malaika's Costume after I had submitted it to a children's literature contest.  By then, Sheila was a publisher at Groundwood Books (House of Anansi.)  That year, this manuscript lost the literature contest but on the up side, Sheila offered me a publishing contract after she made some suggestions… and I followed them.  (I resubmitted Malaika's Costume to the contest the next year and then it won.)  The rest, as you say, is history.  Coincidentally, the week prior to Sheila sending me the offer, I had received an e-mail from Rubicon Publishing seeking writers-for-hire for its non-fiction series Sankofa Black history collection.  I agreed to write 2 of the titles in the series, Music and Media, both subjects I have taught and hold qualifications in.  These were my very first two titles.
Until a few years ago, I did not equate my writing as a way to make a livelihood. Not that I didn't want to or wouldn't want to.  I wanted to writing to be solely for my pleasure and I was afraid that if I made writing my job, it would suck the joy out of it.  I wasn't willing to sacrifice that.  In the meantime, I just continued writing all sorts of things and attend workshops, courses, conferences, retreats, and anything children's literature related.  I chose to be a teacher as there are many benefits to working with children as well as time off, however I've been learning the many ways one can teach through books.  As there has been some success with the first few books, I am seeing ways to make this writing career work.  My teaching experience has greatly benefited me for finding the voice of my characters, storytelling in a way that children like and understand, getting exposed to a variety of children's literature, and a test focus group.  There! I said it!  In addition to reading my Malaika's Costume manuscript to my writing critique group, I read it to my students from kindergarten to grade 1 or 2.  It helped me to see what they enjoyed hearing.
The Back Story
As I mentioned, I used to write stories and make books as a child. The Greatest Carnival Ever is one of the few books I still have that I both wrote and illustrated for a project in fifth grade, almost 30 years ago.  (Wow!)  The book was about a boy named Georgie Clemington showcasing his island and his love of Carnival, describing the whole process of getting ready for the big event.
I feel like that book was my first foray into describing my love for Carnival.  When I was given the picture book assignment in my Writing for Children class, I was so excited about the details of the story and I knew it would be about a girl and her grandmother.  As I have also played Mas'– which means I wore a costume and danced– in the Caribana parade, Toronto's annual summer Caribbean Carnival, and loved the experience.  It's magical, it's tribal, it's beautiful,…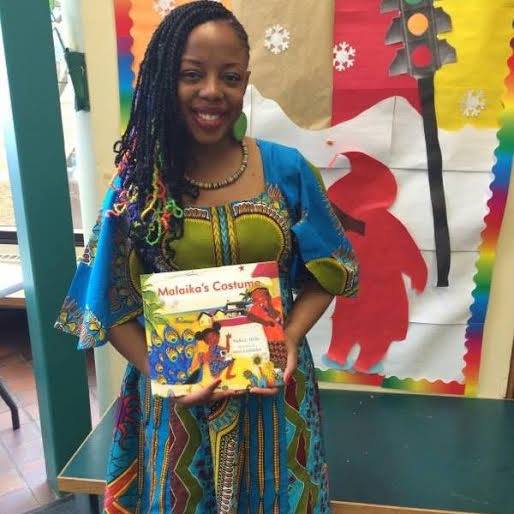 After MALAIKA'S COSTUME was published I read a review of my book, and what readers often saw was the story of immigration and globalization.  Only then, did I realize how much I was influenced by what had occurred in the generations of my own family history— patterns of migration to the US, UK, Canada, Cuba, and Panama—in which members left Jamaica for work in order to send money back home to help "make a better life".  This theme of immigration and separation is Malaika's story and is part of my family history as it is also the case for many people of Caribbean descent.  The story is also largely influenced by Trinidad's Carnival tradition with all of its characters and by the backdrop of rural Jamaica, where my parents come from and which I have visited.  I have still yet to visit Trinidad.
The Buzz
American Library Association (ALA) Midwinter 2017 Notables' Children Books- 2017 Discussion List http://www.alsc.ala.org/blog/2017/01/notable-childrens-books-2017-discussion-list/?utm_source=feedburner&utm_medium=email&utm_campaign=Feed%3A+AlscBlog+%28ALSC+Blog%29
The Inspiration
I used to write stories and make books as a child.  One of the few books I still have that I wrote and illustrated for a Grade 5 project is called "The Greatest Carnival Ever".  So I always loved the idea of a book culminating with a Carnival.  Years later in the winter of 2010, I took a writing course at George Brown College with author Ted Staunton.  He gave us a picture book assignment and this is when I wrote Malaika's Costume.   I remember getting very excited as I worked on the details of the story.  I have also played Mas'– which means I wore a costume and danced– in the Caribana parade a few times, Toronto's Caribbean Carnival and loved the experience.
I look up to "triple threats", multi-talented artists like, Erykah Badu, Oprah, Issa Rae, and Janelle Monae who are entrepreneurial as well as creative and amazing at what they do.  They are so committed and principled.  I like Janelle Monae especially because she is so multi-talented and she is not stuck in one arts discipline—she acts, sings, dances, produces, etc.  I relate to the multi-faceted nature of my own life and journey.
I am inspired by many Black women writers who I call my writing sheroes– Chimamanda Adichie, Alice Walker, Nnedi Okorafor, Edwidge Danticat, Zadie Smith, Toni Morrison, Jacqueline Woodson, Sharon Flake, Coe Booth, Rita Williams-Garcia, Zora Neale Hurston, etc.  I feel because these women are and have been, I can too.  I feel like my writing has wings and that it can take flight.  I feel like I want to tell my stories again and again especially for young people.
The State of the Industry
Over the years, I was so excited to learn about the work happening in the United States with the We Need Diverse Books initiative and the statistics being put about the current state of children's books.  If these issues about disparity between what gets published in the United Sates based on race, just imagine the state in Canada where race-based statistics are not normally kept and the numbers of visible minorities is much smaller.  As a child, I grew up reading mostly African-American writers.  Naturally as a young Black bibliophile, I was looking for characters and books I can relate to.  I am proud to say that my publisher, Groundwood Books, is possibly the most diverse publisher of children's books in Canada.  Often, I find the conversation about diversity or rather the "non-existing conversations" to be quite frustrating.  Many feel that there is no problem and that Canada is doing something that the US is not.  (Please see this article in the School Library Journal http://www.slj.com/2016/08/diversity/how-canada-publishes-so-many-diverse-childrens-books/).  My colleague and fellow African-Canadian of Caribbean descent now living in the United States, Zetta Elliott writes extensively about this topic on her blogs as well.  The diversity of the books published is not as much a challenge.  The challenge is that there are fewer authors and publishing industry professionals of colour.  My experience being an author in Canada, and often at conferences in the US, is I am one of very few of colour.  I feel like a unicorn at times.
Although, I wish that I was one of many authors of colour like when I attended the Kweli Conference in New York City and the Voices of Our Nationa (VONA) Voices Workshop in Miami both in 2016, I get it.  Being an author is challenging to persist in the face of rejection, to wait 3-5 years for your book to be published, to side-hustle and work multiple jobs in the meantime, to raise a family, and keep everything else running.  I think part of the reason why I am not seeing a lot of authors of colour, especially in Canada, is because many of my colleagues of colour feel shut out of the publishing industry and many go it on their own and self-publish.  In 2014, I started Sankofa's Pen, formerly the African-Canadian Writers for Children and Young Adults- ACWCYA, because I wanted to find other Black authors who also focused on writing for children.  Such a community did not exist at that time, so I created it.  For the first two years, e met monthly, shared our resources, and networked but now we have a great Facebook group and I have expanded it to include multi-genre writers and those from outside of Canada.
The Brown Bookshelf is honored to provide a cover reveal for Nadia Hohn's next book,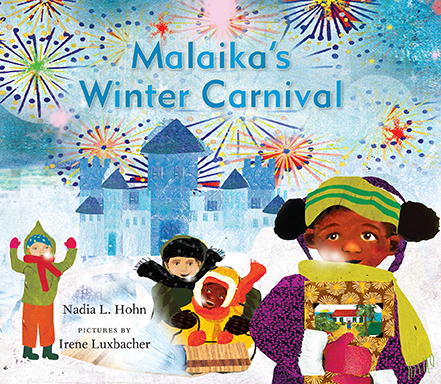 MALAIKA'S WINTER CARNIVAL, set for publication in Fall, 2017!
You can keep up with Nadia by visiting her website at http://www.nadialhohn.com
Congratuations Nadia, and thank you for your contributions to children's literacy.