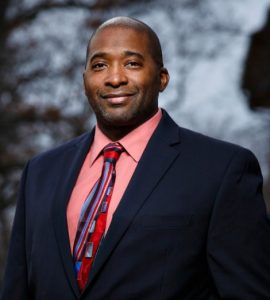 Hope Dealer. Actor. Speaker. Advocate. Teaching Artist. Hasan Davis creates change and sows inspiration in many ways. His latest is as children's book author. Through his picture book The Journey of York (illustrated by Alleanna Harris, published by Capstone), Hasan gives voice to a hero on the Lewis & Clark expedition who has been too long unsung. We're honored to welcome Hasan to The Brown Bookshelf to share his path to this important story:
My journey to York began as a child growing up on the tail end of segregation. Throughout my early childhood I was only introduced to a few "safe" examples of Black contributions to the American way of life. George Washington Carver, Booker T. Washington, and Frederick Douglas seemed to be the prominent black voices held up as examples of America's success story.
In third grade I received my first social studies/history book. I was excited by Mrs. Moore's powerful proclamation that this book was "the place where the great stories of America lived." I hurriedly began flipping through my textbook and chapter after chapter the faces that greeted me, Washington, Jefferson, Lincoln, shared one dominating characteristic. They were all white men. As I kept up my frantic flipping, waiting for the rest of the story, I finally turned past what looked to be a black man. I quickly turned the pages back to find my truth waiting. There was the image of a shirtless black man slumped forward to display the bare back completely covers with scars from repeated and
severe whippings. The caption below the picture was short but clear. "The American Negro, Slave." I was fortunate to have parents who went out of their way to find the "other" stories to refute this narrative. They were the first to encourage me to search, find and share.
Years later, it was that pivotal experience that set me on a mission to find and share the stories, experiences, and sacrifices that more accurately reflect the presence of African descendants in America's history and confirm their contributions to our national legacy. First, I began using a living history format called Chautauqua to bring stories of African American heroes alive for student and adult audiences nationally.
In 1999, I was encouraged to develop a new living history program specifically for the bicentennial commemoration of the Lewis and Clark Expedition which would formally begin in 2003. After a year of deep research and preparation, including script writing and costume design, I was ready to debut my new national performance of York, Explorer. After some early success, I was invited to contribute more directly to the success of the Bicentennial by telling York's story along the Lewis and Clark historic trail as an official part of the national signature events. This experience informed my earlier knowledge of York by giving me connections to American Native elders and storytellers from many of the communities that were visited by the corps of discovery. The representative honored me with personal histories of York's presence and experience among their people that were often different than the stories captured in the journals of expedition. These stories combined with my research and a series of recently discovered, never before seen letter from William Clark to his brother dating to the years after the return of the expedition allowed me to create a comprehensive perspective of York before, during and after the expedition.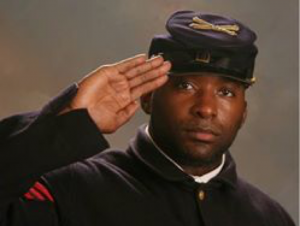 I was inspired by the success of telling York's story to older students and adults. But, as a person whose professional work has always been focused on youth development, I have been concerned by the growing data that shows a clear impact on quality of life that low reading ability has. These negative impacts are even more severe increase with African-American boys who struggle to read at grade level.
As a young boy experiencing learning difficulties, reading was difficult for me on my good days. With a complete absence of stories and heroes that looked like me, reading became something I had no interest in. We still have a long way to go to reach fair representation of African American experiences and contributions.
During college and in my early career, I had the privilege of being in the presence of and receiving advice from such well known and amazing literary and creative icons as Alex Haley, Maya Angelou, and Louis Gossett Jr. I feel blessed to have been encouraged by them in our brief time together to courageously tell my stories (personal and historic) to the world. With the foundation of pride nurtured by the stories my parents blessed me with as a child, I have found new ways to ensure that the presence and power of African American contributions are accessible to students of all ages. Through my stories, I provide another new resource for caring teachers and parents to share with curious boys and girls that affirm that our greatest American achievements have taken place because of the presence of a diverse group of people.
The Buzz on The Journey of York:
"Davis imagines York's feelings as he navigates his role as both enslaved African-American man and almost-full member of the expedition, narrating in a still voice that emulates 19th-century prose and also captures the stress of life as a second-class citizen . . . An important, unheard voice."
Kirkus
"A picture book spotlighting York is welcome, and his portrayal here is respectful and sympathetic . . . this picture book provides a colorful introduction to York, a unique figure in American history."
Booklist
Learn more about Hasan's inspiring work at www.hasandavis.com.