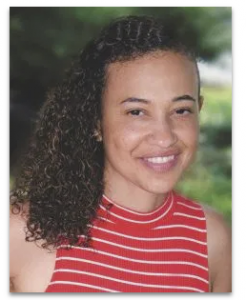 Author-illustrator Daria Peoples-Riley made her debut in children's publishing with the picture book THIS IS IT (Greenwillow/HarperCollins, 2018). It is a celebration of individuality, self-expression, and dance. Her companion book, I GOT NEXT  (Greenwillow/HarperCollins, 2019),followed with a starred review from Kirkus. Peoples-Riley is also the illustrator of GLORIA TAKES A STAND by Jessica M. Rinker, a picture book biography about the life and work of Gloria Steinem (March 2019). Daria lives in Las Vegas with her family.
The Journey
In my senior year of high school, I knew I was supposed to be an artist, but I didn't really know what that looked like, and I didn't have the confidence to pursue a career I knew nothing about. So, I went on to college, studied English and Black Studies, and became a teacher.
Seven or eight years later, I remembered my dream to become an artist and decided to purchase a DSLR camera and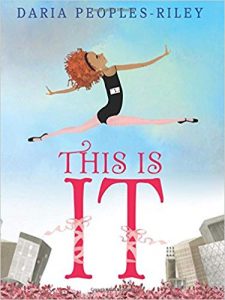 teach myself photography and Photoshop. Then, I began drawing again, something I hadn't done since I was a teenager, but the idea of a career transition seemed impossible, and I often became discouraged—always starting and stopping. It felt like I was standing on one shore of an ocean and my dream was faraway on some other shore I couldn't even see. I had no idea how to journey across.
But one day, an illustrator visited the school where I taught, and a co-worker encouraged me to ask him about the industry. Before then, I'd never met a children's book illustrator, and though he was very supportive, the career still seemed intangible. I liked to draw, but I was in no position to go back to school and any other path seemed far fetched for someone like me with no formal art training. The next year rolled around, and the school arranged for a visiting children's book author to teach my classes for a week, and he also encouraged me. When this happened, I had enough insight to think that maybe God was planting a few seeds in my path, so I joined SCBWI and very quietly worked on a story idea and an illustration portfolio.
For every SCBWI event I attended, I submitted a new portfolio and sent it to agents and publishers. After three years of trying and one pass from an editor on what would be my first published book, I was offered representation by Marietta B. Zacker.
Marietta and I worked on THIS IS IT and what became I GOT NEXT. While I was finishing THIS IS IT, I was offered the illustration job for GLORIA TAKES A STAND by Jessica M. Rinker (Bloomsbury). And currently, I am working on a new picture book with Greenwillow.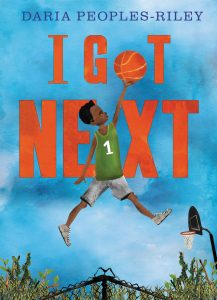 The Inspiration
There are a handful of writers and illustrators who truly inspire me. Their work is my unconventional education. We'd be here all day if I told you what I've learned from each of them, but I would like to recognize Floyd Cooper.
I met Floyd after being chosen as a Highlights Diversity Fellow, and through his mentorship, he became the first illustrator who consistently gives me feedback. His longevity in this industry is extraordinary, and his optimism for my work helped me overcome the mental hurdle of not really seeing myself as an artist. He teaches me how to trust my vision, but he also suggests ways for me to improve, and I believe my career will greatly benefit from his guidance.
I try to seek inspiration in broad terms, across disciplines and genres. As a result, film is becoming a more integral source of inspiration for me. The Last Black Man in San Francisco is a gorgeous film—socially, morally, and intellectually, and it directly inspired the way I approached the art in my current project.
The music I listen to usually connects to a specific project I'm working on. Right now, songs by Aretha Franklin, PJ Morton, and Andra Day are on repeat. I also use mentor picture book texts. Recently, I've been analyzing the work of Eloise Greenfield, Tom Feelings, and Leo and Diane Dillon.
More importantly, I remind myself to slow down, listen, and pay attention to the ways in which inspiration conspires on my behalf every single day.
The Process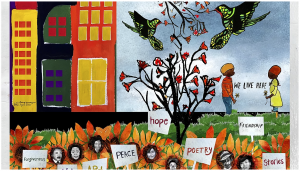 In all honesty, I'm still learning how I work, but lately, my routine has been to plow through writing and sketching the first draft. Then, I put it aside until I've forgotten what I did or why I did it.
With a fresh perspective, I pull the draft back out, read and analyze it, then cut and tape the strongest elements into a new dummy. Sometimes it's an illustration, or a word or phrase, or a sequence of page turns. Whatever it is, it becomes the starting point for my next revision.
Also, I tape each spread on the wall, so I can look at the entire book as a cohesive unit. This way, I can also arrange and rearrange.
And I usually go through this process several times before the story shapes into something significant, something I can share with my agent or editor. As much as I would love to work faster, I don't. I need a lot of time for revising between drafts and even more time to complete final art.
When I am certain of what the story is and I understand my own voice and vision on the page, I share it. That way, I can gauge how close or faraway I am from my intention based on the feedback I receive.
I work in a home studio. Working from home is convenient, but I hope to one day share a studio space with a few other children's book illustrators. I think it would be ideal to have the option to do both.
What do you wish the kidlit industry better understood about publishing
Black children's books / Black authors / Black illustrators?
I wish the kid lit industry would better understand we are who we say we are. Our stories stretch far and wide, transcend socio-economic boundaries, interests, cultures, languages and religions. Black children are from everywhere, and Black authors and illustrators should be able to write and make art about all of our experiences without having to feel as though we must validate or defend the narratives we know to be true.