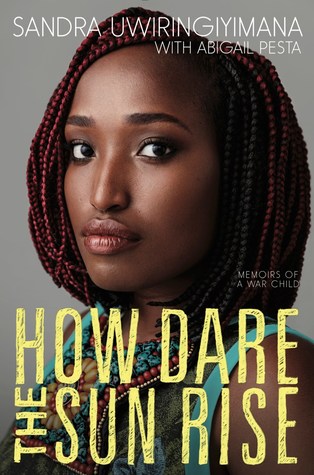 Sandra Uwiringiyimana's stunning YA debut HOW DARE THE SUN RISE begins with a massacre in a Burundi refugee camp where she lost her sister. It goes on to detail not only the horrors of her experience as a refugee, but more importantly, the beauty and joy that she has grown up with. This #ownvoices story is powerful not only because it's direct, but also because it is raw and beautifully depicted.
From the book: "As a kid, I was never afraid of monsters at night: All the monsters I knew walked in daylight and carried big guns."
Kirkus called it a "touching memoir" and a "hard-hitting autobiography [that] will have readers reeling."
You can see Sandra in a 2017 CBS interview here.
From the interview: "I wrote this so that hopefully we can all contribute to building a better world, especially a better America, for all of us. You just don't know what your neighbor is going through and to clear up some of the misconceptions about refugees, you know about people who aren't from this country. We come here and we become part of this society and we love being here, but we are also unique and we have our stories and…we have the right to tell them…. It's telling our stories–all of us–that helps us live together better. So I want everybody to go out and listen to each other's stories and also tell your own stories so that we can all understand each other better."
Sandra has given several other interviews and appearances which you can find at the links below.
Women in the World Conference 2016
ALA Annual Conference 2017 "Raising Awareness"
You can follow Sandra on Twitter.