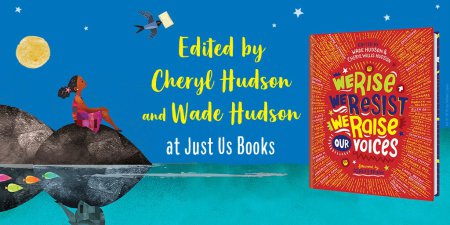 Today is the book birthday for a special anthology. Edited by Wade and Cheryl Hudson and published by Crown Books for Young Readers in cooperation with the Hudsons' company, Just Us Books, We Rise, We Resist, We Raise Our Voices is a treasury of poems, prose and art that offers hope and encouragement to children in these challenging times.
The collection, which has won multiple starred reviews, features the work of more than 50 diverse, award-winning children's book authors and illustrators including Jacqueline Woodson, Kwame Alexander, Ellen Oh, Jason Reynolds, Margarita Engle, Tony Medina, Sharon G. Flake, Javaka Steptoe, Innosanto Nagara and three on the The Brown Bookshelf team – Tameka Fryer Brown, Olugbemisola Rhuday-Perkovich and me.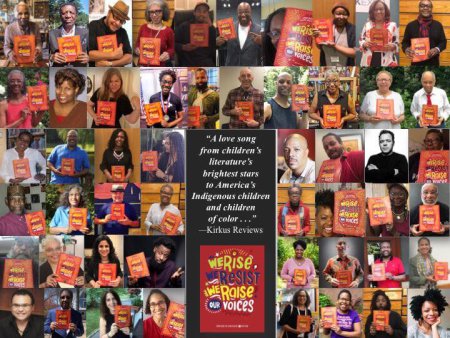 I received my hardcover and boxed CD set last week. Every time I read or listen to the words, I'm moved and filled with pride. I hope that every classroom from elementary to high school gets a copy of We Rise, We Resist, We Raise Our Voices and it becomes a valued part of home and library collections. It's the book we need.
Wade and Cheryl Hudson have been doing this work of encouraging, mobilizing and giving back for decades. Just Us Books, their pioneering company, turns 30 next month. The Hudsons are warriors for justice, equity, empowerment and visibility. They do it for the culture, for the children. Let's give a gift to them and to the kids who will see themselves in this book. Let's make We Rise, We Resist, We Raise Our Voices a bestseller.
Buy a copy today and spread the word. This is a day of celebration and action. Post a review. Share the cover and tag friends. Download the educators' guide. Use the hashtag #RiseResistRaise and share how the book makes you and children you know feel.
To learn more about how this powerful project was created, watch the Hudsons here. At The Brown Bookshelf, we salute them, editor Phoebe Yeh, the Crown team, the amazing contributors and our future and inspiration – the children. Below, the Hudsons share why we must stand up for change and spread hope:
"Today, our democracy is under attack and much of the progress to make us more just, fair and inclusive that has been achieved through fierce and dedicated struggle, is in peril. There are those who would make us an even more uncivil and less moral country. They view and use meanness and power to get their way, to try to recreate a world from a bygone era where too many of us were victims and not citizens. In a time such as this, we must rise, resist and raise our voices.
Our young people are not only watching, they are impacted as well by this onslaught.  We need to rise, resist and raise our voice not only for ourselves, we need to do it for the future of our young people. That is why this anthology is so important. In it, fifty-two creators of books for children and young adults share their voices to offer wisdom, encouragement, love, support and HOPE!
We are so proud to be a part of an outstanding team of diverse authors and illustrators to produce a book for this time."