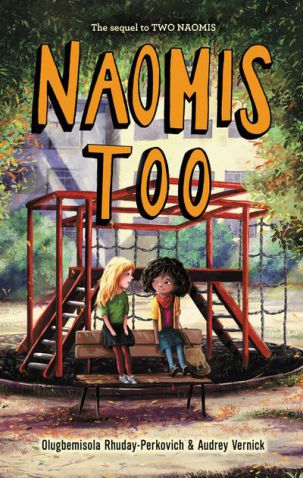 What do you do after launching a successful MG novel about blending families? Why follow it with a sequel, of course. Help us celebrate our Olugbemisola Rhuday-Perkovich and the book birthday of Naomi's Too. Co-authored by Audrey Vernick, Naomi's Too follows Naomi E. and Naomi Marie as they try to navigate their new lives as step sisters.
In this sequel to Two Naomis, now that Naomi Marie's mom and Naomi E.'s dad are married, the girls have learned to do a lot of things together, like All-Family Sunday dinners, sixth-grade homework, navigating the subway system by themselves, and visiting their favorite bakeries. Until sixth grade in a new school presents a whole new set of surprises and challenges.
As the girls deal with the ups and downs of middle school and the mysteries of family dynamics, they learn that even when life and school try to drive you apart, it's ultimately easier to face everything together.
The Buzz on Naomi's Too
"A sequel that packs as much heart, humor, and understanding as the first." Kirkus Reviews
Buy Naomi's Too
Direct from HarperCollins