As a child, my grandma would take my brother and me to land in Gibsonia, PA where she grew up. Relatives would come together at Woods Grove, named for her family, for reunions and fun. I heard stories of drinking water from the spring, cooking feasts and dancing into the night. As her words spun a world, I tried to picture the house and people who found home in each other.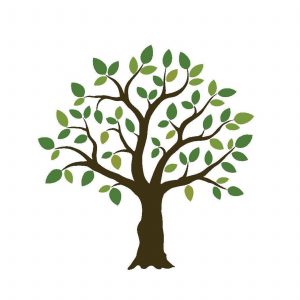 Reunions are part of my life too. Last weekend, I attended the Pete & Lillie Hairston Reunion in Chesapeake, Virginia. My cousin Corky planned a beautiful weekend with time for bonding, honoring our cultural heritage and documenting our family roots. Being connected to cousins from around the country and standing on the shoulders of ancestors means so much.
Each year, families nationwide converge to celebrate bonds and remember the past. For Black families, they're about roots and branches, resilience and rejoicing. Our people were stolen from Africa and shipped to this continent in chains. Slave owners brutalized us, separated us, and tried to break us. But reunions show that we stand strong together.
All summer,  I've smiled at family reunion photos posted on social media. So many stories in those pictures. They made me think about children's books that honor Black family reunions and other gatherings. As kids head back to school, let's keep the love going. Here's a list of a few of my favorites by Black creators and the back story of how mine came to me:
Going Down Home with Daddy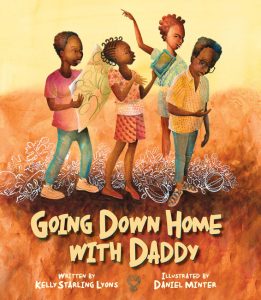 My story began to take shape when my husband took me to a gathering at his grandma's house in southwest Georgia. Set on countless acres, every piece of the land held memories. Fighting for rights. Building a home and a life. Planting seeds for the future. The setting was a character. As I took it all in, my mind filled with possibilities.
I felt the joy of family members who came back home. Uncles, aunts, cousins, grandparents, family friends all reminisced and reconnected. Being there reminded me of my grandma's and mom's stories and reunions I've attended.
When my husband and I brought our kids to visit, I began to look at the tradition through their eyes. What did coming down home mean to them? What would they remember and pass on? That's when the story took flight. The main character, Lil Alan, goes down home for a milestone family reunion and searches for a way to share what his heritage means to him. Illustrator Daniel Minter brought so many layers of meaning to the book – the Adinkra symbols, the colors and emotion-filled faces, the texture and ancestral connections, the land. There's intention, care and love in the art. His work fills me with pride.
Learn more about our picture book and read reviews here.
Some Kind of Love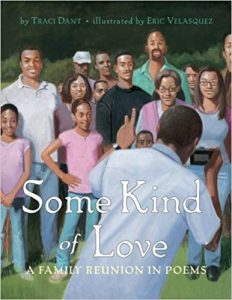 I use this book as a mentor text when I'm working with kids on poetry. It sings with rhythm, sensory images, meaning and repetition. Each free verse poem begins with the line: "Must be some kind of love." Then, we're swept into stirring scenes of generations coming home from different parts of the country, kids crowding into a bed together, family breaking bread and sharing love. The heartwarming art makes you feel like you're part of the story. Written by Traci Dant and illustrated by Eric Velasquez, it's a treasure for reunion season or anytime.
Check out what School Library Journal had to say:
"In this moving tribute, 15 poems describe the joy of one African-American family's annual reunion weekend. It begins with the words of Grandma: "Always come home/Come home so I can see your faces./Your brown, your cream, your peach,/your purple, your midnight faces. Come." . . . A rich celebration of togetherness."
Bigmama's 
You often see lists of classic children's books. This is one I'd put on mine. Created by Donald Crews, it shares the story of a train trip to visit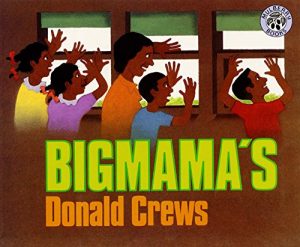 Mama's Mama in Cottondale, Florida where it feels like you're stepping back in time. The kids get to see where their parents slept, drink well water, visit farm animals, fish in a pond and experience a way of life where the song of a train whistle lets you know the time. One of my favorite spreads is a scene with the family gazing at an inky sky filled with stars.
"A very special book by a superb artist and storyteller."—The Horn Book
Under the Same Sun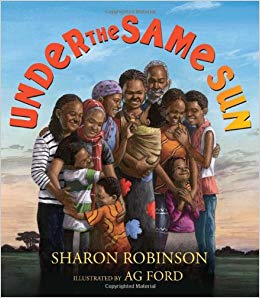 I love that this book celebrates going to the Motherland and the ties that bind. Auntie Sharon and Grandmother Bibi are flying to Tanzania from America for Bibi's 85th birthday celebration. They step into a homeland that's full of sights and sounds, love, laughter and memories. The moving story explores tough moments too when the kids, who live in Tanzania, learn what happened to an ancestor who was enslaved. Written by Sharon Robinson, daughter of baseball legend Jackie Robinson, and illustrated by AG Ford, it's a powerful story whose words and art shine.
From Booklist:
"Robinson bases the affecting story on her own family history, and Ford captures the memorable moments in luminous, full-spread oil paintings, while the historic revelation is set apart in nearly monochromatic sepia, allowing youngsters to pause and reflect. Grandmother's closing words will resonate with all readers: 'land and sea may be between us, but we are all under the same sun.'"
Don't Let Auntie Mabel Bless the Table
We all know that relative that takes their time with grace. Author-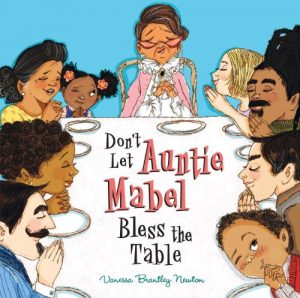 illustrator Vanessa Brantley Newton paints a picture of a loving, multiracial family that's running short on patience. Auntie Mabel's all-encompassing blessing makes me laugh, smile and gets my stomach rumbling. Check out some of the food she's thankful for – mashed potatoes, black-eyed peas, roast chicken, yams, collard greens. Talk about a spread. Like her charming story, Vanessa's art delights. It's fun to read on your own, but extra special to hear it read by creator Vanessa.
"Can a book be simultaneously reverent and irreverent? Newton (Let Freedom Sing) performs that potentially dicey feat with ease in this story of a Sunday supper derailed by a prayer that won't stop . . . Readers will recognize the Auntie Mabels in their own lives, and also the broader family dynamics at work. Despite the ample fun, it's clear that with these folks, family and faith come first." — Publishers Weekly
What are your favorite children's books about Black family reunions and gatherings? Share them in the comments.