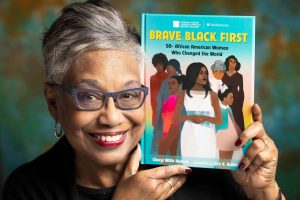 Co-founder of Just Us Books, Diversity Jedi, artist, quilter and award-winning author, Cheryl Willis Hudson brings intention, meaning and magic to everything she touches. Her latest book, Brave. Black. First.: 50+ African American Women Who Changed the World (Crown, 2020), is her latest outstanding project.
Beautifully illustrated by Erin K. Robinson and published in collaboration with curators from Smithsonian's National Museum of African American History and Culture, the biography collection shines a light on trailblazing Black women. From the arts to civil rights, from politics and STEM to sports and business, Hudson centers change makers through memorable profiles that inspire and inform. The book delights all the way to the end. The back matter is packed with extra facts about each featured woman and a list of related memorabilia at the National Museum of African American History & Culture and the National Portrait Gallery.

We are proud to welcome Cheryl Willis Hudson, a brave, Black first herself, back to The Brown Bookshelf:
Brave. Black. First. was a dream project because it gave me an opportunity to write a book that combined my love of biography, research and African American history in a unique format for middle readers. As a work of nonfiction, it is beautifully designed and illustrated. It is supplemented with photography and lots of additional information which resulted from our collaboration with of the Smithsonian National Museum of African American History and Culture in Washington DC. I'm delighted to share a bit about my process and the steps that went into creating Brave. Black. First., especially at the end of Women's History Month 2020 and during the 100th anniversary year of the 19th Amendment to the US Constitution which guaranteed women the right to vote.
Inspiration and Collaboration with the Smithsonian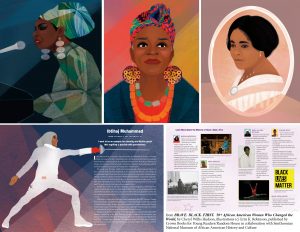 I had visited NMAAHC twice in 2016 and 2017 and was blown away by its design and amazing exhibits, so I readily accepted an invitation by Phoebe Yeh, V.P. at Crown Books to write a book about some of the Black women who were featured there. Making a wish list of the women to write about was easy. I started with over 100 names–doctors, lawyers, entertainers, civil leaders, activists, educators, as well as other historic and contemporary figures. This was a collaborative project, though, so with input of my editor, and curators from the Smithsonian Institute, the list was pared down to a more manageable number of 50. That was hard!
The Process
Once the list was finalized, illustrator, Erin K. Robinson was commissioned to do the drawings. She and I began working independently—she on the portraits and myself on the text. My research was done from autobiographical books, magazine articles, viewing videos, and online sources such as those available from the Library of Congress. Erin created a series of incredibly sensitive digital portraits and her style really helped to lay the foundation for the overall design of the final book.
Early in the process and on my third visit there, Erin and I met along with our editor at the National Museum of African American History and Culture to review some of her preliminary sketches. It was amazing to see Erin's process unfold in the exquisite lines and layers and textures she created on her iPad. The final illustrations are stunning!
Other Background Information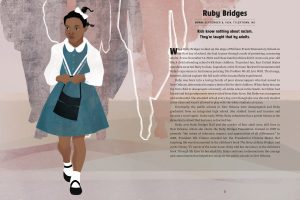 Of the 50+ women in the book, I realized that I had experienced the privilege of meeting at least 11 of them in person (Rosa Parks, Maya Angelou, Toni Morrison, Althea Gibson, Ruby Dee, Faith Ringgold, Gwendolyn Brooks, Ruby Bridges, Nina Simone, Dorothy Height and Dr. Carla Hayden). Those encounters contributed a bit of my own personal insights while writing about each of these women. My goal was to make each biographical profile resonate with the reader with a sense of immediacy and conversation, rather than simply presenting a litany of dates, facts and accomplishments. Adding short personal quotations at the beginning of each entry helped to provide some insight into each woman's personality, too.
It took a bit of time to work out how the women should be listed in the book: alphabetically, chronologically, thematically, by occupation, that kind of thing. Interestingly enough, the final arrangement of profiles had a lot to do with variations in the palette of Erin's striking illustrations. Ruby Bridges Hall literally walks into the reader's view in the first entry, starting with her first day at school at the age of six years old. The book ends with a bold, graphic profile of the three women activists—the organizers of Black Lives Matter.
The collaborative experience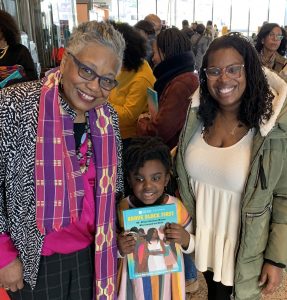 I can't say enough about what a great project this was to work on—truly a collaboration. I loved the research but the big challenge for me was distilling it into an engaging format for the reader. I tried to capture the personality and spirit of each woman through my texts. Erin certainly captured their essence in her portraits. But there was literally too much pertinent information to include in the body of the book so Crown's editorial and design team decided to add text and graphics packed back matter to provide readers with additional information and items in the Smithsonian Museum's collections. Using that source material, a reader can literally walk through the museum and see for example, the dress that Marian Anderson wore at her historic 1939 concert on the steps of the Lincoln Memorial. Facts were thoroughly checked and cross checked by Crown's editorial team and curators of the museum. The photo researcher and Smithsonian curators did a fabulous job in pairing items from the museum's collection with my text and source notes. The layout, design and production of the book are the best!
How Brave. Black. First. has been received
The reviews have been great. I've done large school visits and smaller group presentations as well as online interviews and radio appearances to promote the work. Excerpts of BBF have appeared in Smithsonian Magazine  and educators have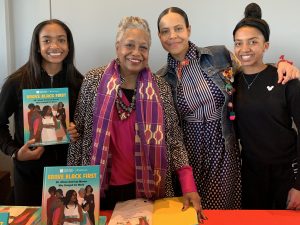 been sharing profiles with their classrooms on a daily basis during Women's History Month. One of our most successful signings was held in Heritage Hall at NMAAHC during Black History Month where Erin and I autographed copies for over two hours straight.
Women's History Month is a great time to celebrate so many African American women whose stories so important for history and culture. I hope that readers are inspired by reading about the lives of these important African American Women who were Brave. Black. First.
P.S. Readers may purchase copies of BBF via Just Us Book's online store, http://justusbooks.com and have them autographed by the author. Books are also available for order by publisher, Random House, brick and mortar stores and other online sources.