"As people of color, we can turn what the dominant culture deems our weaknesses into sources of strength for our art. We know different kinds of fear than they do, which gives us a different understanding of true courage. Write that. We've been hated on more than they have, so we have a different understanding of love. Write that. We know despair and sorrow in unique ways, so we have a special relationship with hope, and our own particular vivid spectrum of joy."
When Newbery Medalist Linda Sue Park shared those inspiring words in her closing keynote of last Saturday's Kweli: The Color of Children's Literature conference, the response was immediate: Thank yous. Amens. Comments that her message brought listeners to tears. Attendees of the virtual event felt seen and heard. Park's words reminded me that stories can reveal the dangerous depths people can sink to and illuminate the resilience, bravery and beauty of the human spirit.  We see those extremes happening in real life today.
As coronavirus cases and deaths rise, another scourge has risen too – hate crimes against members of the Asian-American community, especially East Asians. Fueled by racism, bigoted political rhetoric and willful misinformation, people are shouting slurs and accusations, launching physical attacks. Directed at our brothers and sisters, it's an assault on all of us. In the face of hate, we must stand strong together. Below, we share a few of our favorite authors, illustrators and books. Shout out yours in the comments. Please show your support by sharing their work, speaking up against discrimination and spreading love.
Kelly Starling Lyons Salutes: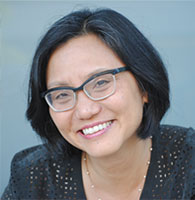 Dedicated to equity and inclusion, award-winning author Linda Sue Park champions children's book creators of color and Native creators and is on the advisory boards of We Need Diverse Books and Society of Children's Books Writers & Il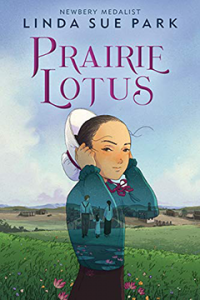 lustrators. She empowers and inspires young readers through her more than 20 books including A Single Shard, a 2002 Newbery Medal winner, New York Times bestseller A Long Walk to Water, the Wing & Claw fantasy trilogy, titles in The 39 Clues series and numerous other novels and picture books.
Topics in her outstanding catalog include exploring Korean history. The daughter of Korean immigrants, Park has mined her heritage for stories on kite fighting, the Japanese occupation of Korea and celadon, fine pottery. Her latest novel, Prairie Lotus, is set in late 19th century America and centers a half-Asian heroine coming of age, facing racism and trying to realize her dreams. Park received multiple starred reviews including this one from Booklist: "In her latest middle-grade historical-fiction masterpiece, Park conjures the resourceful and industrious spirit of America's westward expansion without ignoring the ugly veneer of racism….An incredible and much-needed addition to the historical-fiction canon."
Fun, generous and gifted, Linda Sue Park creates a better world through her books and advocacy. Learn more about her here.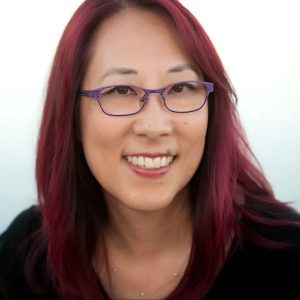 Debbi Michiko Florence is the author of the Jasmine Toguchi series, an acclaimed quartet of chapter books that star a sweet and spunky Japanese American third grader. Inspired by family experiences, Debbi created a winning character who celebrates who she is and shines a light on cultural traditions including mochi making, Girls' Day and playing the taiko. Books in the series have been chosen as Junior Library Guild selections, Nerdy Book Club Award winners and Bank Street Best Children's Books of the Year. The Jasmine Toguchi series became a favorite as soon as I read the first book. Fun and family-focused, Debbi's stories shine with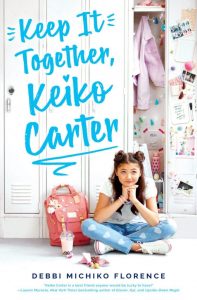 originality and authenticity.
And that's just one of her series. Drawing on her knowledge as a former zoo educator and her love of animals (Debbi has a rescue dog, bunny and duck), My Furry Foster Family is another of her chapter book treasures. This series, featuring an 8-year-old and her family fostering pets, will add four more titles this summer for a total of eight. Next month, Debbi's first middle-grade novel, Keep it Together, Keiko Carter (Scholastic) debuts. You can pre-order a signed copy from her local bookstore, Bank Square Books, and receive a bookmark, limited edition button and be entered in a giveaway of fun items from the book and cover. Learn more about Debbi Michiko Florence here.
Named one of the coolest dads in America by Fatherly magazine, Minh Lê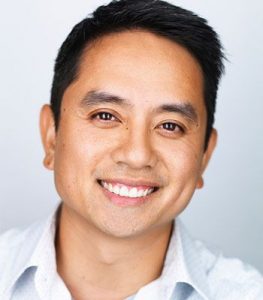 creates books full of wonder, imagination and meaning. Drawn Together was the 2019 Asian/Pacific American Award for Literature Picture Book Winner. Illustrated by Dan Santat, the story shows a boy and his grandfather bridge a divide of language and generation through the magic of art. Moving and heartfelt, it was inspired by Minh's own relationship with his grandfather.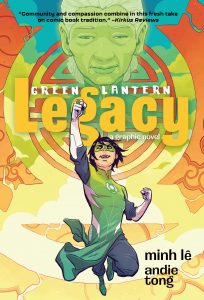 Minh's latest is the middle grade graphic novel, Green Lantern: Legacy, beautifully illustrated by Andie Tong. Minh's grandmother's jade ring from her Vietnam homeland helped shape the story of his hero. Next up is another exciting partnership between Minh and Dan Santat. Their fantastical picture book, Lift, debuts May 5 and is available for pre-order now. Learn more about Minh here. 
And speaking of Dan Santat, do yourself a favor and check out the work of this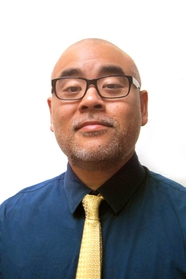 Caldecott Medalist and master storyteller. Creator of more than 100 books for kids, his work has won countless awards and honors. The Adventures of Beekle: The Unimaginary Friend, After the Fall and Are We There Yet? are just a few of his beloved titles. He recently celebrated a book birthday as the illustrator of the 90th anniversary edition of  The Little Engine That Could.

Along with seeing Dan's work on the shelf, you may have seen it on TV. He created the hit Disney animated series,
The Replacements
. More recently, he has used his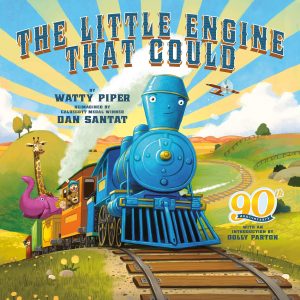 creativity to give parents and kids fun educational resources during the public health crisis. Dan came up with the Santat Online Survival School for the Pandemic. #Dandemic. You can download the PDF packet
here
. Humble and down to earth, Dan's joy of creating books for kids shows. "Nothing else matters if you do the thing you love," Santat said in a
TeachingBooks interview
. "Even in this profession of children's books – and no one's rich from this – the majority of people I know who do this for a living are in it because they love it."
Learn more Dan Santat here.

Olugbemisola Rhuday-Perkovich Salutes: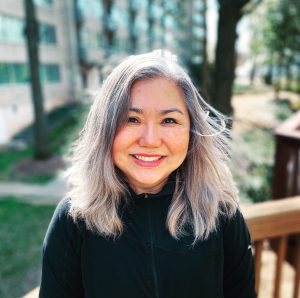 Ellen Oh is known for writing about dragons, and keeps that same fierce energy as an advocate in the world of children's publishing. As founder and CEO of We Need Diverse Books (WNDB), Oh turned a hashtag into a nonprofit organization that has built upon longtime efforts to attack underrepresentation in the publishing industry through its internship grant program, nurtured a new generation of creators from marginalized backgrounds through its mentorship initiatives, brought authors and books to classrooms through WNDB in the Classroom and the Walter Awards (named for Walter Dean Myers), and shed light on longstanding inequities and battles in the world of children's books.
As the coronavirus crisis necessitated the cancellation of kidlit events around the world, it was Oh who emerged as one of the leading organizers of the Everywhere Bookfest, a virtual book festival for young people taking place on May 1-2, featuring more than 50 kidlit creators on live and pre-recorded panels, and powered by over 100 volunteers, that's already a beacon of hope to creators, publishing professionals, and readers everywhere. "Having good representation helps people learn tolerance and acceptance of differences," said Oh in an interview. "And I think that when we don't provide that, we fail in our duty to educate and inspire the minds of our children."
Prophecy and The Dragon Egg Princess by Ellen Oh
My daughter has been in love with Ellen Oh's books for years, and insisted that anything I write about Ellen gives a shout out to her Prophecy series. In her words:  "The Prophecy series is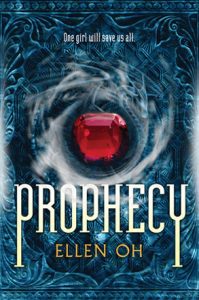 a beautifully written, action packed trilogy that, with detailed imagery, well-developed characters, emotional exchanges, and fantastical, mythic action sequences, will captivate readers everywhere. Ellen's writing blends complex emotional lessons with intricate and well researched plots and stories so well, it really drew me into her world."
Oh does it again with The Dragon Egg Princess. And by does it again, I mean captivates readers with her signature blend of fast-paced prose, irresistible characters, and writing chops that range from the terrifying (Spirit Hunters) to funny and kind of gross ("Everly's Otherworldly Dilemma" in The Hero Next Door) and of course, unforgettably rich worldbuilding. Grounded in Korean culture and stories, The Dragon Egg Princess is a story of an unlikely trio — quintessential reluctant hero Jiho, the "lost" princess Koko, and Micah, a sort of rebel leader, who band together to save the world. Bursting with magic, technology — and some incredible, super-scary monsters, this is a love-letter to all who love fantasy.
The Agency Series: A Spy in The House, by YS Lee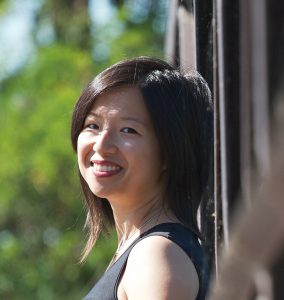 Suspenseful, moody, and overflowing with Victorian atmosphere, A Spy in the House is the first in a thrilling series about Mary Quinn, a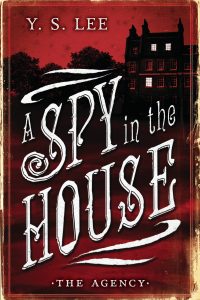 "student" at Miss Scrimshaw's Academy for Girls. The academy is really an espionage training ground, and teenaged Mary is a straight up spy. Mary is resourceful and quick-thinking, but also human, with secrets of her own, including big ones about her heritage and family. There's also a hint of romance as she engages in a battle of wits and words with James, who's carrying out an investigation of his own. Fun, feminist, and shines a light on aspects of the Victorian London era that are rarely seen. Learn more about Y.S. Lee here.
Don Tate Salutes:
Air travel is a huge part of an author's and/or illustrator's career. It is not always as glamorous or exciting as one might imagine. Over-crowded airports, delayed or canceled flights, and turbulence! Oh, my! But recently, I've read news stories about how racism against Asians has become another unfortunate factor. Several of my Asian colleagues have posted on social networks about hate stares—or worse—received while traveling. Some people want to blame the coronavirus outbreak on every Chinese person who ever lived. Really? This is a time of love and empathy, not hate and bigotry. Below I highlight the names of four of my friends of Asian descent who write for children. I love their works, I know you will too.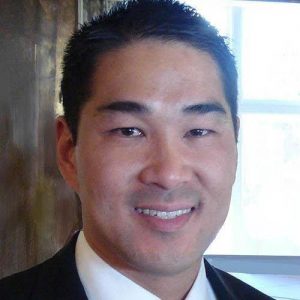 Arree Chung is the award-winning author-illustrator of numerous books for children, including the "Ninja!" series and "Out!" Most recently, his "Mixed: A Colorful Story" was a Kirkus Reviews Best Books of the Year, 2018. It was one of my favorites, too.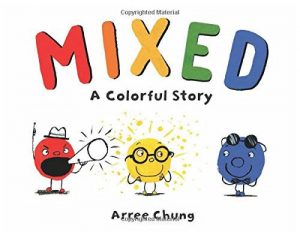 In addition to writing and illustrating books for children, Chung is the creator of "Arree's Free Creativity Camp," an online class for parents with kids interested in drawing, storytelling and creating comics. Registration is free at www.arree.com/camp.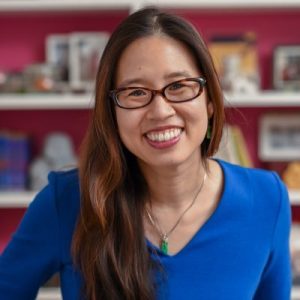 Grace Lin is an award-winning and NY Times bestselling author/illustrator of picture books, early readers and middle grade novels. Her awards include the Newbery Honor for Where the Mountain Meets the Moon, a Geisel Honor for Ling & Ting, and a National Book Finalist for When the Sea Turned to Silver. In 2019, Lin was the recipient of the Caldecott Honor for A Mooncake For Little Star. 
If you haven't yet seen Lin's TEDx talk on diversity, "The Windows and Mirrors of Your Child's Bookshelf," do yourself a favor and check it out: https://www.youtube.com/watch?v=_wQ8wiV3FVo
In November of 2019, Lin and author-illustrator, Jarrett J. Krosoczka, co-curated an art show at the The Eric Carle Museum of Picture Book Art. Now & Then: Contemporary Illustrators and their Childhood Art, featured Lin and Krosoczka as well as 17 other artists (including me, Don Tate), honoring childhood creativity. The exhibition was a huge success!
Today, Lin hosts a podcast called Kids Ask Authors, a weekly 5-10 minute podcast where she and a guest author answer one question from a child reader.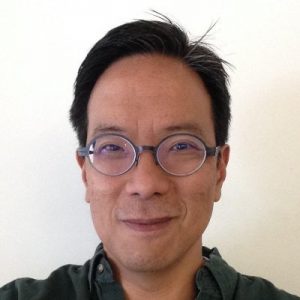 Mike Jung is the author of Unidentified Suburban Object. He is a library professional by day, and a writer (and ukulele player) by night. Jung was a founding member of #WeNeedDiverseBooks team, w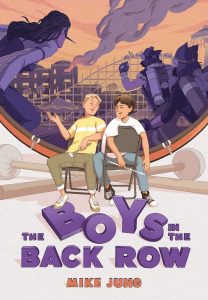 hich promotes diversity in children's publishing. His forthcoming book is called The Boys in the Back Row, due October 6, 2020. Publisher blurb: "Best friends Matt and Eric are hatching a plan for one big final adventure together before Eric moves away: during the marching band competition at a Giant Amusement Park, they will sneak away to a nearby comics convention and meet their idol – a famous comic creator. Without cell phones. Or transportation. Or permission. Of course, their final adventure together is more than just that – really, it's a way for the boys to celebrate their friendship, and their honest love and support for one another." It's just the kind of story that needs to be told in these dire times, in my humble opinion.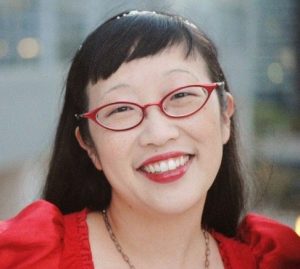 Paula Yoo is a children's picture book author, novelist, and TV writer and producer. Her debut YA narrative non-fiction book, Vincent Chin, is about a Chinese man whose beating death in 1982 galvanized the Asian American community. The killing of Chin became the first landmark federal civil riots violation trial for an Asian American in the U.S. The book is being edited by Simon Boughton and will be published on his new imprint called Norton Young Readers of W.W. Norton & Co, slated for an early spring 2021 release.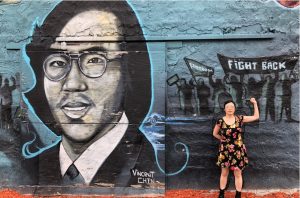 Yoo is also a TV writer and producer. Her credits range from NBC's "The West Wing" to The CW's "Supergirl" to most recently the short-lived Freeform series "Pretty Little Liars: The Perfectionists." And big news: as a screenwriter, she has sold her first TV drama pilot called Olympic Boulevard for the new Peacock streamer. Info here.
Crystal Allen Salutes: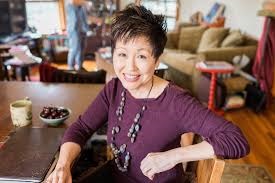 Born and raised in Los Angeles, young Lisa loved reading and riding the teacups at Disneyland.  As an adult, she has taken on some of the oddest jobs, including, but not limited to, actually being Mickey Mouse at Walt Disney World, working for a creative think tank, and leading seminars for dairy farmers.  This may explain why Lisa Yee is so creative.
It's just Lisa being Lisa, using all of her talents.
Even though she's been paid to eat chocolate, the thing Lisa likes most is writing – except for when she has writer's block, or needs a snack, or is distracted. Hm…can anyone relate?
To me, Lisa Yee is one of the most amazing authors of our time, penning stories filled with action, adventure,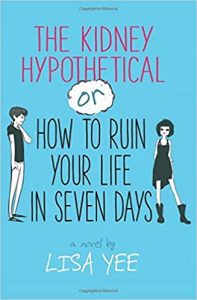 comedy, and plenty of emotion.  Just a few of her middle grade novels include, Millicent Min: Girl Genius, So Totally Emily Ebers, Stanford Wong Flunks Big-Time, and also in the series is Warp Speed, the Stanford Wong spin-off about a Star Trek geek who gets beat up, and of course, the incredible DC Super Hero Girls series. If young adult novels are your thing, Lisa's got you, too, with Absolutely Maybe, and most recently, The Kidney Hypothetical — Or How to Ruin Your Life in Seven Days.

Lisa has been named a Publishers Weekly Flying Start, Thurber House Children's Writer-in-Resident, USA TODAY Critics Pick, and more. Side note:  Lisa, one day we'll need to talk about that ghost we both experienced at the Thurber House…
Thank you, Lisa Yee, or maybe we should call you Lisa Yay!  The children's world of literature is better because of you.
You can visit her website here.
Tracey Baptiste Salutes: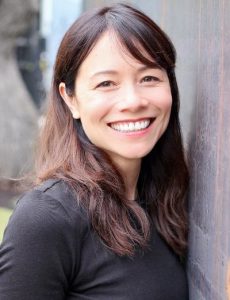 Christina Soontornvat is the author of picture books, the chapter book series Diary of an Ice Princess, and both fiction and nonfiction middle grade books. I'm very excited about her recently released A Wish in the Dark which is a take on Les Misérables with a distinctly Thai flavor, infused with magic, mystery, truth, and the fight against oppression. Add to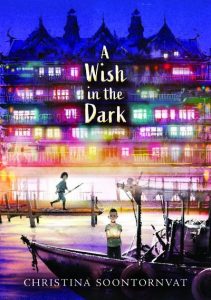 that the language and landscape is lush and gorgeous. Her next book will be All Thirteen: The Incredible Cave Rescue of the Thai Boys Soccer Team. I don't mind telling you that I am unbelievably excited for this one. Only an own-voices writer can capture the unique cultural and religious background needed to understand all aspects of this incredible true story. Soontornvat's expertise as a scientist is sure to add much needed context as well in this technically challenging rescue. It is sure to be riveting. You can find out more about Christina Soontornvat and her work here.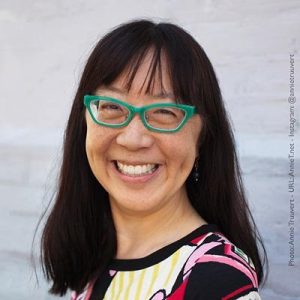 Debbie Ridpath Ohi is one of my favorite artists. Her bubbly personality explodes on the pages of every book she writes and illustrates. She has illustrated or written and illustrated about 25 picture books with the forthcoming Gurple and Preen: A Broken Crayon Cosmic Adventure. I have been a follower of Debbie's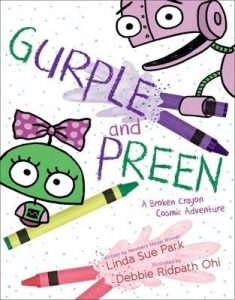 Twitter feed for some time, and she started doing broken crayon drawings several years ago. The results were unexpected, lovely, and fantastic. I'm thrilled to see she's found a way to make them into a picture book. The story is written by Newbery medalist Linda Sue Park (another one of my favorite human beings) and is due to be released in August of this year. Ohi's website is bursting with downloads and activities for young readers. You can find it here.
Tameka Fryer Brown Salutes:
American Born Chinese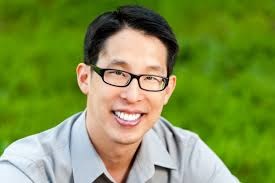 Books that offer an "insider's view" on any topic are valuable reads. Those that focus on complex human experience issues such as race, gender, class, and ability are of particular interest to me. American Born Chinese (Square Fish/Macmillan), by former National Ambassador for Young People's Literature and recipient of the MacArthur Genius Grant Gene Luen Yang is such a book. It was handed to me years ag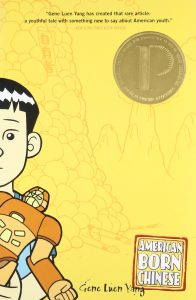 o by my eldest daughter, to whom it was assigned in high school. In a matter of days, our entire family had read it.
ABC is an engaging, timely read that offers plenty of opportunities for self-reflection. It is a great tool for starting critical conversations with young people about the racist perceptions, attitudes, and behaviors currently being directed at Chinese Americans specifically, and Asians and Asian Americans more broadly today.
Learn more about American Born Chinese here and Gene Luen Yang here.