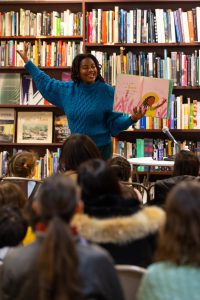 Last year, I had the pleasure of serving on the jury for the Ezra Jack Keats Book Awards. Throughout the year, hundreds of books sent by publishers, piled on my doorsteps. Sometimes, I'd let the books build up in my studio and then take an afternoon just to savor new voices. Other times, I'd tear open a package and enjoy a book over coffee. The latter is what happened on the day I discovered Layla's Happiness, written by Mariahadessa Ekere Tallie and illustrated by Ashleigh Corrin. It really was a fantastic moment—love at first sight! Such joyful illustrations and expressive words. Black girl magic in purple sunglasses with a cape—just the image I needed to see that day. Seven-year-old Layla, whose name means means "night beauty," found happiness in everyday life—mom and dad, climbing a tree, planting tomato seeds and watching them grow. The book reflects a richly diverse community, reminiscent of communities Keats also created.  I fervently went to bat for this book. Today, I'd like to share a few words with the author Mariahadessa Ekere Tallie (MET).
DT: I absolutely love everything about "Layla's Happiness." It's Black Girl Magic and Black Girl Joy. What inspired you to write this story?
MET: Thank you! That is kind, Don. Layla inspired me to write this story. She is a character who I had been working with for awhile. I was writing two other stories with her in them laboring over them really and then this one showed up like a gift. I had no plan, I simply wrote down the lines I heard. That's the thing: this came to me the way my poems sometimes do but this was Layla's poem. I was so happy to experience her joy.
DT: What led you to write?
MET: Layla's Happiness is my fourth book. I have been sharing my writing, journalism, essays, poems and occasionally fiction for a good 25 years. African Voices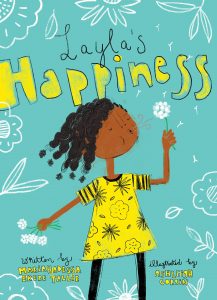 magazine gave me a wonderful start, it was a wonderful home to learn about writing, performing, art as activism, and community building. I started working with African Voices as a summer intern in 1994 and my work with them continued for decades. I also did music journalism for magazines that are now defunct like YSB, URB and Black Elegance.
Until recently, poetry was where I put most of my energy. I have done a gazillion poetry readings and had many poems published. I think that art has a critical role to play in social justice and a lot of poets share this philosophy. You see that with the work of Black Arts Movement poets like Sonia Sanchez and Kalamu Ya Salaam. You see it in the music of Nina Simone and Odetta and Gil Scott-Heron. I know the pain of what it is to be a Black child who doesn't see herself in books. I became a writer because the words of Malcolm X, Langston Hughes, and Alice Walker taught me about the systems that made me feel less than. After encountering their work, I was changed. I was proud of my history in a way I had not been before. I stopped looking at the ground when I walked. It was amazing. I wanted to be able to impart that feeling to other people.
DT: Can you discuss your path to getting Layla published?
MET: I do not have a literary agent yet. The road of finding a home for this work was long. I wish I could tell you when I started sending the work out but it was a long time ago. I had different stories but publishers and agents were not interested in seeing them. I think the thing is that someone has to be willing to take a chance on you. And that person has to believe in you. I met Claudia Zoe Bedrick, my publisher, because my husband met her at a party. She and I arranged to meet and I liked her right off. She looked at three manuscripts I had brought in a folder and she believed in my voice and my vision. It took us 4 years or so to get the book out but I knew that she genuinely had my back and we were going to be on a mission together. We signed the contract when I was pregnant with my last daughter and then we had to find an artist. We had to find Ashleigh!
DT: Layla's Happiness has won several awards, including . What does that particular accolade mean to you.
MET: I've been so grateful. The award and the attention mean I spend a lot of time in gratitude. It's all pretty surreal too and that's because I'm a full-time Ph.D. student and a parent of three and the social distancing happening right now means that we can't gather to celebrate. This has been a long journey for me and the award feels like someone saying "keep on keeping on." (My father often says that.)

DT: What advice can you offer to new writers trying to break into the business?
MET: I would tell the author to take the frustration and use it to revolt. I would also say that having a reason for creating that is larger than just you will give you the fuel to do that. Publishing is in need of an overhaul. So many people have dedicated themselves to making books reflect the world that we live in and that has been a long, hard struggle. Think about it, for decades people of color have been working to bring our books into the world and the statistics are still horrific. I wrote about this. Christopher Myers wrote about it. Walter Dean Myers wrote about it. Zetta Elliott writes about it. We could turn this into a dissertation or make it plain: until you have significant numbers of people of color as agents, editors, owners of publishing houses, publicists, reviewers and book buyers, getting (y)our work into the world is going to be a challenge. I didn't know what the statistics were before I started doing the work, I just knew that the bookshelves didn't look the way I thought they should. I didn't give up because this is bigger than my name being on a book.
You know another thing? Before I met Claudia I talked to people who were published children's authors and children's librarians to get feedback on the manuscript I told you I was laboring over. I read an insane amount of children's books because I read them to my children but also I wanted to pay attention to how they were written. In other words, I studied and I worked on my craft. That's crucial. I went back to the drawing board a lot. You may never see those earlier manuscripts in book form (laughs) but I think everything I learned helped me write Layla's Happiness. So I would definitely tell frustrated writers to find spaces where they can get honest feedback on their work.
DT: What does your next chapter look like?
MET: More children's books I hope. I have two manuscripts I need good homes for.