Tomorrow, the power of collaboration will manifest itself in Everywhere Book Fest, a multi-cultural virtual book fest put together by authors: Ellen Oh, Melanie Conklin and Christina Soontornvat. The virtual fest came together, over a 45-day period, in answer to the loss of festivals due to the Covid-19 pandemic. Though created to fill the void left by cancelled festivals, Everywhere Book Fest – at its heart – had a keen eye for panels that spoke directly to young readers.
There isn't a bad panel in the bunch and they're all super inclusive. Check the Full Schedule  to see for yourself. However, below we've highlighted the Black keynote speakers and some of the panels highlighting Black culture. For Black students looking to see themselves reflected, you can't miss with these panels: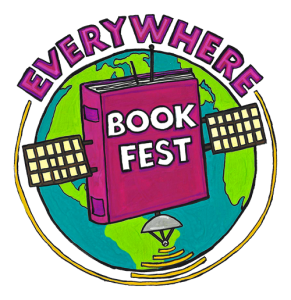 Friday, May 1
10:00 a.m. Jacqueline Woodson – The National Book Award winning author talks about what she's doing to stay positive during the pandemic
11:00 a.m. Jason Reynolds – Discusses his respect for young readers, what it means to be honest as an artist, and opens up about meaningful events in his youth.
Saturday, May 2
Noon Authors Karyn Parsons, Jason Reynolds, Jewell Parker Rhodes and Vashti Harrison talk about why Black Voices Matter

1:00 p.m. Authors Liara Tamani, Bethany C. Morrow, Brandy Colbert and Jennifer Baker talk about Exploring the Boundlessness of Black Girlhood

2:00 p.m. Black  Girl Magic, Resistance and Hope – Danielle Paige (DOROTHY MUST DIE series), Amerie (BECAUSE YOU LOVE TO HATE ME), Somaiya Daud (MIRAGE series), and Karen Strong (JUST SOUTH OF HOME) join together to discuss the inspiration and self-reflection behind their heroines

3:00 p.m. Award-winning author, Nic Stone (Clean Getaway) will close out the event with a keynote on her writing and books.