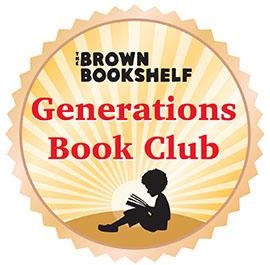 We're thrilled to introduce
The Brown Bookshelf's latest project, Generations Book Club. A summer initiative designed to inspire and empower readers of all ages, we're excited to kick it off on June 1. Aligned with our group's mission to raise awareness of books by Black creators, Generations also resolves to boost sales, help families nurture literacy skills and bridge the social distancing divide through the shared experience of reading.

An act of freedom, resistance and love, reading reveals the power we hold inside. By centering the work of Black authors and illustrators, we're  showcasing books as ways to foster community and create momentum and change. Supporting children's literature by Black creators demonstrates that not only do Black books matter, they're in demand. We've partnered with Black-owned bookstore, Brain Lair Books, if you'd like to purchase any of the book club titles.

On the 1st and 15th of June, July and August, we'll feature a themed list of books by Black creators for the youngest readers through adults and related links and resources. We're proud to celebrate this outstanding work. Please join in the celebration by reading, writing reviews, spreading the word and sharing this post which features the specially-designed logo by co-founder Don Tate.

The complete list of book selections is below. See you back here on Monday. Let the reading begin!