Today kicks off Black Music Month. In our first list for Generations Book Club, we include books that salute our Black National Anthem, explore a middle grader finding his voice and purpose, show an 18-year-old violinist navigating complicated choices about life and love and offer wisdom and experiences on discovering the creativity inside. Please check out the reviews and resources to help decide which books are right for you.
If you'd like to purchase copies, Brain Lair Books, a Black-owned bookstore which is our official Generations bookseller, has all of the selections in one place with discounted prices. Browse and buy here. The books are also hyperlinked below.
We know families have different financial resources. The pandemic has stretched budgets even more thin. We don't expect students to buy all or any of the selections. Remember to use your local library. Though many remain closed, some have e-books that can be read from home. You may find some of our titles in those digital collections. We're also committed to sharing as many free resources as we can.
Our mission for Generations is to raise awareness of Black children's book creators, nurture literacy skills, foster community and show that Black books are in demand. You can help us do that by spreading the word, posting reviews of our featured books and reading.
Here are our selections. We'll post a new list on June 15. Thanks for your support!
PICTURE BOOK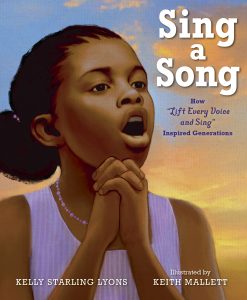 Sing a Song: How Lift Every Voice & Sing Inspired Generations by Kelly Starling Lyons, illustrated by Keith Mallett (Nancy Paulsen Books, 2019)
Praise:
"Tracing the history of Black Americans since 1900 through five generations of one family, this creative book also connects events and cultural shifts with particular lines in the song, underscoring their relevance during certain times . . . With clarity and warmth, the illustrations sensitively capture the changing characters, emotions, and eras as time passes . . . Well-structured, original story . . . Dovetailing nicely with the books that introduce the song itself, this moving picture book celebrates it as a 'symbol of faith, brilliance, resistance, and resilience.'"
– Booklist, Starred Review
ALSC Notable Children's Book
Notable Social Studies Trade Book for Young People
CCBC Choices
2019 Best Books for Young Readers by Penn GSE's Dr. Ebony Elizabeth Thomas
Resources:
Sing a Song Study Guide & Lesson Plan
TeachingBooks Meet the Author Recording
MIDDLE GRADE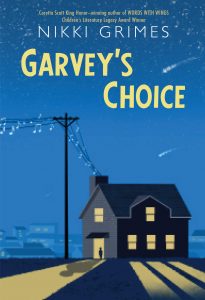 Garvey's Choice by Nikki Grimes (Wordsong, 2016)

Praise:
"Grimes's latest is a sensitively written middle grade novel in verse that takes its syllable count from Japanese tanka. Garvey is an overweight boy who is teased at school and whose father constantly prods him to be more like his athletic older sister, Angie. But Garvey has a best friend (Joe), an open heart (which leads him to a new friend, Manny), and, as readers learn midway through the book, a talent for singing, which lands him a coveted solo in the school's chorus concert. Through that talent, Garvey finds a way to connect with his father and combat his bullies' rude remarks with a newfound strength of purpose. Those who thought Planet Middle School's Joylin was a remarkably lifelike portrait of an angsty yet kind adolescent will fall hard for Garvey, a tender, sincere boy who dislikes athletics. Grimes writes about adolescent friendships in a way that feels deeply human. VERDICT A short, sweet, satisfying novel in verse that educators and readers alike will love."
– School Library Journal, Starred Review
ALA Notable Children's Book
Junior Library Guild selection
NCTE Notable Verse Novel
Notable Books for a Global Society
Resources:
Educator's Guide for Garvey's Choice
YOUNG ADULT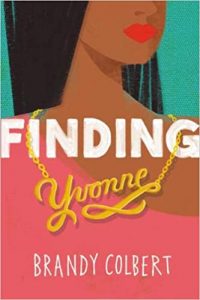 Finding Yvonne by Brandy Colbert (Little, Brown, 2018)

Praise:
"Colbert (Little & Lion) delivers another emotionally layered story, this time centered around Yvonne, a young African-American woman struggling to figure out what she wants to do with her life—torn between whether to attend a music conservatory and try to become a professional violinist, or give up the violin and choose another profession. Lonely at home, where her mother left years earlier and her father is largely absent, Yvonne finds solace in baking. Her dad, a celebrated L.A. chef, and his friend see talent in Yvonne's cakes and tarts, and they encourage her to consider pastry chef training. Meanwhile, Yvonne is floating between two boys: Warren, her father's sous chef, and a street violinist. Yvonne's character is steady and compelling as she struggles to connect with her always stoned, workaholic father and decide what, if anything, she wants from her romantic partners. Colbert shows a clear knack for secondary characters, and she surrounds Yvonne with a best friend who's her equal in thoughtfulness, as well as the ever-gentle, if prone to mistakes, Warren. As Yvonne's struggles grow to include life-changing decisions, this accessible, nuanced novel will reward patient readers. Age 14-Up."
– Publishers Weekly

Amelia Bloomer List selection
Junior Library Guild selection
CCBC Choices
NYPL Best Teen Books
Resources:
Listen to an excerpt of Finding Yvonne
Brandy Colbert on Finding Yvonne
SPINE: Brandy Colbert Talks Writing, Journalism and Teaching
ADULT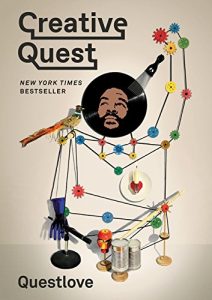 Creative Quest by Questlove (Ecco/HarperCollins, 2018)

Praise:
"Questlove, music director for The Tonight Show Starring Jimmy Fallon and author of Mo' Meta Blues, recounts his own musical journey in these spirited reflections on the elements of creativity. Questlove defines creativity as the "personality that makes it possible" to produce art; he discusses the creative process, the value of mentors, and the usefulness of collaboration . . . Questlove champions collaboration, reflecting on his own work with his Roots partner Tariq Trotter, and advises readers to be curious and open to ideas. Since creativity often grows when encountering the work of others, Questlove encourages artists to work with those who have different approaches, as he did with rapper and producer J Dilla and Talking Heads founder David Byrne, among others. Questlove's generous, provocative guidebook offers experienced wisdom about tapping into the creative process."
– Publishers Weekly
New York Times Bestseller
Named a 2018 Most Anticipated Book by Esquire, Publishers Weekly and more
"I read so many books, and I have time for so few of them. This book paid off every minute: I loved keeping company with Questlove's agile mind as he worked through the problems and promises of creativity." – Issa Rae
"Creative Quest is a comprehensive, funny, and honest exploration of artistic process. My favorite read this year." – Donald Glover
Resources:
NPR Feature: Questlove Aims to Save Your Brain
New York Times: Questlove: By the Book
5 Takeaways from Questlove's New Book on Creativity