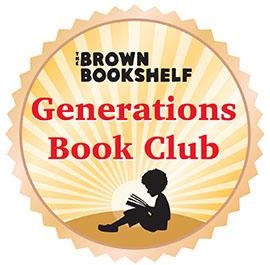 Welcome to the Generation's Book Club. Today's list features books that celebrate the inventive genius of Black people—not just characters in books, but also the people who create these stories. We are confident that you will enjoy these selections as much as we do. Should you decide to purchase, we've partnered with Brian Lair Books, an independent, Black-owned, woman-owned bookstore located in Indiana.
Our mission for Generations is to raise awareness of Black children's book creators, nurture literacy skills, foster community and show that Black books are in demand. You can join us in that mission by helping to spread the word about our featured titles. Please feel free to share this blog post on your social networks or posting reviews on sites like Goodreads and Amazon. Chat up these titles with friends and family. This kind of support sends a message to the publishing industry that Black voices matter!
Here are our selections. We'll post a new list on July 15. Thanks for your support.
by Gwendolyn Hooks (Brown Bookshelf Board Member), Illustrated by Colin Bootman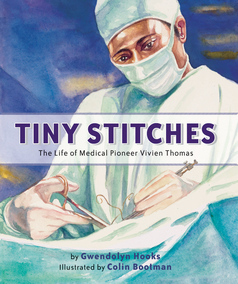 Vivien Thomas's greatest dream was to attend college to study medicine. But after the stock market crashed in 1929, Vivien lost all his savings. Then he heard about a job opening at the Vanderbilt University medical school under the supervision of Dr. Alfred Blalock. Vivien knew that the all-white school would never admit him as a student, but he hoped working there meant he was getting closer to his dream.
As Dr. Blalock's research assistant, Vivien learned surgical techniques. In 1943, Vivien was asked to help Dr. Helen Taussig find a cure for children with a specific heart defect. After months of experimenting, Vivien developed a procedure that was used for the first successful open-heart surgery on a child. Afterward, Dr. Blalock and Dr. Taussig announced their innovative new surgical technique, the Blalock-Taussig shunt. Vivien's name did not appear in the report.
Overcoming racism and resistance from his colleagues, Vivien ushered in a new era of medicine—children's heart surgery. Tiny Stitches is the compelling story of this incredible pioneer in medicine.
Praise for Tiny Stitches
A good alternative to dense chapter biographies and a rousing tribute to a man unjustly forgotten.
—Kirkus Review
Beyond the crucial message of perseverance and spotlight on prejudiced attitudes that still resonate today, this middle-grade picture book illuminates the life of little-known man whose innovations continue to be essential to modern medicine.
—Booklist, STARRED REVIEW
An important addition for STEM or biography collections for its exceptional coverage.
—School Library Journal
Additional Resources
Author interview with Cynthia Leitich Smith.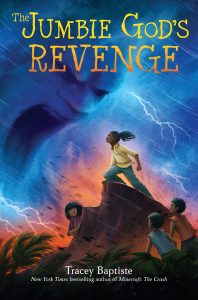 The B&N Kids Blog describes The Jumbie God's Revenge as "[a] richly detailed adventure, full of magic, wonder, and danger." What more could a middle grade student ask for—a cruel jumbie who rules the ocean?  A angry Huracan god? Well, it's all in there, and even more! The Jumbie God's Revenge blends Caribbean and West African tales to present powerful themes of community and heroism in a heart-pounding action adventure. Don't miss this book. Heck, don't miss the Jumbies series!
Praise for The Jumbie God's Revenge
Corinne strengthens her relationships with the island, the people, and all the creatures within. Her determination, compassion, and bravery will inspire readers to face down any challenges crossing their paths. Baptiste carefully represents Caribbean diversity; most characters are Afro Caribbean like Corinne, but friend Dru's heritage is South Asian.
—Kirkus STARRED REVIEW
Readers who enjoy folklore, fantasy, and well-crafted original worlds will thoroughly enjoy this trilogy.
—Kid Lit Reviews
Purchase for fans of the series and lovers of folktales everywhere.
—School Library Journal
Baptiste tells an action-packed adventure story that resonates emotionally and intellectually. She weaves in threads about family and friendship and forgiveness, responsibility and love and loss and bravery; she touches on scapegoating and the plight of refugees and the importance of standing up for others, whether it be physically or verbally. And, as in the previous books, she does all that with warmth and humor and nuance.
—Bookshelves of Doom
Additional Resources
A Song Below Water is the story for today's readers ― a captivating modern fantasy about black mermaids, friendship, and self-discovery set against the challenges of today's racism and sexism. #BlackGirlMagic!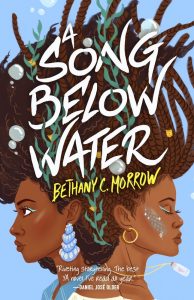 Praise for A Song Below Water
Morrow expertly and smartly explores race, bigotry, oppression, and injustice against a backdrop of ordinary life with a dose of the supernatural added to the mix. A Song Below Water is a must-read for lovers of fantasy and contemporary stories alike.
―Booklist, STARRED review
Morrow has deftly woven a contemporary tale with mythical elements to take on the invisibility and marginalization of Black women, touching on issues such as misogynoir, body image, social justice, and generational trauma. Empowering and innovative. Morrow elevates mermaids and sirens to ­legitimate and compelling vanguards for social change.
—School Library Journal
An exciting new contemporary fantasy. In this parallel world, black female empowerment is standing up for yourself and others while simultaneously navigating love, physical and emotional violence, and the responsibility of immense supernatural power.
―Kirkus Reviews
I love this book so, so much! Bethany C. Morrow delivers a blistering modern classic with this gorgeous tale of friendship and power. A Song Below Water somehow manages to be intensely happy and sad at the same time and all in the balance of great, riveting storytelling. The best YA novel I've read all year.
―Daniel José Older, New York Times bestselling author of Shadowshaper
Additional Resources
Regular visitors to The Brown Bookshelf know that we don't usually do adult book recommendations. We're hoping the whole family joins in on the reading fun, this summer. For our adult readers, check out Bridgett M. Davis' story of an unforgettable mother, her devoted daughter, and their life in the Detroit numbers game of the 1960s and 1970s.
Part bookie, part banker, mother, wife, and granddaughter of slaves, Fannie ran her numbers business for thirty-four years, doing what it took to survive in a legitimate business that just happened to be illegal. She created a loving, joyful home, sent her children to the best schools, bought them the best clothes, mothered them to the highest standard, and when the tragedy of urban life struck, soldiered on with her stated belief: "Dying is easy. Living takes guts."
A daughter's moving homage to an extraordinary parent, The World According to Fannie Davis is also the suspenseful, unforgettable story about the lengths to which a mother will go to "make a way out of no way" and provide a prosperous life for her family — and how those sacrifices resonate over time.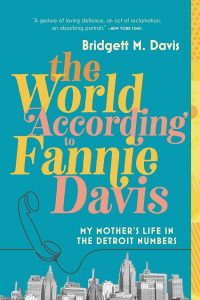 Praise for The World According to Fannie Davis
This outstanding book is a tribute to one woman but will surely speak to the experiences of many.
—Kirkus
This charming tale of a strong and inspirational woman offers a tantalizing glimpse into the past, savoring the good without sugarcoating the bad.
—Publishers Weekly
Additional Resources
And if you missed it, check out our first Generation's list, revolved around Black Music Month, and our second list themed to Community and Culture.