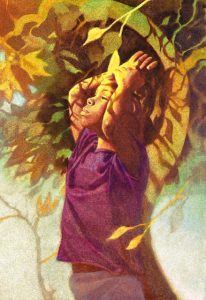 Amplification and Advocacy Group To Galvanize Black Kid Lit
(August 24, 2020) – The Brown Bookshelf is calling on the children's literature community to assess and change traditional practices that marginalize the work of Black children's literature creatives.  The organization has amplified the voices of nearly 400 children's book authors and illustrators since its inception in 2007, and found itself on the front lines of fighting anti-Blackness and racism when award-winning author, Kwame Alexander, asked the organization to serve as the host of the Kid Lit 4 Black Lives rally held in June. "We wanted to build on Kwame's call for action in a way that was aligned with our mission to uplift Black voices," says Co-Founder, Paula Chase. "After years of speaking to parents, librarians and educators, we realized it was time to go directly to the publishers and those responsible for promoting, distributing and selling books and ask them to do the work that will strip practices that have worked against Black creatives."
On August 24, Black creatives of the kidlit community will tweet their support for the Call To Action, tagging their publisher(s) and agent under the hashtag, #BrownBookShelfUnited. "We encourage all of those who are concerned about social justice and systemic racism in every area of American life to join this initiative," commented Wade Hudson and Cheryl Willis Hudson founders of Just Us Books, one of the oldest Black-owned publishers of books for young people. "As in other areas of our society, racial disparities and unequal treatment of Black book creators and other book creators of color plague the children's book publishing industry. These disparities must be addressed."
Modeling the unity they hope to build from the campaign, The Brown Bookshelf brought together a steering committee that crafted a Call to Action statement calling on the children's literature community to:
Prioritize the works of midlist authors/illustrators via provision of significant and sustained investment of financial and other resources.

Collaborate with multiple constituencies in the Black children's lit community, including but not limited to: Black media/Social media influencers, Conference coordinators, Festival Directors, Black Booksellers, Black educators/librarians, Black Marketing Professionals, and Reviewers.

Expand hiring practices to increase the number of Black professionals in publishing at every level.
"We are moving forward with our vision for what's possible," added Olugbemisola Rhuday-Perkovich. "We're inviting the entire children's book community to join us as we honor our heritage and claim ownership of our future as we work toward a more just story for all children. We already know that great things happen when Black creators are empowered in other media, and children's publishing must be a part of that positive change.  I think of Lucille Clifton's words: 'You might as well answer the door…the truth is furiously knocking.'"
Call to Action steering committee members:
Award-winning and best selling author, Renée Watson

Publishing trail blazers and editors of The Talk: Conversations about Race, Love and Truth and We Rise, We Resist, We Raise Our Voices, Cheryl Willis Hudson and Wade Hudson

Paula Chase, Kelly Starling Lyons, and Olugbemisola Rhuday-Perkovich, acclaimed authors and members of the Brown Bookshelf 
For more information about the Call to Action, please contact Brown Bookshelf Board Memebers: Paula Chase at paulachasebooks@gmail.com or Kelly Starling Lyons at email@kellystarlinglyons.com 
##
The Brown Bookshelf is an award-winning blog designed to push awareness of the myriad of Black voices writing for young readers. Their flagship initiative is 28 Days Later, a month-long showcase of Picture Book, Middle Grade and Young Adult books written and illustrated by Black creatives. Complete roster of The Brown Bookshelf Board:
Crystal Allen
Tracey Baptiste
Tameka Fryer Brown
Paula Chase
Gwendolyn Hooks
Varian Johnson
Kelly Starling Lyons
Olugbemisola Rhuday-Perkovich
Don Tate