Gordon C. James has said of his work: "When people see my art I want them to say, I know that person, I know that feeling." And I burst into cheers when I saw this NY Times bestselling artist's cover art for my middle grade novel IT DOESN'T TAKE A GENIUS. He so beautifully captured both the character of Emmett in the story and the spirit of actor Miles Brown who stars in the Six Foot Pictures companion film, Boy Genius.
IT DOESN'T TAKE A GENIUS is a "coming-of-age tale that explores the intersection between self and community and the complexity of Black identity. Emmett Charles, a young, gifted boy, wonders—if he's not who he always thought he was, who exactly can he be?"
Gordon is an award-winning, bestselling artist who makes pure magic — incorporating an infinite amount of heart and soul into his work so that it lives. He's the recipient of the Caldecott Honor, Coretta Scott King Honor, Ezra Jack Keats Honor, Kirkus Prize (twice), and more for his collaborations with Derrick Barnes, CROWN: An Ode to the Fresh Cut and I AM EVERY GOOD THING.
From his bio: "Gordon C. James' chosen artistic genre has its roots in Impressionism. The art of John Singer Sargent, Nicholai Fechin, Henry Ossawa Tanner, and many others inspired James to pursue a style that is both academic and expressive. As a result his work contains a lyricism not often found in contemporary art. Be it through the sensitivity found in his romantic pieces, or commitment to excellence in his commercial work, James always connects with his viewer." You can see more of his illustration work on his website.
You know I was THRILLED when I found out that he was doing the cover for IT DOESN'T TAKE A GENIUS.
Ready?

You sure?

BAM!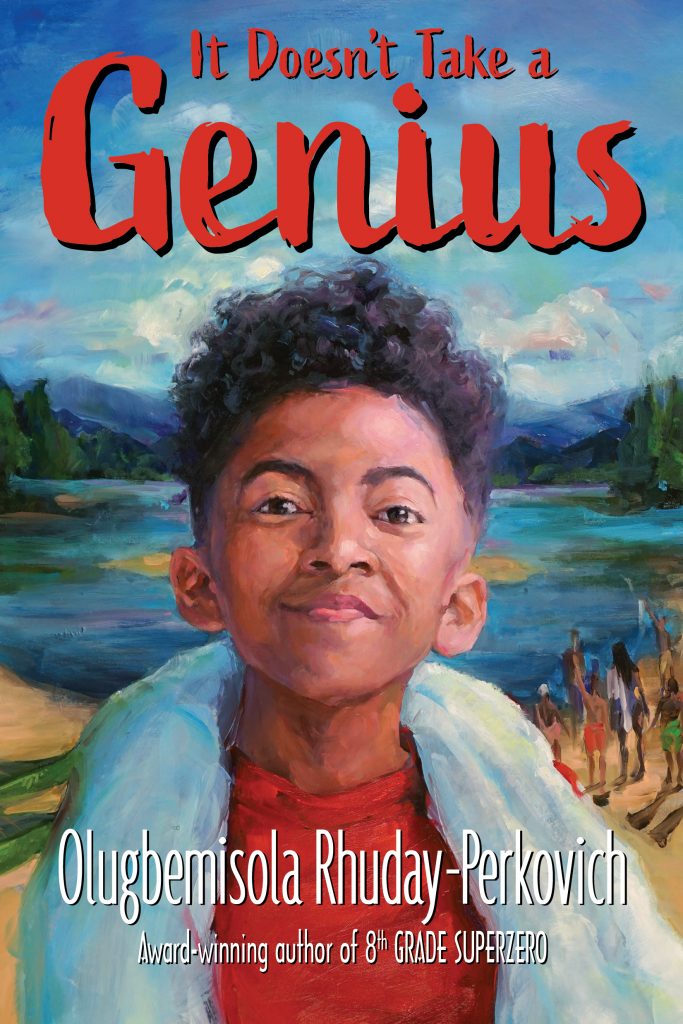 Gordon was kind enough to chat with me about his process and career, and I'm honoured to share an excerpt of our conversation here. (My apologies for my off-camera disembodied voice–my video was messed up and looked like I was all in for that old school Vaseline-on-the-camera-lens trick for some reason!) IT DOESN'T TAKE A GENIUS is out in April.
You (really really) can pre-order from your local bookshop and online, wherever books are sold.
Find Gordon on Instagram and blessing books everywhere.