Did you catch the shout out to Imani's Moon by JaNay Brown-Wood on The Late Show with Stephen Colbert? That's just the latest nod for her wonderful titles. We're thrilled she has many more books on the way.
Next up is the first in her Where in the Garden picture book series, Amara's Farm. Check out the charming cover and learn more about the inspiration. You can pre-order it from Brain Lair Books here.
By JaNay Brown-Wood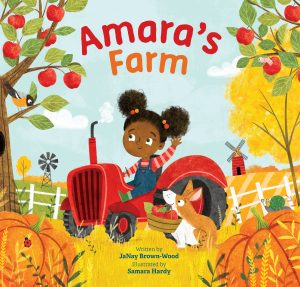 I am super excited to share the cover of Amara's Farm (Peachtree Publishing Inc, September 2021). This is actually the first release from the four-book Where in the Garden picture book series. It's such a fun series that follows diverse characters as they explore gardens and the variety of produce growing there. These books exemplify the author + educator in me! As the characters make their ways through their gardens, readers will have a chance to compare and contrast the produce that they see. Plus, Samara Hardy's illustrations are so vibrant and beautiful that each character jumps right off the page!
In Amara's book she looks for pumpkins in preparation for her garden potluck. First, she considers "what do we know about pumpkins?" and then uses that knowledge to propel her search. Will she find her pumpkins in time for her potluck? I could absolutely see these books be used in Early Childhood Education and Elementary classrooms to expand conversations about fruits and vegetables, seasons, even cooking—the backmatter includes a recipe for young bakers to try. As I'm sure you can tell, I am ecstatic about these new books!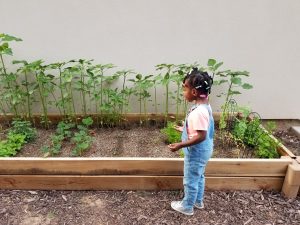 I do want to share a bit about the inspiration! A few years ago, I was visiting my friend Kendon's house and he and his family took me to their backyard garden. It was so cool! Healthy plants throughout, and his young daughter maneuvering the garden so confidently, pointing out some of the different things they were growing. From there, Amara and her friends were born! What's even cooler is that after writing Amara, my preschool-aged daughter and I started our OWN garden in the backyard. We planted lots of things including sunflowers that ended up growing taller than our house—and boy, was my little one excited. These books and the plethora of things you can do with them set the stage for hands-on activities and rich conversations ranging from science-related topics to families celebrating together.
I really can't wait to share Amara with the world! I hope children enjoy these books as much as I do!
JaNay Brown-Wood, PhD is an award-winning children's author, poet, educator, and scholar. Her first book Imani's Moon won the NAESP Children's Book of the Year Award and was featured on Stephen Colbert's The Late Show, and her second book Grandma's Tiny House: A Counting Story received a starred review from Publisher's Weekly and won the CELI Read Aloud Book Award. She has at least eight forthcoming books including Shhh! The Baby's Asleep (Charlesbridge, forthcoming 2021), Where in the Garden, a four-book series (Peachtree, forthcoming 2021, 2022, 2023), Jam, Too (Nancy Paulsen Books/Penguin Random House, forthcoming 2023,) and more to come! She enjoys writing for kids, spending time with her family, and spreading the word about the importance of literacy and diversity in children's literature. Learn more about her here: www.janaybrownwood.com.