Today features the third set of storytellers in our Amplify Black Stories program.
Remember, our storytellers work can be purchased at  THE LITERARY CAFE – BOOKS & EVENTS Bookstore Amplify Black Stories Book List, curated by The African American Children's Book Project.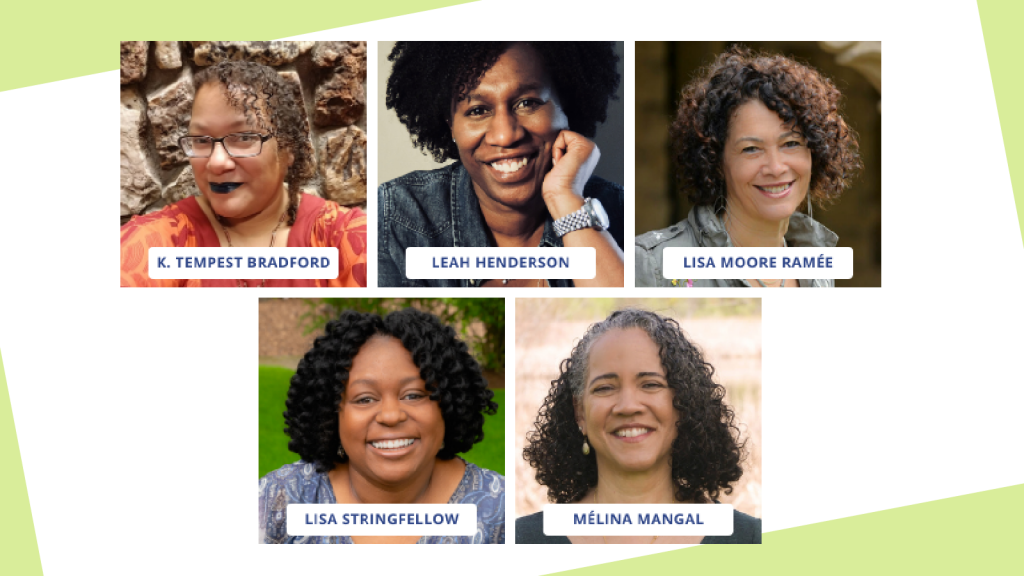 K Tempest Bradford is a science fiction and fantasy writer, writing instructor, media critic, reviewer, and podcaster. Her short fiction has appeared in multiple anthologies and magazines, and her debutmiddle-grade novelRUBY VS. THE ROBO-BUG is scheduled for publication in Fall of 2022. "I know the importance of books that address issues Black kids face, but I also know how important it is to have books where Black kids can see themselves having adventures, or wielding magic, or getting to be joyful. Now I'm very invested in bringing that to the publishing world…" 

Leah Henderson is the author of the middle-grade novels THE MAGIC IN CHANGING YOUR STARS and ONE SHADOW ON THE WALL. Her picture books include TOGETHER WE MARCH and the forthcoming A DAY FOR REMEMBERIN', DADDY SPEAKS LOVE and YOUR VOICE, YOUR VOTE. "I often think about how my stories might engage and touch a young reader, and my ultimate hope is that they will empower a young person to live, and possibly act.  And that action can encompass so many different things, but at the center, I hope there is empowerment and the feeling of being seen and heard and wanting to share more of who we are."  

Lisa Moore Ramée is the author of novels including A GOOD KIND OF TROUBLE  and SOMETHING TO SAY.  "As a child, reading was my favorite thing to do. It opened entire, foreign worlds to me and I want to provide that same type of experience for young people." 

Lisa Stringfellow is a middle-school teacher who writes middle-grade fiction. Her debut fantasy, A COMB OF WISHES, will be published in February 2022. "I want to write stories like those I would have loved to read as a Black child. Students need to see a variety of stories that reflect Black lives and experiences. Too often, in schools children read stories about Black oppression and trauma and not the joy and love in our lives."  

Mélina Mangal is the author of short stories and biographies for youth, including THE VAST WONDER OF THE WORLD: BIOLOGIST ERNEST EVERETT JUST and JAYDEN'S IMPOSSIBLE GARDEN.  "I work with children and want to bring stories to them that reflect their lives, instill pride, and spark curiosity, wonder, and joy. I want to fill the gap I still see in highlighting the lives of African American children." 
Amplify Black Stories is a living commitment to the Brown Bookshelf's 2020 kidlit industry Call to Action.  It's a partnership initiative between The Brown Bookshelf and the Highlights Foundation to empower Black kid lit creatives with resources and community; and promote publisher-collaborations to craft detailed actionable programs of support for Black kid lit creatives. See a full description of the program.