Today features the fourth set of storytellers in our Amplify Black Stories program.
Remember, our storytellers work can be purchased at  THE LITERARY CAFE – BOOKS & EVENTS Bookstore Amplify Black Stories Book List, curated by The African American Children's Book Project.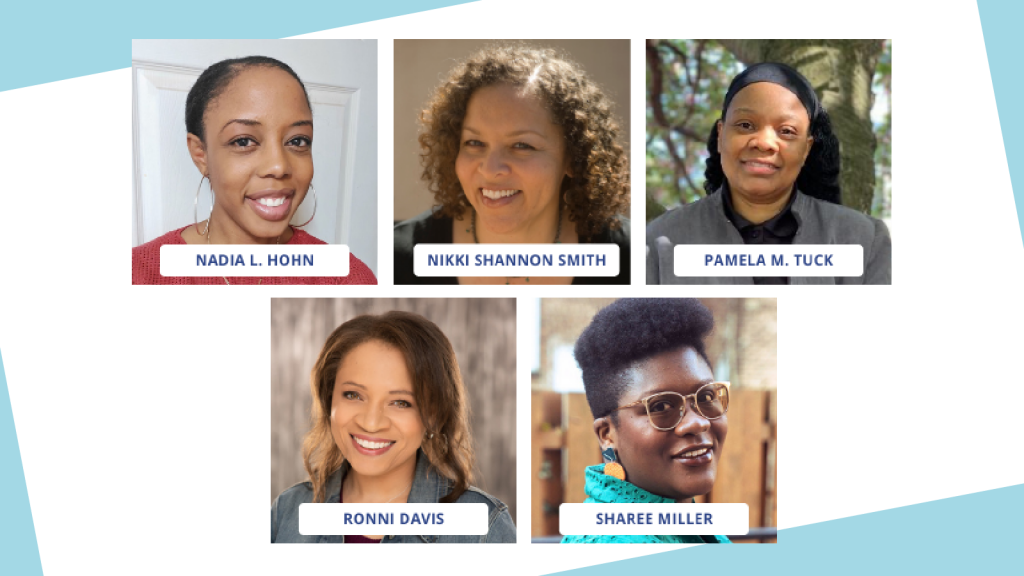 Nadia L. Hohn, M.Ed. is a world-traveling elementary school teacher and the award-winning author of several books for children including A LIKKLE MISS LOU and MALAIKA'S SURPRISE.  "When I was a child visiting my local Toronto library, it was books about and by African-American authors that influenced me and made me want to write stories that celebrated my identity." 

Nikki Shannon Smith is the author of eleven books, ranging from picture books to young adult. Her work includes A STAR LIKE JESSE OWENS, the AZALEAH LANE chapter book series and four titles in the GIRLS SURVIVE series. "Books serve so many purposes. They teach. They entertain. They comfort. They open portals to other worlds, cultures, and experiences. They foster imagination and creativity. They make us feel. And ideally, they reflect the world around us. My goal as an author is to contribute books that do all of this, while at the same time providing authentic representation for Black children." 

Pamela M. Tuck is an award-winning author of MOTHER OF MANY, AS FAST AS WORDS COULD FLY, COLOR STRUCK and over 30 nonfiction and fiction leveled reading books. "WE NEED DIVERSE BOOKS. Children need to see themselves reflected in the books they read." 

Ronni Davis' debut novel, WHEN THE STARS LEAD TO YOU, is available now, as well as the anthology YOU TOO?, to which she is a contributor.  "I have a responsibility to shape the minds of the future. It is important to me that children and teens are exposed to things outside of what the dominant culture feeds them, and it's important to me that they know they're valued and allowed to take up space outside of stories that accentuate their trauma or that teach white and non-black people lessons."  

Sharee Miller is an acclaimed illustrator and author of PRINCESS HAIR, DON'T TOUCH MY HAIR, and MICHELLE'S GARDEN; HOW THE FIRST LADY PLANTED SEEDS OF CHANGE. "Creating art for kids has always been my passion. I love writing fun stories and adding to them with colorful pictures. I never grew out of reading and loving picture books so they have always been a huge inspiration for me. Being able to inspire future generations with my art and stories brings me joy." 
Amplify Black Stories is a living commitment to the Brown Bookshelf's 2020 kidlit industry Call to Action.  It's a partnership initiative between The Brown Bookshelf and the Highlights Foundation to empower Black kid lit creatives with resources and community; and promote publisher-collaborations to craft detailed actionable programs of support for Black kid lit creatives. See a full description of the program.