Today features the fifth and final set of storytellers in our Amplify Black Stories program.
Remember, our storytellers work can be purchased at  THE LITERARY CAFE – BOOKS & EVENTS Bookstore Amplify Black Stories Book List, curated by The African American Children's Book Project.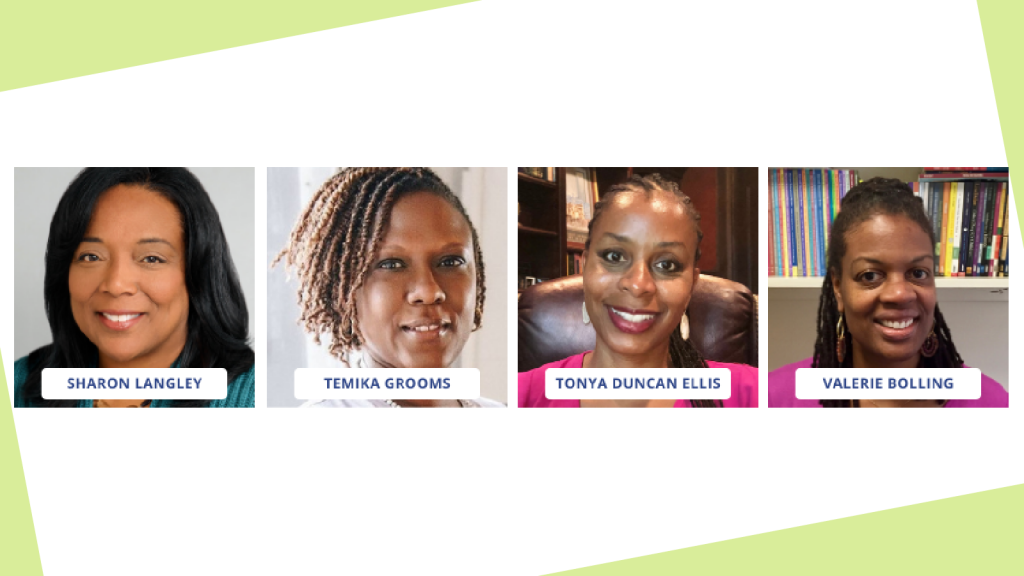 Sharon Langley is co-author of A RIDE TO REMEMBER, her debut picture book with Amy Nathan, and illustrator Floyd Cooper. "In my journey as an author, I would like to develop and write the kinds of stories in which children see themselves and that become their favorites. I have a wide range of interests and a variety of stories to tell." 

TeMika Grooms is a writer and children's book illustrator with a passion for sharing stories. Her most recent illustrated nonfiction book is SAVE THE CRASH-TEST DUMMIES. "Storytelling, in its many forms, is a powerful medium that can change the fabric of our society. It allows us to question ourselves and what we know about the world. It helps us to examine complex scenarios and imagine new outcomes. When artists create and collaborate with intention, they heal us and help us envision a new future. Change indeed happens when we create through an activist's lens."  

Tonya Duncan Ellis is a former journalist and the author of the SOPHIE WASHINGTON series. "I was inspired to write my children's series after I noticed a lack of diversity when reading with my three kids. I've always been an avid reader and am proud to create relatable books for children that spark a love of literature." 

Valerie Bolling is the author of LET'S DANCE! and has two books releasing in 2022 and five more in 2023. "As I write, I think about the stories I read to [children in my family] and those that I wish were available to them. I feel I have a responsibility to write stories that I want them– and all children–to read." 
Amplify Black Stories is a living commitment to the Brown Bookshelf's 2020 kidlit industry Call to Action.  It's a partnership initiative between The Brown Bookshelf and the Highlights Foundation to empower Black kid lit creatives with resources and community; and promote publisher-collaborations to craft detailed actionable programs of support for Black kid lit creatives. See a full description of the program.