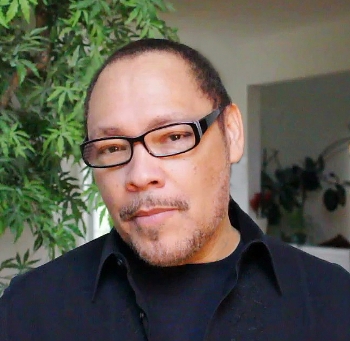 Floyd Cooper (January 8, 1956-July 15, 2021) was born and raised in Tulsa, Oklahoma. His artistic talents began early. In an interview for Mackin Community, he said, "I began my artistic sojourn by erasing. When I was three years old I plucked a piece of gypsum board from a scrap heap left by my Dad who was perched on a ladder, working on building our house. He built the house we lived in on a tract of land granted to the family of my Muskogee Creek Indian grandpa in part of that whole Native tribe relocation program famously known as The Trail Of Tears. I used that chalky piece of wallboard to scratch little shapes onto the side of my Dad's house. I am certain this episode ended with me helping to rub or erase those little drawings away from my Dad's creation. And I have been erasing ever since."
Floyd's talent led to an art scholarship to the University of Oklahoma, where he would earn a Bachelor of Fine Arts degree in 1978 for Painting and Advertising Design/Illustration. Floyd then went on to work for Hallmark where his technique of erasing came in handy when he was tasked with updating old cards. His stint at Hallmark didn't last long. In 1984 he arrived in New York City looking for a career in children's books and are we lucky that he did!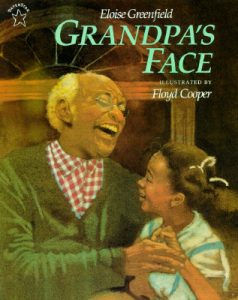 His first book came out in 1988. GRANDPA'S FACE was written by Eloise Greenfield and published by Penguin. Of his first foray into illustration, Publisher's Weekly said he "creates family scenes of extraordinary illumination." But how could he not? Floyd's entire being was one of extraordinary illumination. Everyone who met him saw a shining light in the world. He was cool, calm, funny, and unendingly generous.
Floyd would go on to write and illustrate over 100 picture books for children. His tremendous talent won him many awards and accolades:
3 Coretta Scott King Honors, 10 ALA Notables, 3 NAACP Image Award nominations, the NJ Center for the Book Inaugural Award, a Jane Addams Peace Award Honor, the Simon Wiesenthal Gold Medal 2011, an IPPY Gold Medal 2011, the Pennsylvania School Librarians Outstanding Illustrator 2011,  numerous Bank Street College Book of the Year Honors, Parent's Choice Honors and starred reviews from Booklist, Kirkus, and School Library Journal, the Texas Bluebonnet Award short list 2011, the Grand Canyon Reader Award short list, the Georgia Book Award short list, the Coretta Scott King Award 2009, the Sankae Award of Japan 2012, the Arkansas Diamond Primary Book Award 2012-2013, the Charlotte Zolotow Award 2014, nominated for the Keystone to Reading Book Award 2015, the SCBWI Crystal Kite Award 2015.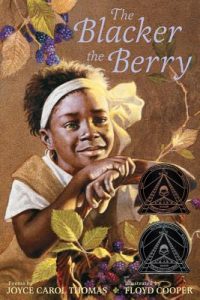 Of Floyd's Coretta Scott King Honors, two were for books written by Joyce Carol Thomas: I HAVE HEARD OF A LAND and BROWN HONEY IN BROOMWHEAT TEA, and one for MEET DANITRA BROWN by Nikki Grimes. He went on to win the Coretta Scott King Award for another book with Joyce Carol Thomas, THE BLACKER THE BERRY in 2009.
During Floyd's long career he did thousands of presentations and was equally engaging with the youngest readers, as he was with aspiring writers and illustrators at conferences. His ability to talk with ease as he drew in his distinctive style was mesmerizing. Carole Boston Weatherford says of his presentations, "Just as readers are moved by his visual storytelling, they are awed by his unusual technique. Floyd used erasers to make shapes from a ground of paint. He then layered on mixed media—mostly oil-based and applied in dry-brush fashion—to make the image emerge. His art demonstrations were magical!"
You can enjoy his unique art technique here. And there's more on his art style here in a conversation with Cheryl and Wade Hudson.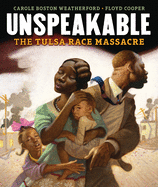 One of his latest projects was UNSPEAKABLE: THE TULSA RACE MASSACRE written by Carole Boston Weatherford. She asked him to do the project because she knew that he was native to Tulsa. What she didn't know was that his Grandpa Williams had survived the race massacre and had talked to Floyd about it when he was a boy. He brought his unique perspective to the story, his humanity, and that luminous quality that reverberated through him and his work. It is, arguably, his best work to date. In a statement for the SCBWI, Nikki Grimes wrote: "I've been especially happy to see him rise to new heights, and reach new depths, in his work in recent years, and was most excited about his work on Unspeakable: The Tulsa Race Massacre." This only underscores the loss we all felt on Friday morning hearing the news of his passing. As amazing as he already was, he was still improving as an artist.
Rest in Power, dear friend.
Floyd is survived by his wife, Velma, their sons Dayton and Kai and his grandchildren.
You can support Floyd's scholarship for illustrators at the Highlights Foundation, or contribute to the GoFundMe set up by his family to cover funeral and memorial expenses.
It's impossible to express how much Floyd will be missed. Below are a few short tributes and memories from some in the KidLit community who loved him and his work. We invite you to add your own tributes and memories in the comments.
"The first time I met Floyd in person, I was totally star-struck and at a loss for words. But he was Mr. Cool, cracking jokes (I never got his jokes…lol!) and laughing. After that, I crossed paths with him many times at conferences, and he always greeted me with that wonderful sense of humor. I'd compliment his latest work, and he'd return an even bigger compliment of mine. He and his work will be missed." — Don Tate
"Floyd told me stories about his college fraternity that made me laugh, and stories about his family history that made me cry. He also showed me how to draw with an eraser–a technique he owned like no one else. What more could you want in a friend?"  — Linda Sue Park
"It was Floyd's turn to do a presentation to the thousands of children in attendance at the African American Children's Book Festival in Philly. When he came back to his seat, he said, "I started my drawing and asked the children to figure out what my drawing was going to be. I drew one stroke and some kid in the back yelled out, "It's a lion! I saw him draw that before!"  I ask, "Was he right?" Floyd responded, "Unfortunately, he was."  I'll miss you and your humor, my friend." — Crystal Allen
"Floyd Cooper was one of the most incredible talents of the 20th and 21st century children's book world. An extraordinarily talented artist, illustrator, and storyteller, he was also an incredible friend and mentor to many within the Black children's book creator community. I treasure the times that I got to learn from his perspective at conferences, and thank him for his amazing work. He will truly be missed!" — Dr. Ebony Elizabeth Thomas
"Floyd was a beacon of kindness and generosity, friendship and leadership, Black and Indigenous excellence, and brilliant visual storytelling. On a personal level, I felt deeply heartened by the supportive presence of a fellow Mvskoke creative, charmed by his warmth and charisma, and delighted by his many achievements. I am profoundly grateful to the Creator for blessing the world of children's literature–especially Black and Brown children–with Floyd Cooper's inspiring life and life's work. Mvto, dear cousin. Rest well." — Cynthia Leitich Smith
"Floyd Cooper had infinite gifts–and his gentle, genuine friendship is one that I'll always treasure. Thank you, Floyd, for giving so much and shining so bright. You will always be a light." — Olugbemisola Rhuday-Perkovich
"Not everyone understands the gifts they've been given by the Creator, but Floyd always seemed to know just who he was and what he was meant to do. And he did it with not just dedication and incredible artistic vision, but also with humility and a gentle sense of humor. I'll never forget the times we were at book fairs together and the way he gave every person his complete attention—as if they were the most important person in the world— as he signed their books, saying things that made them smile." — Joe Bruchac
"It was an impromptu UNO game during NCTE 2019 that brought the five of us together. We soon took on the name "Quints" (short for "The Quint-Essentials"). Brother Floyd was the one who came up with it. Floyd never thought of himself as kidlit royalty, though I certainly did. Generous, humble, and real, he was a loyal friend who mentored and encouraged and cracked us all up on the regular. Zoom calls, group chats, and UNO games will never be the same without you, Phirst Pham. #QuintsForever" — Tameka Fryer Brown
""Light & lit": those words describe Floyd, his effect on me, and his art's effect on people. In each of our interactions, I felt Floyd was a guiding "light" & he radiated a warmth that made me feel "lit", inspired and happy. FLOYD: a true Kid Lit rockstar who made those around him feel like rockstars." — Torrey Maldonado
"Floyd Cooper is and will always be a national treasure.  A gift to all he expressed black joy, history and glory that will be indelibly printed on our hearts and souls forever." — Vanessa Brantley-Newton
"It's so heartwarming to see the outpouring of love for Floyd. For the past 30 years, we've known Floyd as a teacher and mentor to artists and children. Thank you, Floyd for modeling what it means to always give your very best with pure intention of kindness and caring." — George Brown
"No matter what you expected Floyd to deliver, his final work always took your breath away with its layers of beauty and meaning. And his love of his work and its subjects was matched by what a joy it was to work with him." — Elise Howard
"Floyd was equal parts gentle, kind, talented…and cool! Thank you for your friendship. You will be missed." — Sharon Langley
"Thank you, Floyd, for the mighty works of your heart, mind and hands! You have been a blessing! What a gift you were! Your work and memory will continue to inspire us! Love you, Brother!" — Wade Hudson
"Floyd Cooper was an artist-magician—a warm, funny, generous and talented friend who used his enormous gift of sight and skillful "slight of hand" to render powerful and deeply moving illustrations. By using a simple eraser, he could reveal the deepest of human emotions and the beauty of the African American experience. We will miss his friendship and his tremendous contributions." — Cheryl Willis Hudson
"I loved spending time with Floyd, but he was an inspiration long before we met in person. Not only was Floyd a graduate of the University of Oklahoma, like me, but we were also initiated into the same Alpha Phi Alpha, Inc, collegiate chapter. I remember reading everything I could about him while I was in college, and I would tell myself…if Floyd could do it, then maybe I can, too. I'm so glad to have known him, and for all the barriers he broke down for those who followed, and for all the beauty he brought into the world. Rest in peace, Brother Floyd." — Varian Johnson
"Floyd Cooper was an original. While many in the coming years will speak on his originally in his diverse body of works especially his "oil erasure." They will speak about how he created an art form using  an eraser to form shapes on canvas. They will talk about how his vivid images brought the story to life. His name will be listed 4-ever with the literary giants. But I will remember him as a kind, compassionate,  considerate, giving, caring, thoughtful and  gracious man. Floyd's smile could calm an anxious soul. The Original Floyd Cooper." — Vanesse Lloyd-Sgambati
"I have relied on his illustrations as the standard for representing Black individuals and communities with the respect and passion they so rightly deserve. His illustrations show the grand and complex multiplicity of lives lived with joy, trauma, and love. I will be forever grateful he made his way to the page. He changed the face of children's literature. He will be missed." — Dr. Laura M. Jiménez
"I am blessed to have learned from him, been emboldened by him, and energized by him as he mentored me. His work nurtured me through my childhood and inspires me now. Rest In Peace, Floyd." — Jacqueline Barnes
"What I'll remember most is Floyd's laugh, his sense of humor. Every time I spent time with Floyd there was deep laughter. I will miss spending time with him at the annual African American Children's Book Fair in Philadelphia. We often joked that the fair was our official reunion and we'd make it a point to catch up with each other. When I started hosting events and workshops at the Langston Hughes House in Harlem, Floyd was an early supporter, donating his art and signed books for our fundraiser. He was a generous, kind person and I am forever grateful for his friendship and will cherish the work he left us." — Renée Watson
"Floyd Cooper was an incredible combination of brilliant artist and beautiful soul. He took the time to see people and let them know they mattered. His caring and love shone in every illustration, every interaction. Floyd was a friend and brother to me and everyone who knew him. When I think of him, I'll remember his cool, his humor, his kindness and talent. But most of all what I'll remember and hold close is the gift of his heart." — Kelly Starling-Lyons
"The characters Floyd brought to life based on my writing were so palpably real and emotionally true that children argued with me when I told them Danitra and Zuri were fictional. His artistic gift was bottomless, and so was his heart." — Nikki Grimes
"I love you and I'll miss you, Coop." — Tracey Baptiste
Carole Boston Weatherford and several others at Lerner Books share their memories of Floyd here.