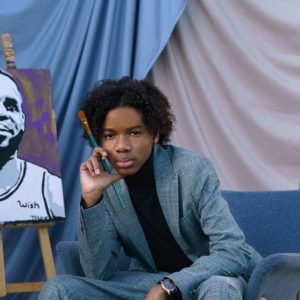 "When I was born, the doctors told my mom that if I did survive I would have lots of health problems and be blind, deaf and severely mentally delayed . . . Boy were they wrong!" —Tyler Gordon
Fifteen-year-old Tyler Gordon has had a lot to manage in his young life. He is partially deaf and stutters, which unfortunately has led to some intense bullying from classmates. Tyler's spirit and destiny, however, would not be hindered. At ten years old, he told his mother, Nicole Kindle, about a recurring dream he'd had. "God told me if I didn't paint, he would take [the ability] away from me." From that day forward, he and his entire family have done everything in their power to advance his artistic goals.
Time has come for Tyler Gordon, 14-year-old painting prodigy from San Jose
In the five years he's been painting, Tyler has had amazing success. His work has gone viral; he's met and received support from many of his well-known subjects, including Kamala Harris, Janet Jackson, and Kevin Durant; his art has graced the cover of Time Magazine and been featured in gallery showings; he's working on a new sneaker line; and he is the debut author of  WE CAN: Portraits of Power, published by Farrar, Straus and Giroux.
Recently, The Brown Bookshelf asked Tyler a few questions about his beautiful new picture book:
Tell us the backstory on how you got your book deal.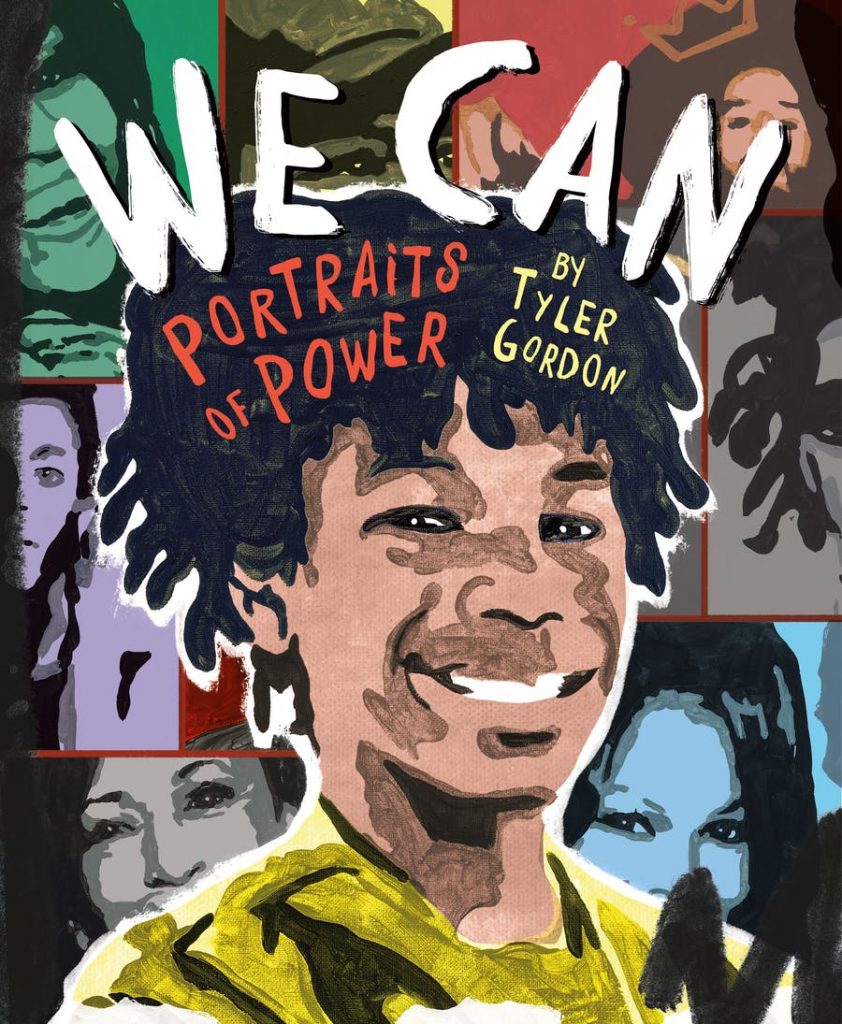 I got my book deal after being introduced to the Macmillan/FSG team by my amazing agent, Heather Jackson. After my team met with them, we were all really impressed by their vision and how much they believed in me so we decided to move forward with them. And I'm so glad we did!
How does it feel to be a published author? What has the experience been like so far?
Being a published author is something I would've never dreamed for myself. I mean, I'm a kid that has trouble talking so I use my art to speak–and now I have a book that does that too! It's just unbelievable and crazy in a good way. The experience so far has been really exciting! I always look at my book and can't believe it's really mine.
What is your favorite book of all time?
Diary of a Wimpy Kid is my favorite book because it's funny. I love that there is a collection of books that continue the story and keep me engaged.
What advice would you give young people on pursuing their goals and dreams?
Advice I would give to other young people (and older people too) is that it's never too late to be what you want to be. If you wanna cook, go in the kitchen and cook; if you want to flip burgers, be the best burger flipper in the place; and if you want to paint…pick up a brush and let your mind be free and paint. Don't let anyone tell you that you can't do something. You determine your own future. It's kind of like a book. You write the pages and you determine your own ending to your story. Never give up.
Thanks to the generosity of Macmillan, The Brown Bookshelf and Kidlit in Color are co-hosting WE CAN giveaways on Twitter AND Instagram!
For details on how to enter, visit  the following Twitter and Instagram pages.
If you want to learn more about Tyler, check out this article, this feature, and Tyler's Instagram.