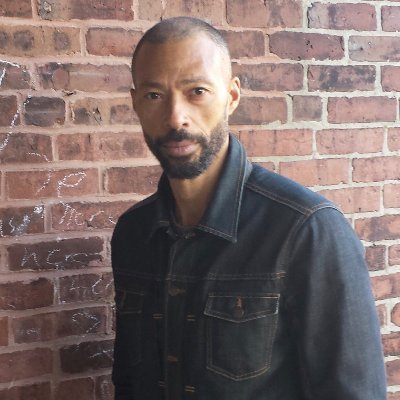 Desmond Hall is a Jamaican born author who's also been a filmmaker, high school teacher, advertising creative director, playwright and so much more. Desmond has served on the board of the Partnership for Drug-Free Kids and the Advertising Council and has also been named one of Variety magazine's Top 50 Creatives to Watch. Desmond is the author of the young adult novel YOUR CORNER DARK, out now from Atheneum Books, and is in rewrites for his second YA novel, Girl of Fire, another fast-paced thriller set in Jamaica.
We're thrilled to welcome Desmond to The Brown Bookshelf, and his real story is just as exciting as his fictional work. Sit back, and enjoy.
The Book

"One of those tales that ties you up, turns you inside-out, wrings you like a wet cloth." —Jason Reynolds, New York Times bestselling author of Long Way Down
American Street meets Long Way Down in this searing and gritty debut novel that takes an unflinching look at the harsh realities of gang life in Jamaica and how far a teen is willing to go for family.
Things can change in a second:
The second Frankie Green gets that scholarship letter, he has his ticket out of Jamaica.
The second his longtime crush, Leah, asks him on a date, he's in trouble.
The second his father gets shot, suddenly nothing else matters.
And the second Frankie joins his uncle's gang in exchange for paying for his father's medical bills, there's no going back…or is there?
As Frankie does things he never thought he'd be capable of, he's forced to confront the truth of the family and future he was born into—and the ones he wants to build for himself.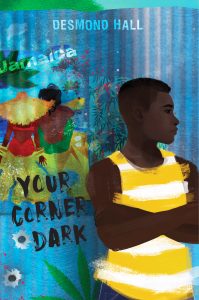 Your Corner Dark was a finalist for the New England Book Awards, Nominated for a YALSA audiobook award, and listed on Essence Magazine's 19 Children's Books, Buzzfeed's 40 Contemporary Books, WBUR's Books to add to your reading list.
Desmond's Story:
I got my first job after college by dressing up as a pizza delivery guy, talking my way past the guard at the skyscraper door so I could bring a cheese pie (thin crust, of course) to one of the top advertising recruiters in NYC. Nervous as could be, deodorant not keeping my dry, I handed her my resume. She was kind enough to give me a few assignments that I gladly worked on for free. After turning in my work, and going through a battery of interviews, fortune favored me, and I got a job as a junior copywriter, creating ads for Jell-O, Adidas, and the United States Post Office.
But my dream was to become a novelist, so in my spare time, I wrote and wrote, and wrote, but they were more works of catharsis than serious literature. So, after a few years, and a lot of rejections, I stopped writing novels, figuring I needed more life experience.
Though I kept my day job in advertising, I tried a new side passion—film. I wrote several screenplays on spec, while taking film studies classes with movie directors, Mike Nicols and Lodge Kerrigan. Luckily this was the heyday of independent film and I got the opportunity to work with a producer friend to write and direct an indie movie, A DAY IN BLACK AND WHITE, a comedy about race relations, that HBO bought.
But film wasn't for me, and my dream was still to become a novelist.
Then I took another detour into theater, writing and directing a full length play, Stockholm, BK, a crime-comedy about gentrification that won the audience award at the Cherry Lane Theater in NY.
It wasn't until my family, and I moved to Boston that I got serious about attaining my novel-writing dream. A friend who'd also moved from New York to Boston recommended me for GrubStreet's Novel Incubator, a year long writing intensive. After working with the great teacher/novelist, Michelle Hoover, I pitched my manuscript to agents, at Grubstreet's writer's conference, The Muse and the Marketplace.
The response was good, with several agents requesting and reading my manuscript, but no one offered representation. But I wrote back to some of those agents, thanking them, but also asking them what they felt my manuscript was lacking. After culling all their comments, I spent the next twelve months working on the manuscript.
It was a tough year for many reasons. There was the typical writer's doubt but desperation had also crept in, and I hadn't taken a day job for several years, putting a strain on the family finances. Then, as if things weren't difficult enough, I received a lucrative offer to go back to advertising. Even though my fantastic wife supported the pursuit of my literary dream, I was at a serious crossroads, and had to do some serious soul searching. There were my children's futures to consider, and college wasn't cheap. At last, I figured I wasn't getting any younger and this was possibly, my last, best chance to fulfill my lifelong dream.
So, I kept writing, and the following year, I went back to The Muse and the Marketplace, and again several agents showed interest. I sent them the manuscript and a few months later, three agents offered to represent me. After signing with my awesome agent, Faye Bender, she sold, Your Corner Dark on a two-book deal to the also awesome editor, Caitlyn Dloughy at Atheneum, Caitlyn Dloughy books, at Simon and Schuster.
Dreams can come true.
Get the best education you can afford, maybe even if you can't afford it.
And…
Just. Keep. Writing.
For more about Desmond and his work, visit him online Check out the Your Corner Dark trailer below, and grab Desmond's books from your local library or wherever books are sold.