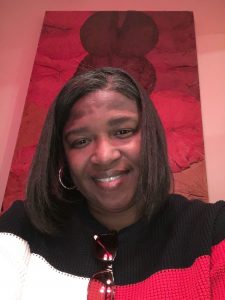 According to her website, Winsome Bingham is "a soul food connoisseur, master cook, and a US Army war and disabled veteran. She received both bachelor's and master's degrees in education and an MFA in Writing For Children and Young Adults. She has more than 15 years of teaching experience. You can find her writing on a deck while waiting patiently with a camera to capture a submarine shooting out of the water."
On November 16, 2021, Bingham's debut picture book, Soul Food Sunday, illustrated by Charles G. Esperanza, was published by Abrams Books. On January 24, 2022, it won a CSK Honor Award. As of today, Bingham has seven more books on the way: Life is Beautiful (Beach Lane Books); Missing Momma, The Walk, and The Park (Abrams Kids); and books 1, 2, and 3 in the Fort Goode chapter book series (ReyCraft Books).
Winsome Bingham isn't a rising star. She's a meteor. Learn more about her publication journey in her own words on Day 9 of 28 Days Later:

The Back Story
When Publisher's Weekly chose SOUL FOOD SUNDAY as a Best Book of the 2021, it dawned on me that I am officially an author. The reason being, the book wasn't out yet. Then when the New York Times chose it as one of The Best Children's Book of the Year, it dawned on me then, that many see the need for this book.
So how did it get here? I took a Writing Chapter Books workshop at Highlights. I didn't have a manuscript to submit for feedback. I wanted to learn how to write a chapter book. The editor there told me they could critique any manuscript and suggested I submit one. He wanted to make sure I got a critique since it was part of the package and I had already paid for it. I remembered that I had SOUL FOOD SUNDAY sitting in a drawer. So, I sent it to him. A few weeks later, he emailed and said he would like to make an offer on it.
At the time, my agent was making plans for it. Eventually, it went to auction. I chose Abrams. And SOUL FOOD SUNDAY was published in November 2021.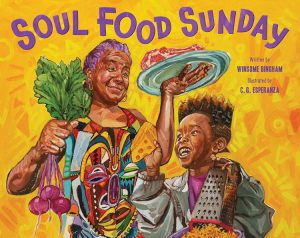 The Process
For me, the process is simple! I work like this. I get an idea which is normally a title. I work from titles. I wait for the story to form in my head. The entire story. From page four to thirty-two. I do not outline. Since the story forms in my head, it already has a structure. I then sit down, and transfer from my brain to the page. My writing spot is my bed. I know, it shouldn't be. But it is. And when I write the story in its entirety, I go back, take it line by line, and add accessories. Assonance. Consonance. Entendres. Alliteration. Word play. Onomatopoeia. Epistrophe and anaphora, etc.. All these literary devices that can add musicality and cadence. I know it's done when I cry, laugh, or have no more ideas as to how to improve it and make it better.

The State of The Industry
We are witnessing a shift in publishing, and I am here for it. For so long, agents were saying, "I cannot connect with your story;" or "This is not what I am looking for;" or "This is not authentic enough." In other words, that story is rejected and will not get in front of editors. So, there is a problem with these remarks. Editors depend on agents to know what they want. Also, editors will say (when you ask them what they are looking for), "I'll know it when I see it." And this is what contribute to the problem. Because agents are the first gatekeepers. If agents cannot connect with your story, then editors will never get a chance to see it.
But don't give up. Keep looking for agents until someone gets your writing. Here are some tips to navigate the murky waters of publishing.
There are houses that will take unagented submissions. Look for those houses.
Change your attitude. Do not turn your noses up at small publishers. Some "Big Publishers" started off as small publishers. Authors and manuscripts helped them to grow into powerhouses.
There is no easy way to get published. Publishing is about making money. Publishers invest in manuscripts that they see have the potential to make them money. So write something new and fresh.
Agents are great, but lawyers and others can read contracts and advocate for you.
And we need more diverse agents and editors.
But the best advice is, WRITE YOUR BEST STORIES, that way no one can turn you away.

The Buzz for SOUL FOOD SUNDAY
A 2022 Coretta Scott King Honor Award for Illustration (Shout out to C.G. Esperanza!)
The New York Times Best Children's Book of the  Year

Publisher's Weekly Best Book of the Year
The Bulletin of The Center for Children's Books (Chosen as September Big Picture)
Chicago Public Library "Best Book of The Year" 
Evanston Public Library 101 GREAT BOOKS 
🌟 **STARRED REVIEW**
"This nourishing story will gratify soul food aficionados, as well as anyone who's experienced how bonds strengthen through food and traditions." ―Publishers Weekly

🌟**STARRED REVIEW**
"Esperanza's vibrant illustrations are awash in saturated colors, photo-realistic facial expressions, and pronounced outlines, and they positively radiate this family's joy and love for one another. . .Food-related words and onomatopoeia are called out in large, colorful fonts, adding to the reading fun." ―Booklist

"Debut author Bingham hits all the right tasty notes here. . .Esperanza's stunning oils . . .are like a good family gathering, loud yet harmonious, with sunny yellow predominating. It's a delicious, bouncy love song to family, tradition, and the passing on of family legacies, and viewers will yearn for a seat at the table." ―The Bulletin of the Center for Children's Books
"With each step, the narrator gives it his all in a rhythmic, pleasingly repetitive text, and Granny warmly approves. Perfectly suited to be shared with both those of the culture and those looking on." ―Kirkus Reviews

"?A book that invites readers into an extended family's moment in time, this welcoming title should be on any shelf addressing family life, celebrations, and food." ― School Library Journal
"A gustatory and olfactory family feast that will evoke strong memories for some and make others wish they had them." ―The Horn Book Magazine
Winsome Bingham is social! Follow her on Instagram and Twitter, and check out her website too!