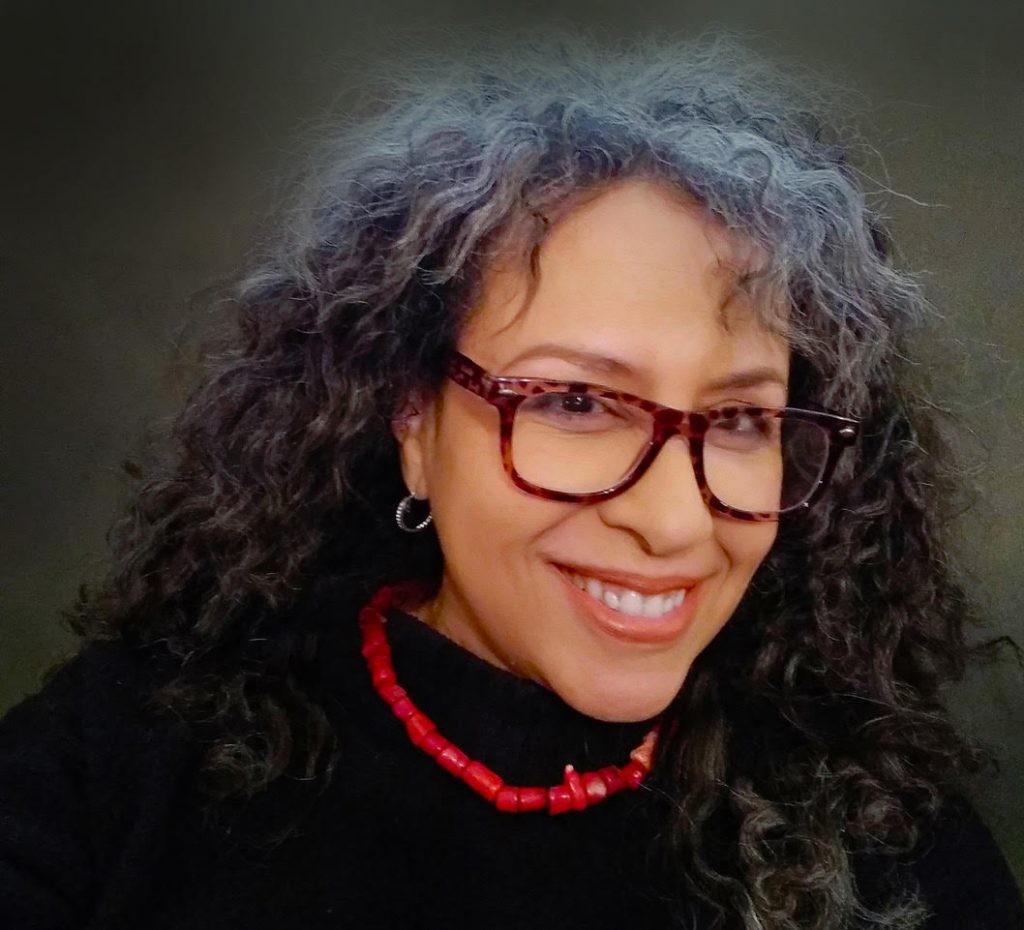 I'm a very visual person. Oftentimes, I purchase picture books because of the art, without really knowing the author's or illustrator's name. That caused me some embarrassment a few years ago at the Original Art show in NYC, a Society of Illustrators event. While checking out the art on the walls, an artist walked up and introduced herself. At first, I didn't recognize Laura Freeman by name. Then she pointed to a piece of her artwork from the book HIDDEN FIGURES, and wow!—that Laura Freeman! I spent the next hour fan-boying this brilliant artist!
Before becoming a full time illustrator, Freeman wore a variety of hats. She waited tables for ten years. She worked at Polo/Ralph Lauren in the art department. She painted holiday windows for local businesses in order to afford  Christmas presents for her kids. It took a very long time to reach her illustration goals, but, she says—"I'm a very stubborn person. If you want something badly enough, you don't give up." Then she put in 10,000 hours to became a better illustrator.
Here is Laura Freeman in her own words:
The Journey:
My parents were always supportive, I was about five when, after looking at a beautiful children's book, I asked my mom about the pictures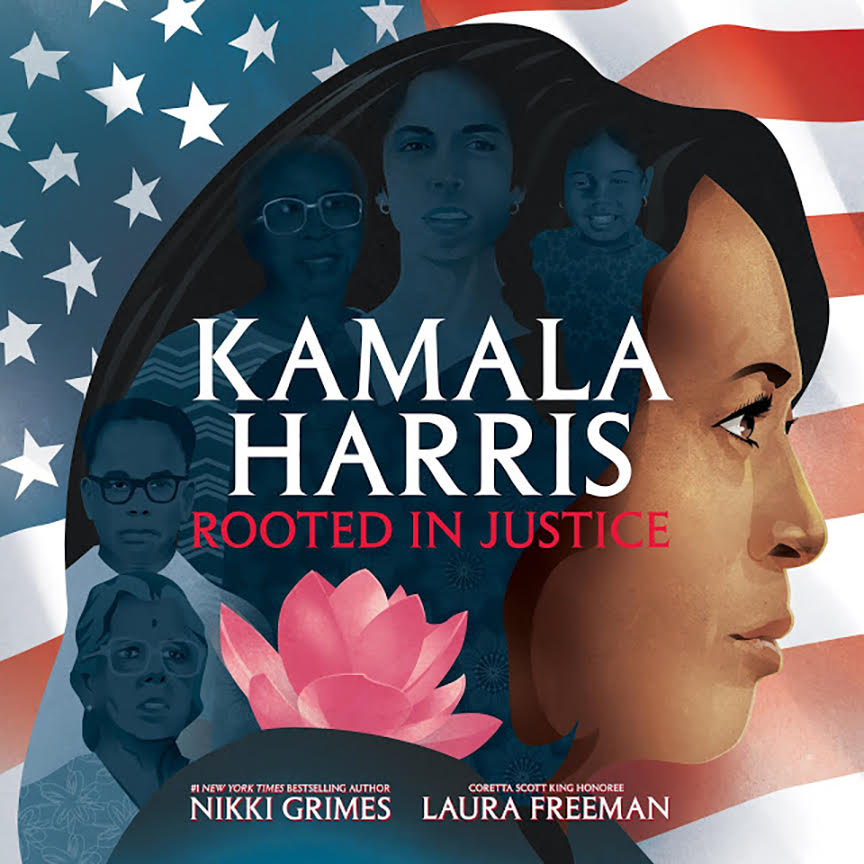 and she told me that it was someone's job to create them. I thought: 'Wow, that's a job?' I immediately knew that was perfect for me. It's funny, but at New York's School of Visual Arts, where I studied, I forgot all about my very first career choice and embarked upon a career as an editorial illustrator. But, one thing led to another and I found my way back to children's books (but I still enjoy doing editorial work!)I did a lot of different jobs before becoming a full time illustrator. I waited tables for ten years. I worked at Polo/Ralph Lauren in the art department. I painted holiday windows for local businesses so I could afford to give my kids Christmas presents. It took a very long time.. but I'm a very stubborn person. If you want something badly enough, you don't give up. I put in my 10,000 hours and I became a better illustrator.
The Back Story: 
I was thrilled when I got the offer to illustrate Kamala Harris' biography! She dropped out of the race while we were still working on the book but Biden picked her for VP after the book was finished. That was exciting!
And I knew I wanted to work on Chick Webb's biography "Stompin' at The Savoy" by Moira Rose Donahue as soon as I read it. His story is so inspiring and I love the jazz music of that era. He had a tragic accident when he was a child that affected him for the rest of his life. He fell down some stairs, broke his back and developed spinal tuberculosis. He had a hunched back and never grew taller than 4 feet but he never let that stop him.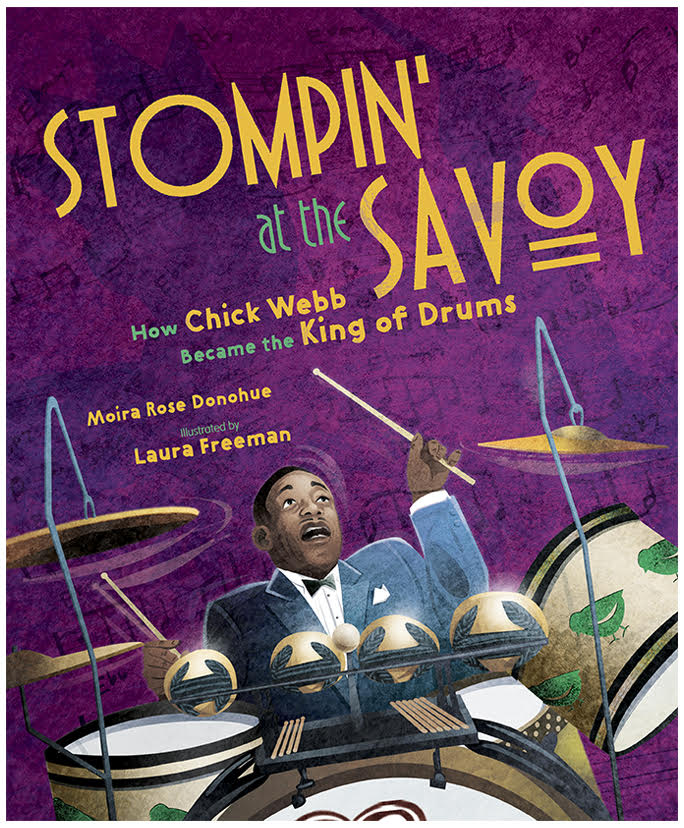 The inspiration:
I've been very fortunate to have always had the support of my family. My parents always encouraged me and my sister to follow our dreams.
The Process:
It starts with a manuscript. It's better if it's broken down into what goes on what page.. It's even better if the publisher gives me a rough layout. That way I have an idea of how much space the text will take up on each page and how much space I need to leave. Initially I spend a lot of time on research. For biographies I look up more info about my subject.
For "Stompin' at The Savoy" I got into the mood by searching for and listening to Chick Webb's music and watching old YouTube videos of big bands and swing dancing.
For "Kamala Harris: Rooted in Justice" I found childhood photos of Kamala and her family online and looked for images of the neighborhood she grew up in. I search for any pictures I can find of the person at different stages of their life and I also pay a lot of attention to the time period. What the fashions and hairstyles and vehicles looked like during the time period of the story. When I was younger I used to use the massive picture file at the NY public library but now I can find most everything I need online. Sometimes I take my own reference photos. My kids have done a lot of modeling for me. I used to do loose rough sketches in pencil but nowadays I use Photoshop even at the earliest stages. I've learned from my mistakes and my sketches are usually pretty tight. I try to figure it all out, except for the colors and minor details at the sketch stage. Sometimes things would look great in a loose rough sketch but when I would go to try to do the final I just couldn't get it to work!  But I do usually leave out faces at this point until I get the pages designed the way I like.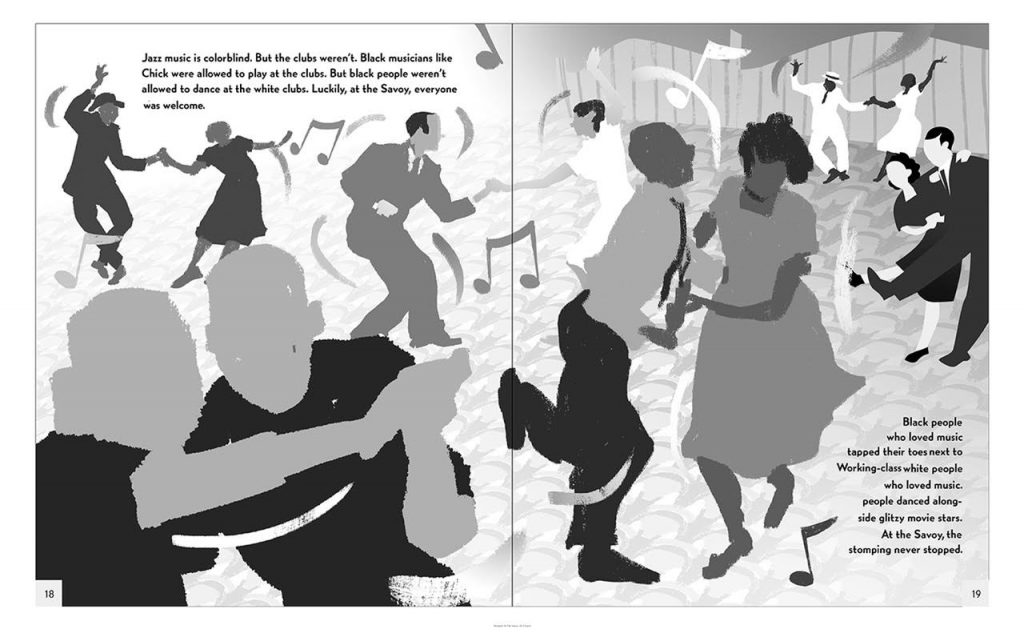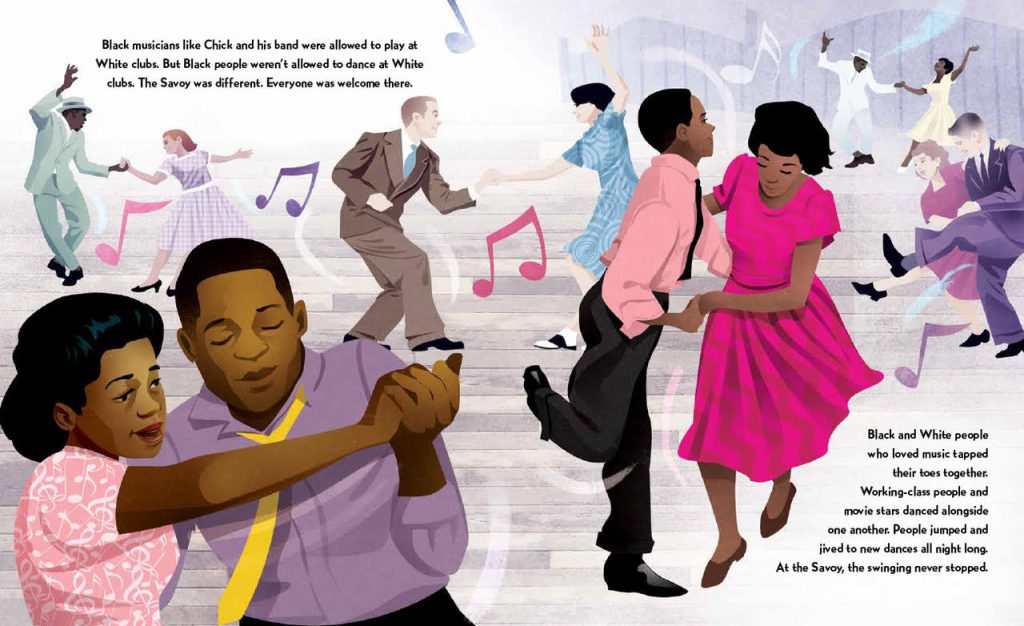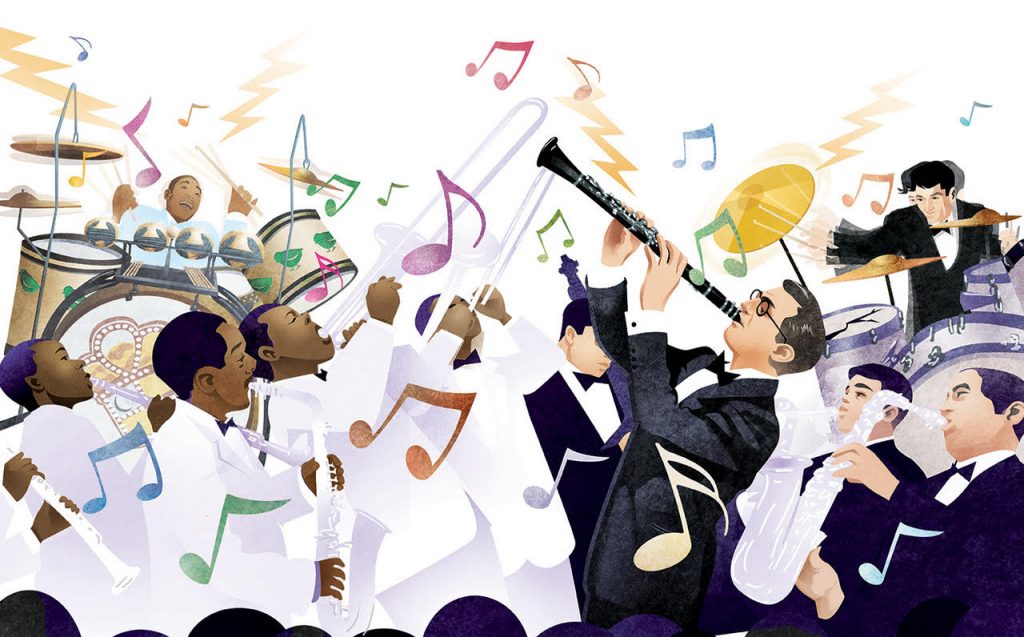 For the Kamala Harris book the design team wanted to see sketches of Kamala at different ages: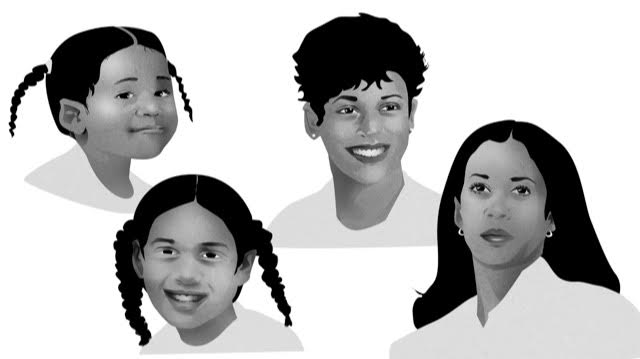 But I mostly left her face out of the sketches until the page designs were approved.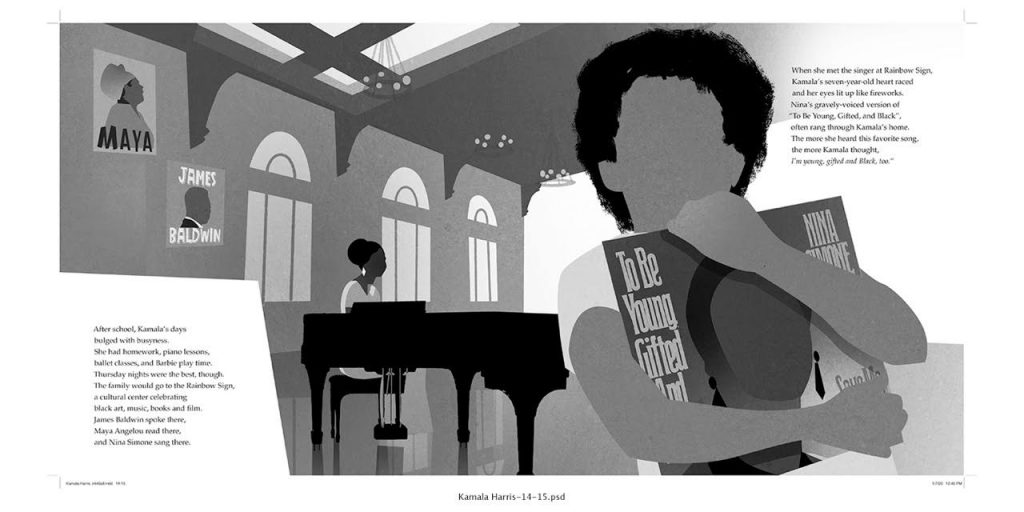 I ended up having to obscure a part of the Nina Simone album that Kamala was holding because it made the legal department nervous!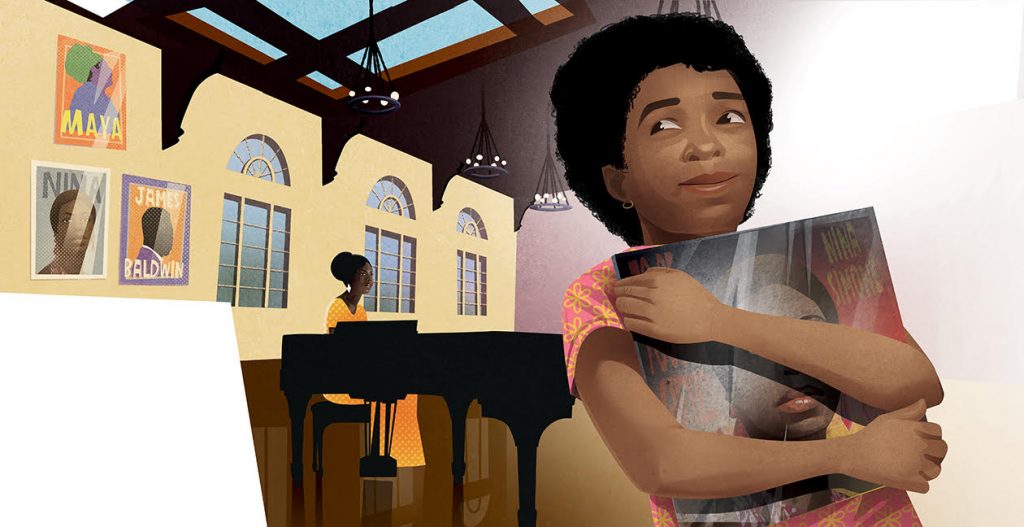 The Buzz:
Kamala Harris: Rooted in Justice, written by Nikki Grimes
"Using poetic language and striking imagery, Grimes details the future senator's life, from her beginnings to her presidential run in 2020. Freeman's artwork adds rich details and illuminates Grimes's prose. The bright colors and background scenes pop on the pages and reflect Harris's journey…..Penned by wordsmith Grimes and vividly illustrated by Freeman, this is an age-appropriate depiction of a notable figure in American politics. A worthy addition to children's biography collections."
– School Library Journal, July 2020
"This thorough portrait of the background and hard work that brought this biracial, black woman to her campaign for the presidency is worth sharing with children."
– Kirkus Reviews, June 2020
"Lyrical prose makes the text effortlessly readable . . . In multitextured digital art, Freeman succeeds in creatively capturing a range of Harris's expressions and experiences, exemplified by a layered portrait of her life and legacy. Notably, Grimes covers Harris's presidential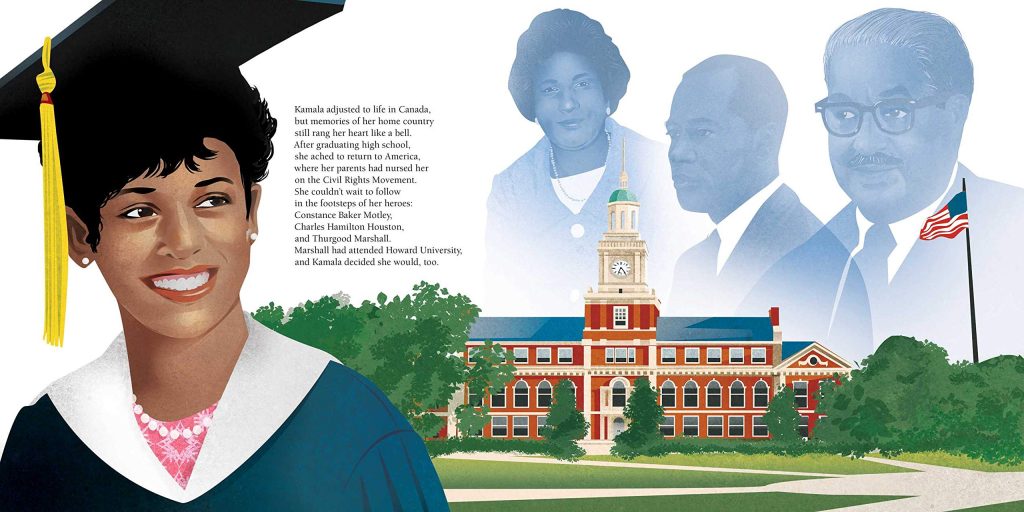 run and withdrawal, leaving young readers with an uplifting message of perseverance and agency."
– Publisher's Weekly, July 2020
"This important biography of California Senator Kamala Harries comes at an opportune moment, when the 100th anniversary of the Nineteenth Amendment intersects with the Black Lives Matter Movement. Weaving a fictional story around an account of Harris' factual biography, Grimes' picture book makes it easy for readers to identify with the recent Democratic presidential candidate….Freeman's drawings work as hard as the prose to flesh out Harris' life with realistic illustrations of her childhood and career."
– Booklist, August 2020
Center for the Study of Multicultural Children's Literature
Best Books 2020
NAACP Image Award Nomination 2021,
Outstanding Literary Work, Children
Nerdies: Best Nonfiction Picture Books 2020
New York Times Bestseller List 2020-2021
Notable Social Studies Trade Book for Young People 2021
Other awards include a Coretta Scott King Illustrator Honor and an NAACP Image Award for "Hidden Figures: The True Story of Four Black Women and the Space Race", written by Margot Lee Shetterly and an SCBWI Crystal Kite Award for "Pies From Nowhere: How Georgia Gilmore Sustained The Montgomery Bus Boycott", written by Dee Romito.