A GOOD KIND OF TROUBLE has a soft, ice-cream colored cover that just begs to be consumed, but at its heart, the story minces bitter with sweet as Shay tries to find her way in a world where simply being Black requires bravery. It's the debut middle grade novel for Lisa Moore Ramée, our next honoree. Read on to hear from Lisa.
The Journey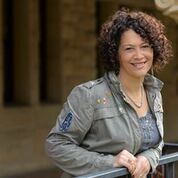 When anyone asks me about my publishing journey, the first thing I say is it has been long. This is true of many writers, but if there's a competition on who has had one of the longest roads to publication, I would be at least a contender (and probably a finalist). Over thirty years ago, I got a job working for Alex Haley. I was fascinated by his writing routine which included booking himself on a freighter and staying at sea for months. I was already writing melancholy poetry and I'd leave it strategically around the office, waiting for Mr. Haley to discover my brilliance. Surprisingly, that didn't happen. But working for a Black author, at that early age, taught me it was possible to write for a living. I started submitting pieces to magazines, got my very first rejections. Many years later, while working for Disney Publishing, I grabbed the chance to write a title for our new junior graphic novel line, and the time spent working on that book solidified what I wanted to do professionally. But I knew I had a lot to learn. I'd worked on the business side at Disney, not editorial. And so, I took classes; I considered getting an MFA but there wasn't a program close enough, so I got an MA in English Literature, focused on Creative Writing. I got a few short pieces published in online journals and wrote my first novel-length manuscript. I queried agents. (Back then, that meant sending physical pages with an SASE.) It seemed almost too easy when I got full requests from top agents, but then nothing panned out. Over the many years of querying, I went on to write four more novels. I entered contests. And got requests, and each time, I got just enough positive feedback to keep me going. My stack of manuscripts grew, but always, always, I would come back to my very first manuscript, which was about a black girl trying to understand her place in the world and how specifically race factored in. And then finally, after querying over a hundred agents, spanning ten years, an offer of representation. And then another. Ultimately, I received eleven offers of rep and signed with my agent, Brenda Bowen.  Less than a month later, we had sold the book to Balzer & Bray. Fast sale? Yes. But the journey? Lord, it was long.
The Back Story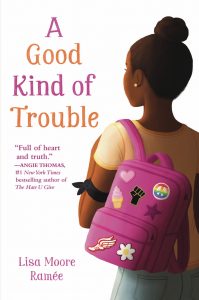 When I was in junior high, friendship groups separated by race. My best friend in elementary school was Japanese-American, but suddenly, in junior high, there wasn't a spot for us at school. I started hanging out with a new Black best friend and she started hanging out with a group of Asian girls. We remained friends but didn't hang out at school anymore and that never made a lot of sense to me. Then almost thirty years later, when my daughter started junior high, I saw the same thing play out. And I wanted to write about that. The Black Lives Matter movement, which features prominently in A Good Kind of Trouble, didn't exist when I started writing the book, but racial tensions always did. One morning I woke up to the news report of Philando Castile being shot by police for what seemed to be the crime of just being Black. A horrific significant fact was just the day before, I'd seen the news of Alton Sterling's death. Two young black men in two days. It made me ill. And if it had that effect on me, what must it feel like to be a Black child, seeing these images almost every day. To be told in so many words that you just don't matter? I knew Shayla, my main character, would be affected by what was happening. And honestly, I felt if maybe I could explain to just one person the importance of Black Lives Matter, that I would consider it a success.
The Inspiration
It was Maya Angelou who showed me how to write pain on the page right next to humor. Toni Morrison, Zora Neale Hurston, Alice Walker and Jacqueline Woodson not only reinforced the importance and beauty of Black stories, but also had such a way with words, and could take important truths and birth them into creative tapestries. All these women are authors who I felt I knew and that they knew me.
The Buzz
I've been fortunate enough to have received some early praise for A Good Kind of Trouble. "Shay's voice is so genuine — she practically walks off the page. This is an important book, and an incredible debut." Erin Entrada Kelly, Newbery Medal-winning author of Hello, Universe
"Full of heart and truth, A Good Kind of Trouble has all of the makings to be this generation's Roll of Thunder, Hear My Cry. Much like Cassie Logan, Shayla's experiences, pitfalls, and triumphs will inspire young people for years to come. It is a well-written page turner with a voice that stays with you long after you put the book down." Angie Thomas, #1 New York Times bestselling author of The Hate U Give
"Gripping from the opening line, A Good Kind of Trouble is a tender, insightful, and unique look at what it means to stand up for what you believe in and be brave. Shay is the type of heroine who inspires us all to take a stand." Jay Coles, author of Tyler Johnson Was Here
"Ramée effectively portrays the importance of the Black Lives Matter movement and the difficulty of navigating complex social situations while conveying universal middle school questions about friendship, first crushes, and identity. Shay's journey is an authentic and engaging political and personal awakening." Publishers Weekly (starred review)
"Shayla navigates the world of middle school and the troubled world beyond with wit and endless heart. A timely, funny, and unforgettable debut about friendship, facing your fears, and standing up for what's right." Kirkus Reviews (starred review)
The State of the Industry
In the last two years, we've seen a big uptick in acquiring editors actually wanting books with diverse casts. Of course, a lot of that has to do with the success of some major titles. Those titles proved that these types of books did in fact have a market. What scares me though is the rumbling I hear too often on the other side. The white authors who worry they are being shut out. Who refuse to look at the actual numbers to see how poorly POC are still represented in the publishing industry. I worry that for authors of color, we won't have the benefit of a few "failures." That if the huge successes start drying up, the word will come out that the "trend" of diversity is over. When I go to conferences and workshops, I'm often the only black person there. We for sure aren't taking anything over. But I do hope our little toehold may increase to us getting a leg, or maybe even an entire person through the door, and let us take a big comfortable seat at the table. And won't that be something?