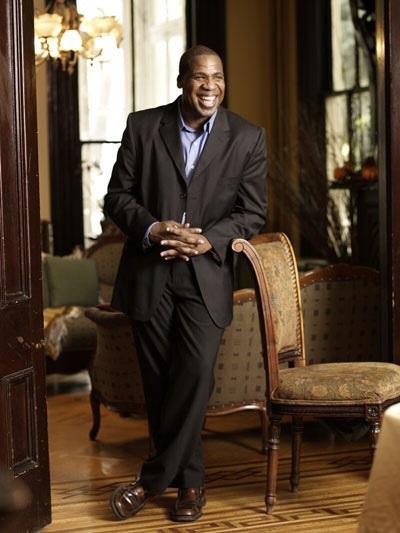 You see his name and picture every month in Essence magazine. Patrik Henry Bass is our trusted voice about African-American books. We count on him for insightful reviews and beautifully-written features.
He has been on the other side of the industry too, writing and editing several acclaimed titles for adults. Lucky us, he has expanded his reach to creating books for kids. The Zero Degree Zombie Zone (Scholastic, 2014), his debut middle-grade adventure novel, debuted in August. Illustrated by Jerry Craft, Publishers Weekly called it "action-packed" and "fast-moving." The story features friends on a mission to save the world.
We are honored to celebrate Patrik Henry Bass on Day 13. Here he shares his incredible work:
ABOUT PATRIK HENRY BASS
Patrik Henry Bass is an award-winning writer and editor, with an extensive background in publishing covering books, lifestyle and popular culture. Bass currently serves as editorial projects director at Essence Magazine. He has written and edited for a number of publications including The New York Times, O: The Oprah Magazine, Publisher's Weekly, The Washington Post, Time Out New York, Brooklyn Bridge, Entertainment Weekly, Black Enterprise and BET Weekend, where he was a founding editor. Bass is a former board member of The New York Association of Black Journalists (NYABJ) and a member of The National Association of Black Journalists.
Bass, a former adjunct professor at the Arthur Carter Journalism Institute at New York University, is a contributor to The Takeaway with John Hockenberry, a nationally syndicated radio program produced by Public Radio International. He has lectured widely on magazine writing and editing. Bass and photographer and artist Karen Pugh coauthored In Our Own Image: Treasured African-American Traditions, Journeys and Icons (Running Press, 2001). He is also the author of Like A Mighty Stream, The March on Washington, August 28, 1963 (Running Press, 2002).
Bass is also the editor of several books for ESSENCE and Time Inc. Home Entertainment including A Salute to Michelle Obama (2013); LEDISI Better Than Alright: Finding Peace, Love & Power (2013); The Obamas in The White House (2010); and The Obamas: Portrait of America's New First Family (2009).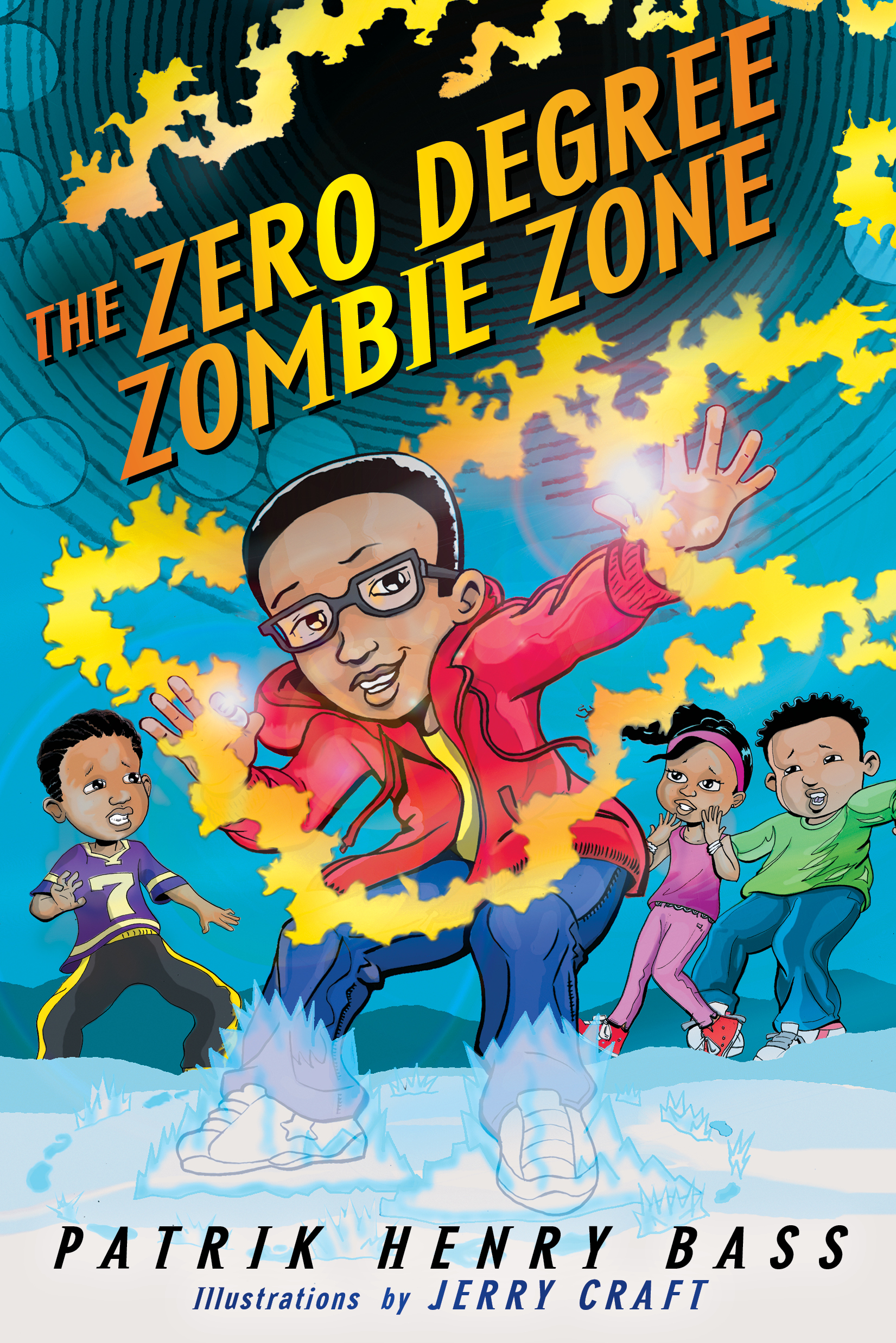 The Zero Degree Zombie Zone (Scholastic Press), his first book for middle-grade students was released on August 26, 2014. The book has garnered praise for spotlighting African-American boys as heroes in the fantasy genre.
THE JOURNEY
"I didn't have a plan. I just wanted to have a life and career that was interesting." 
Bass began his writing career as a reporter for The Carolina Peacemaker in Greensboro in the early 90s.  After working there for about six months, Bass knew that being a newspaper reporter was not for him. Covering zoning meetings was uninteresting. Yet, he was intrigued by a reliable source, a woman who worked in city planning who demystified zoning ordinances. Bass said it looked like she was having fun in her job and he liked the interaction with the media so he enrolled at Pratt's School of Architecture for city planning. Once he started classes at Pratt, he realized he had made a monumental mistake. "I was like a fish on a bicycle," he said.
One day on campus someone overheard Bass giving a commentary during the American Music Awards and asked if he could write like he talked. He quickly became a columnist for the Prattler newspaper. That opportunity led to a publishing job with The Big Idea, a magazine for UPS Corporation. There Bass learned about deadlines, attention to detail. Best of all, he was able to meet people in the publishing industry.
Many writers lived in his Brooklyn neighborhood at the time, working in publishing by day and writing at night. Bigger things started to happen. Bass began to write about books and publishing on a freelance basis for alternative presses. In late 1999, he came to the attention of editors at Essence Magazine. He landed the job that had played a significant role in the careers of previous books editors for the magazine such as Paula Giddings, Elsie Washington, Benilde Little, and Martha Southgate.
When he took the job at Essence, he had been asked by Running Press to write a book about his family memories and then a book on the historic March on Washington, a topic that also interested the magazine. "My goal for the book was to give the readers an idea of the diversity of race and age of those who attended the march," said Bass. "The March on Washington was our evolution of the spirit of the country."
THE ZERO DEGREE ZOMBIE ZONE
Although it took nearly seven years to bear fruit, a lunch meeting in 2007 between Andrea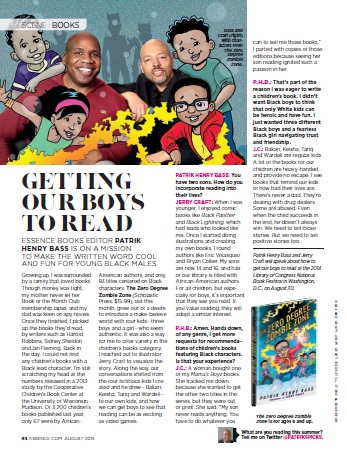 Davis Pinkney, a vice president and executive editor at Scholastic Press, and Patrik Bass, an editorial projects editor at Essence, eventually led to the publication of The Zero Degree Zombie Zone, an adventure story featuring four African American middle-school friends. As they had chatted over their meal, Andrea and Patrik realized that the solution to the sense of frustration they both felt at the lack of children's books with protagonists of color was right in front of them: Patrik would write a story and Andrea would publish it. They later agreed that Jerry Craft would be the perfect artist to create the book's illustrations. The Zero Degree Zombie Zone, published in August 2014, tells the story of a day in the life of Bakari Katari Johnson, a shy boy who is coping with everyday bullies when the school is suddenly overrun with zombies. Fortunately, he has three good friends to inspire and assist him, and through some resourcefulness and steadfast courage at a crucial moment, Bakari manages to save the day.
For more extensive information on Patrik Henry Bass and his books, please visit these article sources:
http://www.publishersweekly.com/pw/by-topic/childrens/childrens-book-news/article/63512-zero-degree-zombie-zone-introduces-an-african-american-cast.html
http://americanbookreview.org/currentissue.asp
https://www.youtube.com/watch?v=qzjxetfEptQ