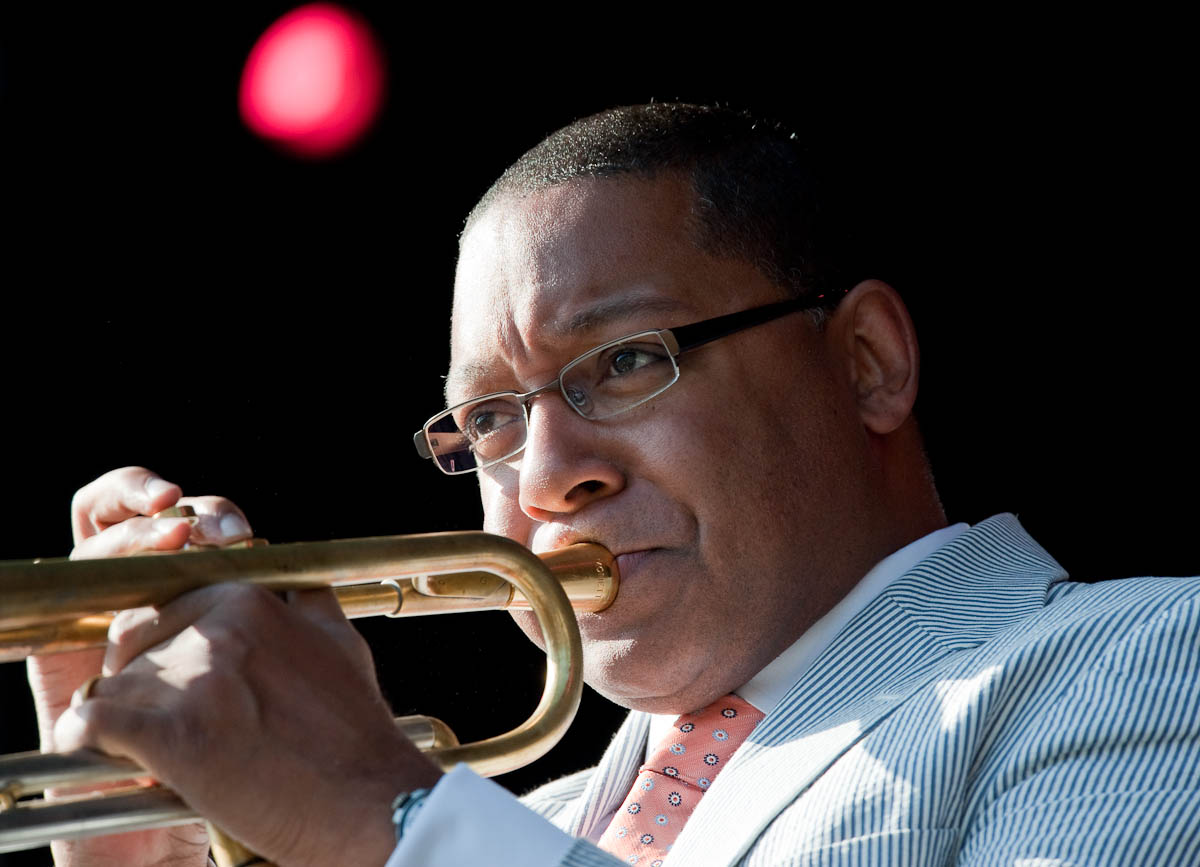 Wynton Marsalis is a world-renowned trumpeter, composer, and tireless champion of jazz,the recipient of a Pulitzer Prize and the winner of nine Grammy Awards. The artistic director
of Jazz at Lincoln Center, he is also the author or two children's books, SQUEAK, RUMBLE, WHOMP!, WHOMP! WHOMP! (2012) and JAZZ ABZ: An A to Z Collection of Jazz Portraits (2005). Says Marsalis, "When I read books to my kids I always animate the stories with sounds. So I started thinking about how everyday sounds we hear in our homes or on the street relate to the sounds of musical instruments. In this book each sound has two real-life examples, and then the third example is an instrument that makes that same sound."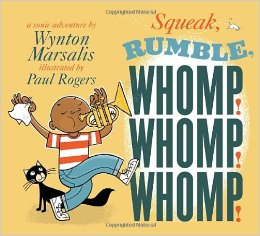 Our back door squeeeaks.
A nosy mouse
eeek-eeek-eeeks!
It's also how my sister's
saxophone sometimes
speee
.
.
.
eeaks.

"I hope children will realize that sounds are all around us, they just have to
stop and listen. They are fun. Hopefully they will be inspired to start playing an
instrument, because then they get to make and hear the different sounds and turn it into something beautiful."
Activities for SQUEAK, RUMBLE, WHOMP!, WHOMP!, WHOMP! can be found here
Booklist, starred review:
"Warm up those vocal chops and get ready for the swingingest read-aloud of the year. The creators of Jazz A B Z (2005) offer here an inventive and inspiring ode to the melodies and rhythms of everyday life. Using juiced-up onomatopoeia and spare rhymes that don't miss a beat, a young trumpeter (bearing a strong resemblance to the author) catalogs the musical sounds, from traditional instruments to neighborhood noise, of his life in New Orleans: the squeeeak of a screen door, the GRrruMBle of a cookie-craving stomach, the nervy brrrawmp of a jazz trombone slide. With sly nods to the city's musical heritage as well as jazz greats, Rogers' pitch-perfect, retro-cool illustrations pop against the white backgrounds and give the text—which highlights the sounds in a red, varyingly sized, often undulating typeface—plenty of room to groove. A spirited entrée into poetry, artistic inspiration, or the improvisational nature of jazz, this needs a little practice to get the cadence just right, but then it will be music to everyone's ears."
Kirkus, starred review:
"Onomatopoeic words will challenge readers and delight listeners . . . Rogers' hip, playfully cartoonish spreads pop with clever visual allusions to jazz tunes and players. Loud and clear, the creators show how tuning into everyday sounds can inspire music. Clap, clap, CLAP!"
School Library Journal, starred review:
This exuberant articulation of sounds both subtle and grandiose is sure to inspire closer listening and creative responses.
Publishers Weekly, starred review:
Electric….This is a must for anyone who has ever been drawn to a scat by Ella or a riff from Miles or who has whirled around the dance floor courtesy of Count Basie. The passion for jazz shared by this book's creators emanates from every page."
The New York Times Book Review:
"A witty, stunningly designed alphabet catalog of jazz's great talents and a demonstration of how visual art has interpreted this interpretive music….A wonderful way to introduce classic jazz and American design to children."
Vanity Fair:
"Jazz ABZ never ceases to swing. Rogers, who did the gorgeous and lyrical illustrations, is an artist of talent and invention, and the book luxuriates in his taste and skill. The greatest surprise is Marsalis's smashing poetic verses, which carry the book and describe the immortals so gracefully."
The New York Post:
"Reads like jazz poetry….Paul Rogers's illustrations, done in a '40s
and '50s jazz-heyday cool style, are worthy of museum walls."