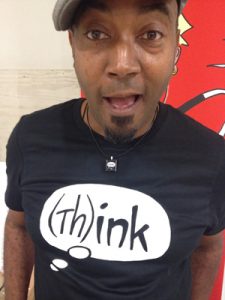 As a fellow African-American cartoonist, I have always enjoyed, and sometimes even been a little envious of, the work of Keith Knight. Mainly because he's just plain funny! I am both proud and happy to have followed his work for years on his comic strips The K Chronicles (2007 Harvey Kurtzman Award winner  for Best Syndicated Comic Strip), (Th)ink, and The Knight Life.
Knight is part of a generation of  African-American artists who were raised on hip-hop, and whose work is infused with edgy humor, satire, politics and race. His art has appeared in various publications worldwide, including  The Washington Post, San Francisco Chronicle, Ebony, ESPN the Magazine, and MAD Magazine to name a few.
His comics have garnered him accolades and stirred controversies, prompting the NAACP to recognize him as a 2015 History Maker, and CNN also tapped him to grade America on its progress concerning issues of race.
Most recently, Knight has illustrated two middle grade books Jake the Fake Keeps it Real (Crown Books for Young Readers), and Jake the Fake Goes for Laughs, written by Craig Robinson and Adam Mansback. And if you're a fan of the series, good news, they are currently working on a third.
If that's not impressive enough, Knight recently shared that Hulu is developing a series about his life as a cartoonist called Woke, starring Lamorne Morris (New Girl– pictured below), which Knight is co-writing with Marshall Todd. He took the time from his busy schedule to give us some insights of his career.
The Journey
I was contacted by my good pal, Adam Mansbach (of "Go To *blank* to
Sleep" fame).  He thought my style would be perfect for a book he and
Craig Robinson were pitching.  That book was "Jake the Fake Keeps It
Real."

The Inspiration
I am a newspaper cartoonist, so folks who inspired me coming up were
Charles Schulz, Garry Trudeau, Berkeley Breathed, Nina Paley, Bill
Watterson, Morrie Turner, Mary Fleener, Sergio Aragones/MAD magazine,
Warner Bros. cartoons, the art in Parliament/Funkadelic albums, British
comedy, and my cousin Joel.
The Process
I carry a sketchbook with me at all times.  I doodle whenever I get the
chance.  You never know when you might come up with a cool image or
character.  And then it can grow from there.
I also do autobiographical work.  So I get a lot of ideas from my own
life.  It's like keeping a diary.

The Buzz
Success to me is being able to make a living, doing what you want to do.
For me, it's creating, writing, drawing and presenting. And I love it.
It's a rare thing.