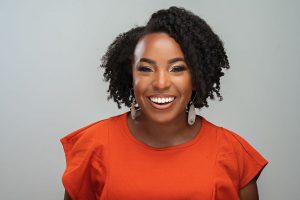 Brittany J. Thurman has storytelling in her soul. "I have always had an affinity for stories told by my grandmother," she says. "Those same stories hold space in my writing today. My love of writing comes from my love of reading. As a kid, I could not get enough of going to bookstores and libraries." Her joyful debut picture book, FLY, illustrated by Anna Cunha, is out now from Atheneum, and her middle grade novel, in collaboration with Mandy Gonzalez, FEARLESS: Boulevard of Dreams, will be released in April. Brittany is as warm and wonderful as her stories, and I'm absolutely beside myself because I get to welcome her to the Brown Bookshelf.
The Journey:
I don't remember writing my first story, but it must have happened someday in first grade. I still have the little slip of paper I scribbled, A Girl Goes for a Walk, slanted down the page. Like a lot of people, writing was a form of release. It helped me through loss and rejection. Eventually I turned to poetry. Even though there were a lot of things I wanted to do (at one point, I wanted to become an architect) writing stayed firm in my life.
For two years I studied dramatic writing at Carnegie Mellon University (you do not need a degree to write, by the way), but as my graduation approached and left, I felt lost and a little unprepared. I knew I did not want to write for the stage entirely, but my background was packed with theater from undergrad. How would I make a living submitting plays when those same theaters barely hired anyone who looked like me? And the plays I did submit were constantly rejected or, subjected to 'runner up'.
At that point, I knew I needed to rethink my career path. Revisioning my goals brought me to working with children. I worked in a handful of non-profits, Reading is Fundamental, The Children's Museum of Pittsburgh, the Carnegie Library. What I did within those nonprofits became the foundation for my reason behind writing for children. I read story after story to babies, toddlers, and preschoolers. We created art on the Storymobile and travelled across neighborhoods in Pittsburgh too often neglected. Neighborhoods like the one I was brought up in. Neighborhoods seen on the outside as 'bad', but inside, we all know the truth, the good.
I saw myself through the children who sang songs with me, who tugged on my shirt sleeve because they wanted someone to listen and play. Reading picture book after picture book gave me a knack for writing picture books, but at the time I was writing fluff. Just as I rethought and revamped writing for the stage to writing for children, I also had to rethink what I wrote.
The fluff was fun and cute, but what did the children I saw on a regular basis really want to read? How could I transform my words to reflect their lives in an honest and truthful way? Fluff free.
The Back Story
I could say that BAM!, a book deal came like that. But it did not. Like many authors, I went through query after query. Rejection after rejection. Like many authors, I kept those rejections in a visible spot. Not as a reminder of failure, but as a reminder to keep going. There would be someone out there who would eventually get it. Like some authors, I went through an agent whose morals and values did not align with mine. And again, like many authors, I found an agent whose morals and values did.
At the time, I was still working at the Carnegie Library as a Children's Specialist. I led Monday morning storytimes, Wednesday evening storytimes and special weekend programs. I wrote on my lunch break, sent drafts to my agent, Marietta Zacker, before starting work. Checked my email when the kids were too busy running around the room. We initially went out with two manuscripts on submission. Fly and another picture book manuscript that I assumed would automatically be picked up. I don't remember the exact number of editors we sent Fly to. Let's say twelve.
After eleven rejections, I honestly didn't have much hope left for a yes. But one Friday when I had a break from storytime, I was at the laundromat. I happened to look down at my phone. My agent was calling. When I answered she asked if I could talk because she had news. NEWS! I stepped outside and she told me that Fly had been acquired. I immediately started squealing and jumping up and down. Who cared about all the folks in the laundromat looking at me, my manuscript as going to become a picture book. My dream was about to become real. I say 'about to' but good things take time. From acquisition to pub date, it was close to three years.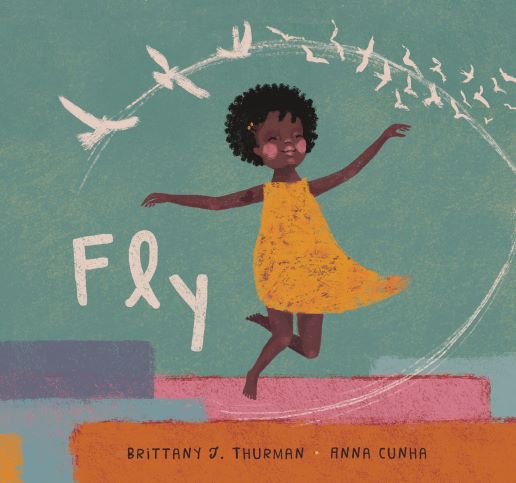 The Buzz
Booklist said, "Thurman's lyrical text, paired with Cunha's stunning illustrations, generates an empowering and uplifting experience…beautifully written and illustrated, this is one to be cherished."
The Bulletin for the Center of Children's Books said, "The rhythmic staccato of the text stays in a steady pattern through Africa's training until it bursts forth with energy when she makes her triumphant double Dutch debut…This makes a useful examination of how a skill is often the sum of different parts, and it's also a joyful celebration of collaboration among friends; just be sure to have enough room for everyone to show off their moves after storytime."
Time is still early, and the year has only started. I am overjoyed that many see FLY as the empowering experience I intended it to be.
Under The Radar
Abigail the Storyteller posts select readings from books. Her storytelling is wonderful, theatrical and the reason why she posts is even more special. Abigail is a rising star for her literacy advocacy, reading for those who can't or who struggle to do so. At a young age, Abigail shows us to put our all into what we love to do. I admire that Abigail started reading books aloud to those within her family and amongst her friends who could not. I think that it is fantastic she is a bridge within the literacy community, and I know she will continue to soar.
Where Do We Go From Here?
If you, like me, write and create for our youth, I think it's important for us to share our platforms with them, too. How different my self-worth as a child would have been if someone I looked up to said, "Hey, I value your ideas. I'm listening. I want to share my opportunities with you." I hope that in many ways I can give kids an opportunity to do just that, share and be part of my experience. Because this would not be possible without them.
Up next! FEARLESS: BOULEVARD OF DREAMS, written by Mandy Gonzalez, co-written by me. This second book in Mandy's Fearless series comes out April 5th, 2022. Look for FOREVER AND ALWAYS illustrated by Shamar Knight-Justice, from Greenwillow/HarperCollins coming Winter, 2024. I am also elated to one day show you THE FIRST LIBRARY, a very special story from Clarion/HarperCollins, coming 2022.
Thank you, Brittany! You can find out more about Brittany on her website, and her books are available at your local library and wherever books are sold.