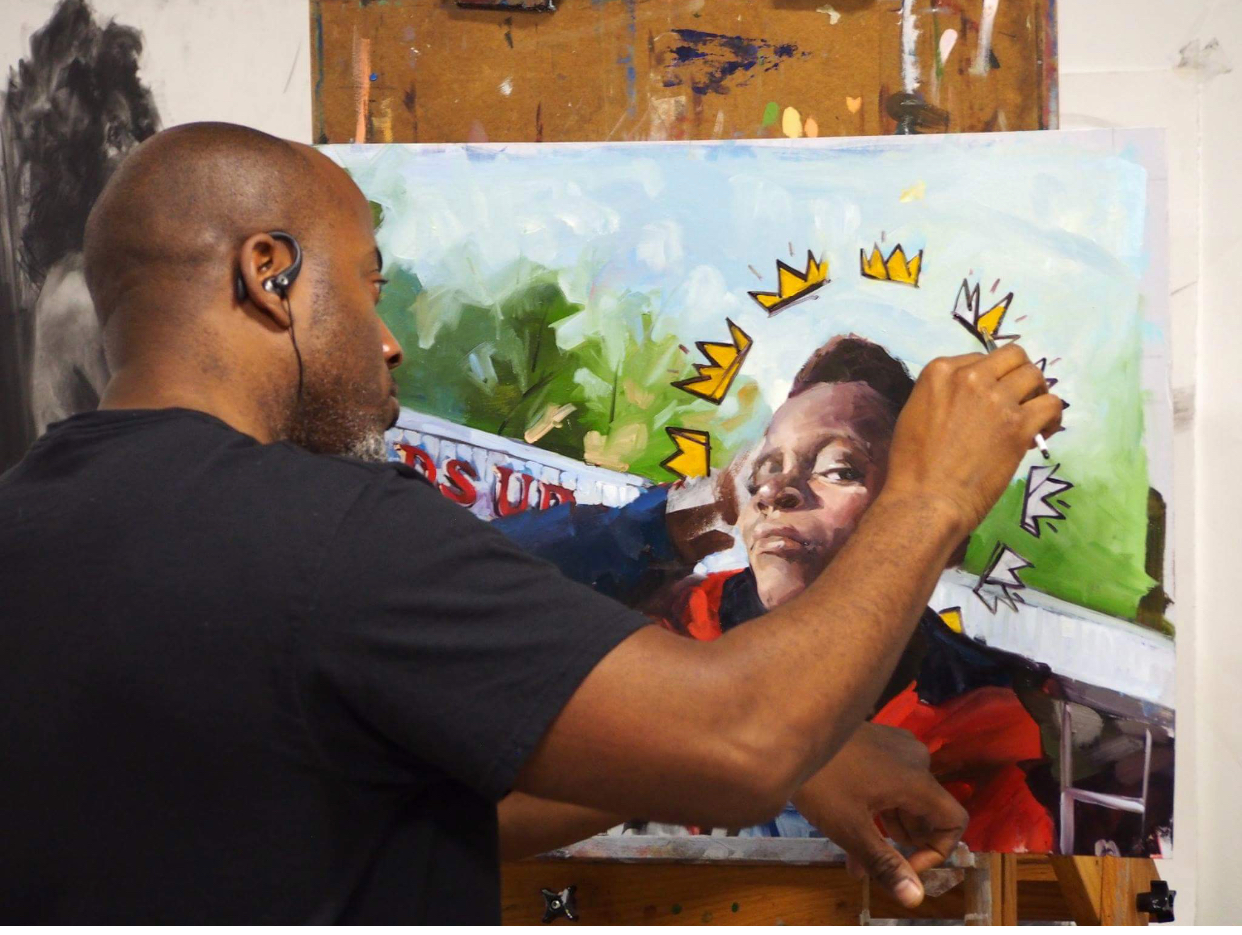 Well. A lot has happened since the BBS team elected to honor fine artist and breakout children's book illustrator Gordon C. James in this year's 28 Days Later campaign. By a lot I mean the blowing up of his beautiful new book, CROWN: An Ode to the Fresh Cut (written by Derrick Barnes, published by Denene Millner Books), which has garnered the following recognition in the five months since its release:
4 Starred Reviews from Kirkus, Publisher's Weekly, School Library Journal, and Horn Book Magazine
Inclusion in 20 "Best of 2017" Book Lists, including NPR, Huffington Post, Publishers Weekly, Kirkus Reviews, the Los Angeles Times, the Boston Globe, the Horn Book Magazine, the News & Observer, BookPage, the Chicago Public Library, and more
Of James' artwork in CROWN, Publisher's Weekly says, "Pride, confidence, and joy radiate from the pages, both in the black and brown faces of men, women, boys, and girls featured in [James'] majestic paintings…." Essence Magazine cites the"…breathtaking visuals by the infinitely creative Gordon C. James…."  And Kirkus asserts, "One of the best reads for young black boys in years, it should be in every library, media center, and, yes, barbershop."
We concur with all of them.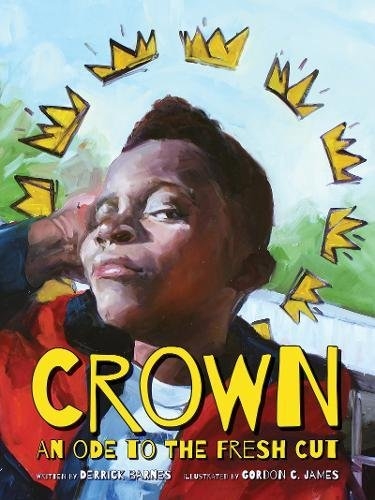 On Day 17, we congratulate and welcome one exceptionally talented artist, Gordon C. James!
The Journey
I have a BFA in Illustration from School of Visual Arts in New York.  I honestly hadn't wanted to be an illustrator.  I saw myself as a figurative oil painter and still do.  I was working at Hallmark Cards, Inc. when Shane W. Evans suggested I give children's books a try.  I said "why not" and that's when I began working with my agent, Regina Brooks at Serendipity Literary Agency.  I was jumping back and forth between fine art and illustration projects, and I still do.  I try to bring the same level of finish and beauty no matter genre I'm working in.  My books may be a child's first exposure to art, so I feel the work is important.
The Back Story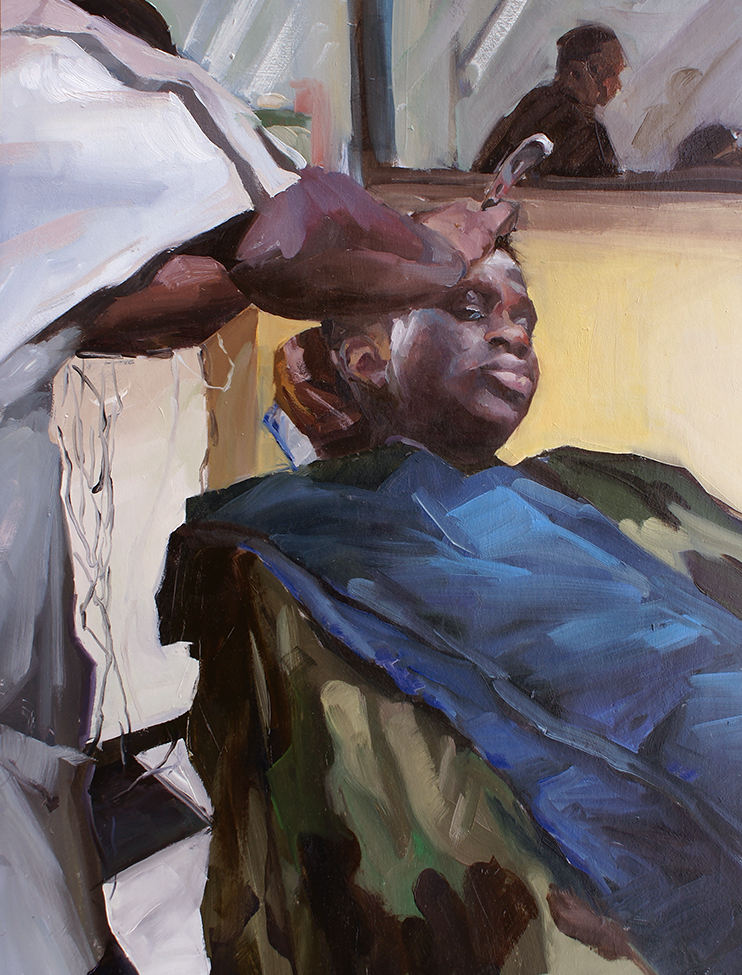 My journey with "Crown: An Ode to the Fresh Cut" was not typical.  Derrick Barnes, the author, and I have been friends since our Hallmark days.  He reached out to me to ask me if I was interested in the project.  Finally the timing was right.  We had been talking about working together for years but it had never happened.  Most of the time I never meet or even speak to the author on a project.  It's been nice to work with a friend.
The Inspiration
I'm a fine artist at heart so my first love is for painters like Thomas Wilmer Dewing and John Singer Sargent, Henry Ossowa Tanner, and Ilya Repin.  Recently I'm getting into modern art.  Anything I can put into my brain helps me to create.  I listen to a lot of music while I work.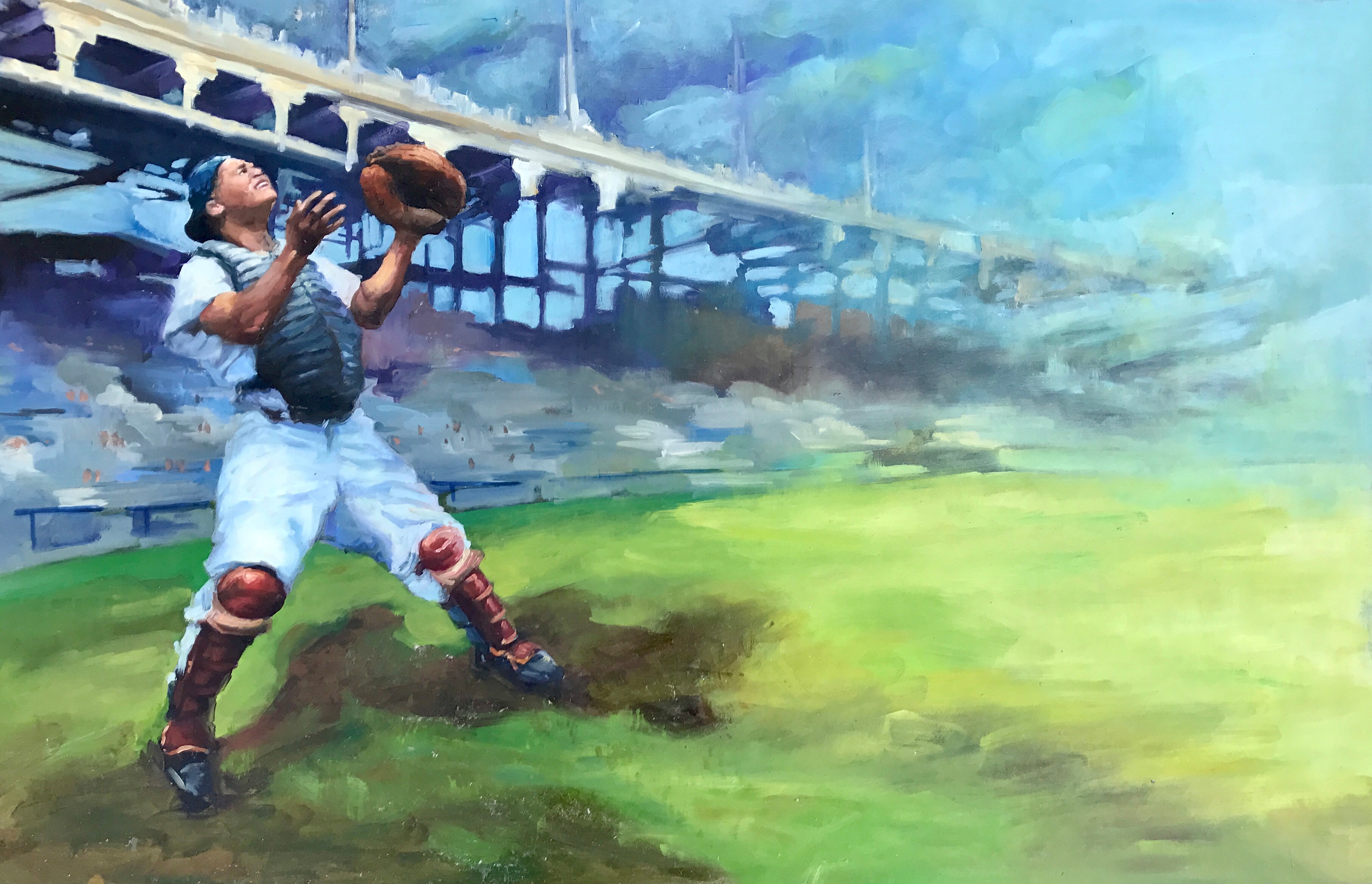 The Process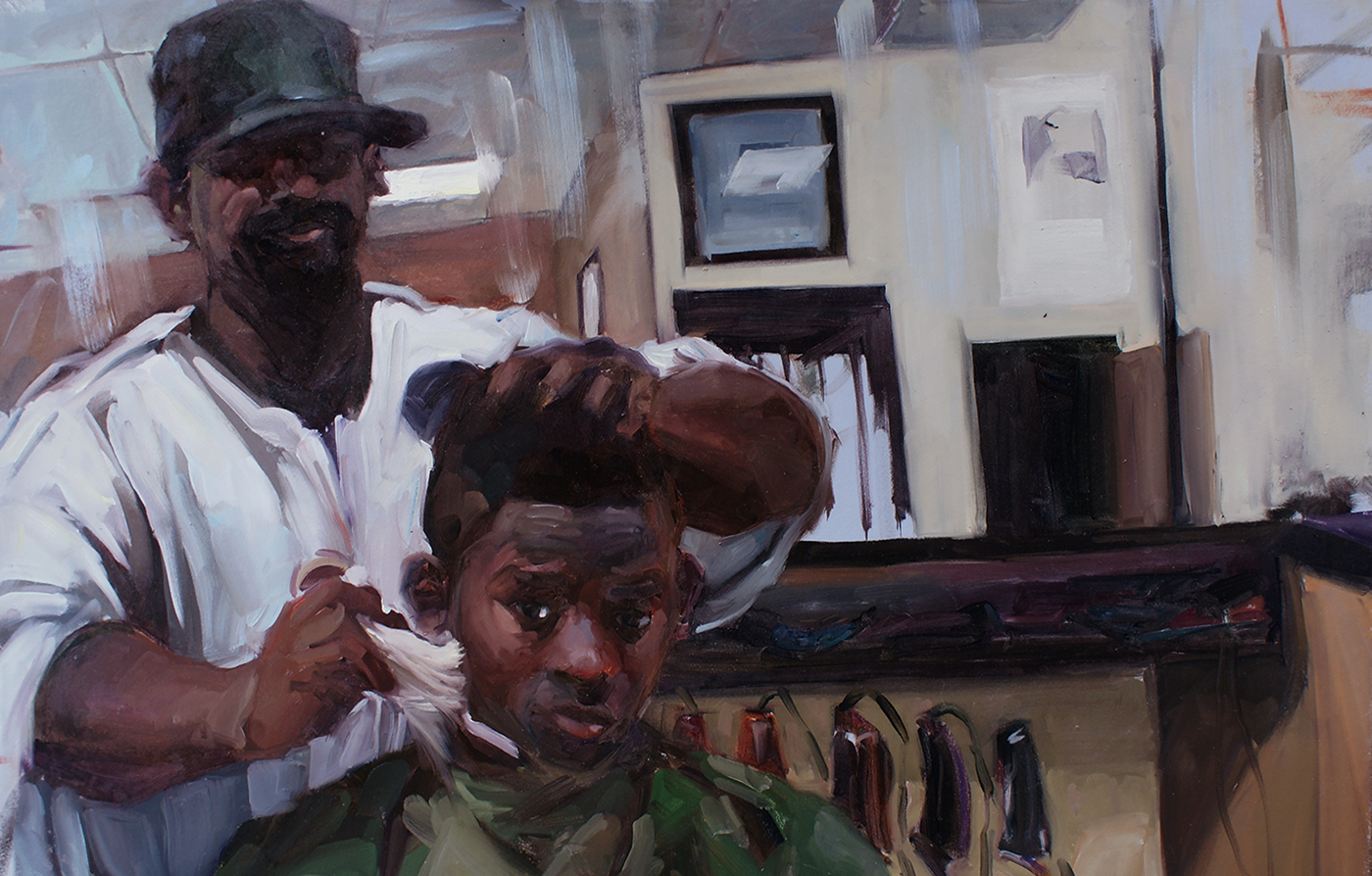 I start with small, cryptic thumbnails of my ideas.  Then I "cast" the book.  I look for people to play the characters in the book.  For instance, the barber in "Crown" is Reggie.  He's my son's barber and the owner of the shop featured in the book.  The main character is one of Derrick Barnes' sons.  Next, we may go on location and shoot.  Heads Up barber shop is our barber shop.  It's  a real place, located within walking distance of our home here in Charlotte.  Then I go to the sketch phase, and finally we paint.  I work almost exclusively out of my studio at ClearWater Artist Studios in Concord, NC.  I'm there most weekdays and every second Saturday.  Come by and say hi.  Seriously.  It's a great place to work and there are lots of talented artists there.  It's a great creative atmosphere.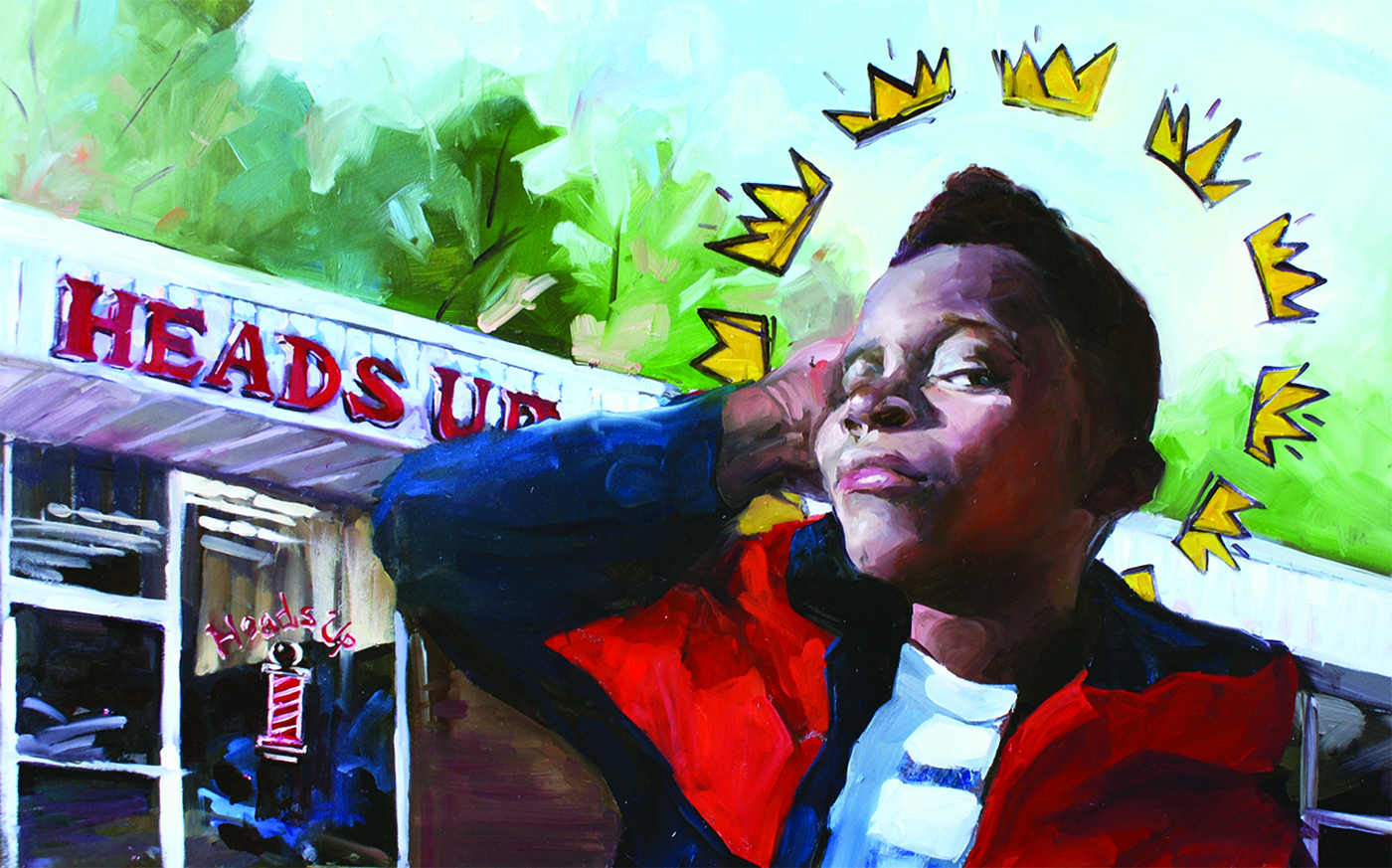 The Buzz
"Crown an Ode to the Fresh Cut" has earned four starred reviews from Publishers Weekly, Kikus, School Library Journal, and The Horn Book.  It is also on 20 "Best of 2017" lists. It's an Ezra Jack Keats Award nominee and, finally, I am honored to have won a Society of Illustrators Gold Medal for my work on "Crown".