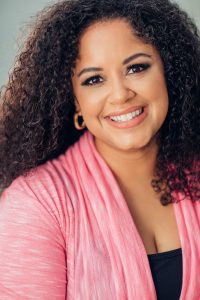 Nancy Redd is an American Library Association award winner, an NAACP Image Award nominee, and a New York Times and USA Today bestselling author. Her debut picture book, Bedtime Bonnet, focuses on Black nighttime hair rituals and was chosen by the American Library Association's Black Caucus as a "Best of the Best" book for 2020. Nancy holds an honors degree in women's studies from Harvard University and lives in Los Angeles with her husband and two children, August and Li'l Nancy.
We are pleased to welcome today's honoree, Nancy Redd, to the Brown Bookshelf!
THE JOURNEY
Of all the stuff I've done, my writing makes me the happiest because it's always been my #1 passion. Growing up in rural Virginia, I was (and still am) a dorky bookworm, obsessed with libraries and bookstores. As a kid, I dreamt of having my name on a book spine but had no idea how I could possibly make it happen. Over the years, I collected as much information about publishing as I could and took as many writing courses as possible.  I have dozens of hard drives filled with hundreds (literally) of terrible book proposals for non-fiction books, but I did manage to get three non-fiction books published.  BEDTIME BONNET is my first published picture book, but I've written quite a few others that will probably never escape Google Cloud. 
The hardest thing about writing BEDTIME BONNET was having to be so patient!  I came up with the idea in 2017, sold it in 2018, and it came out in 2020.  There were so (SO!) many drafts, and I was lucky to have input into illustrations (done by the amazing Nneka Myers) as well as a brilliant editor (Sara Sargent) whose insight and honesty pushed me to make BEDTIME BONNET the best it could be. I would love to shorten the publishing timeline by about 6 months – essentially when you're writing a book and hope to get it traditionally published, you're looking into a crystal ball and hoping your idea is still going to be fresh in two years. That can be harrowing.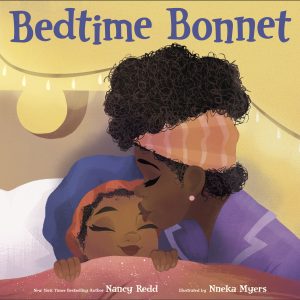 THE BACK STORY
When I first introduced the bedtime bonnet into my daughter's nighttime hair routine, she balked at wearing it, because she thought a nighttime head covering was only for old people like me and Grandma, LOL.  This is understandable because none of the cartoon characters of color on her favorite shows wore bonnets or durags to bed. My mom and I LOVE our bonnets and I wanted my daughter to feel the same way, so I looked for an age-appropriate resource to help normalize and celebrate this facet of Black culture, to no avail. When I came up empty handed, I decided to create one myself and the result is BEDTIME BONNET!
Seeing my daughter evolve from being a reluctant bonnet-wearer to her loving our nighttime rituals and drawing bedtime bonnet fan art alludes to the power of the printed page to promote positivity and pride. I love reading reviews of the book that say, "My daughter never complains about wearing her bonnet now." That just warms my heart and is exactly what I hoped for when I embarked upon this journey!
WHO'S UNDER THE RADAR?
The inimitable and incredible Kaitlyn Wells has an awesome picture book coming out next year that I'm super excited about – it's her debut! Also, I'm obsessed with both of my picture book illustrators, Nneka Myers, who did BEDTIME BONNET and is a gem inside and out, and Charnelle Pinkney Barlow, who is working away on my next book right now!  
THE BUZZ FOR BEDTIME BONNET
BEDTIME BONNET has gotten a lot of great coverage in ESSENCE, NPR, GMA, PEOPLE, and more. Perhaps my favorite bit of buzz was yukking it up with Queen Latifah about bonnets, durags and the book! 
You can see a read-aloud of BEDTIME BONNET here:
More info about Nancy is available on social media @nancyredd and on her website www.nancyredd.com.