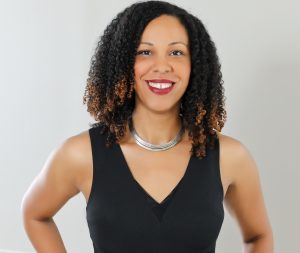 Who better to write science adventure books for kids than a scientist? Dr. Theanne Griffith blended her love of storytelling with her expertise as a neuroscientist and created something magical – The Magnificent Makers chapter book series illustrated by Reggie Brown and published by Random House.
In each installment, friends tackle scientific concepts as well as everyday issues like bouncing back from challenges, working together, managing jealousy. They have fun experiments too. Called "a modern day Magic School Bus," The Magnificent Makers books send kids through a portal into a wondrous makerspace called the Maker Maze. Fantasy. Fun lessons. Friendship. It's no wonder the series is a hit.
Join us in saluting Dr. Griffith on Day 18:
The Journey
I have always had two main passions: science and storytelling. For the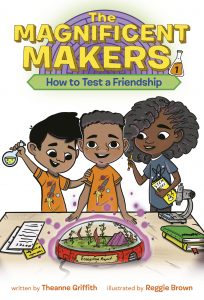 vast majority of my life, I pursued a career in science. I went to college to study neuroscience, and subsequently obtained my PhD. Now I run my own lab at UC Davis as an Assistant Professor. But in 2017, when I was on maternity leave with my oldest daughter, I had an epiphany. I decided it was finally time to pursue my hidden passion of becoming a writer. I started listening to podcasts to familiarize myself with the publishing industry, I attended my first writer's conference, I made a website and created an author email account. And most importantly, I started writing. I wrote some picture book manuscripts but was initially unsuccessful in finding an agent. And then one day, out of the blue, an editor from Random House Children's books emailed me. She was interested in acquiring a STEM-themed chapter book series written by a scientist. After months of discussions, various sample chapters, and a visit to the Random House headquarters, The Magnificent Makers were born. Writing these books has been such a joy, and a dream come true. I've grown as an author, and definitely have become a better science communicator. I can't wait to see what the rest of this journey has in store!
The Back Story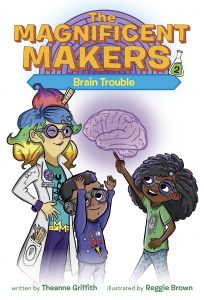 So remember when I said I didn't hook any agents with my picture book manuscripts? Well, that's because I was trying to fit a chapter book style story into less than 1,000 words! It wasn't working. I wanted to tell a story that incorporated science and adventure. I wanted to evoke the same feeling in young readers that The Magic School Bus books evoked in me as a child. AND I wanted the protagonists to be science-loving Black and brown kids, like I was. Once I turned to the chapter book format, things really started to fall into place. I had more room to develop The Maker Maze, a magical laboratory that sends best friends Pablo and Violet on out of this world science challenges. I had space to delve into the topics I wanted to cover, like neuroscience! It was perfect. Nevertheless, I had my fair share to learn. I had to get used to what kind of language I could and could not use. I also had to learn to keep the science simple enough such that it didn't overwhelm the story, but educational enough that kids would still learn cool facts. It has been a process, but seeing kids holding my books, reading them, and doing the experiments found in the back matter is beyond rewarding.
The Inspiration
I find inspiration for The Magnificent Makers in many things, but I am probably most inspired by the fact that there aren't too many books like mine out there. Books that feature kids of color going on amazing science adventures and loving every minute of it. I wanted these books badly when I was a child, and they just weren't available. Consequently, I am deeply inspired by the young Black and brown children I have met who are curious and creative and want to understand how the world around them works.
The Process
I am a morning writer, and if I haven't gotten into a creative flow by around 10:30 a.m., it's unlikely that I will be able to write much that day. I also require silence. I can deal with a certain level of background noise, but I never listen to music when I write, and I can't write in noisy coffeeshops. When I do begin writing, I usually follow a very loose outline. In the case of The Magnificent Makers, I know what the science topic of each book will be, I know what "life lesson" will be the central theme, and I know the science challenge Pablo and Violet will go on. But that's about it. I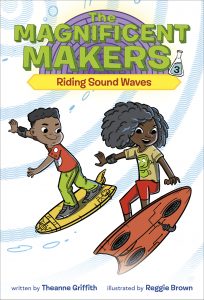 make up the rest as I go. I suppose you could say I'm an organized pantser! One thing I've learned to not do when I am drafting is over-edit myself. I did that a lot when I first started writing the series, and it made me write much more slowly, and not necessarily better. Now I try to just let it flow and edit later. I will even leave certain parts of dialogue blank if I can't find the right word or words. Coming back to it with fresh eyes and a rested mind always helps.
The Buzz
Amazon- Editor's Pick for Best Books Ages 6-8
The Today Show- Neuroscientist mom writes science adventure books for all kinds of kids
NPR- Kids' Books Where Science Is The Adventure
The Parent Scoop- Science is for Everyone
New York Public Radio– A Day of Children's Literature
HereWeeRead Podcast- Interview with Dr. Theanne Griffith
Smith College Grecourt Gate- Neuroscientist Pens (Really Fun!) STEM-Adventure Books for Children
Learn more about Dr. Theanne Griffith at www.theannegriffith.com. You can follow her on Twitter @doctheagrif.