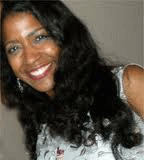 Cathy Ann Johnson describes herself as "a visual, digital, designer, front end developer, in position to roll up my sleeves and dive in fearlessly." Today, we are pleased to present this talented visionary that does it all!
The Journey
My path to children's book development came early. I was in high school and working at a restaurant. Across the street was McGraw Hill Publishing. The owner of the restaurant told me that they published books. Ahhh, I thought. They surly would want to see my artwork. A skinny shy young girl showed up with a larger than life folder filled with works. Looking through thick rimmed glasses and big hair, I clumsily laid the folder on the desk and requested to see anyone that would be interested in seeing my work. That was the beginning…
Working without boundaries has been the biggest challenge. As an African American Woman, I would love the option of designing out of the box stories for children of color. Stories filled with monsters, aliens and more. My biggest award? My nieces, nephews, and family finding my works in school. I love when they run home excited about finding my work in educational books, in the libraries and book stores. BIG SMILES and HARDIE LAUGHS to them recognizing my style.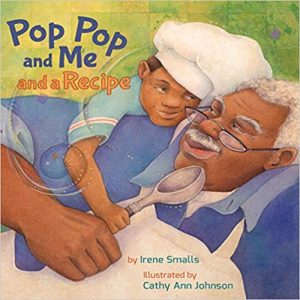 The Back Story
"Pop, Pop and Me and a Recipe!" (Xist Publishing, 2014) written by Irene Smalls, illustrated by me. I really love illustrating this book. I was young and in college when my father unexpectedly died. It was an accident. He drowned and his body was never recovered. It took many years to heal from the tragedy."Pop, Pop and Me!" came at a time when I was ready to reconnect and with the gentle spirit of my Dad. Cooking deserts was one of our favorite activities. The whimsical story, designed from the viewpoint of the child, allowed me to share a childhood activity that my son and other young boys would not have the opportunity to experience.
The Inspiration
DANCER
The Nicholas Brothers
Janet Collins
George Faison
JAZZ
Terri Lyne Carring
Mary Lou Williams
Regina Carter
Melissa Aldana
ACTRESS
Cicely Tyson
UPCOMING INFLUENCERS
Keion Jackson
Lala Watkins
Cozbi A. Carera
Laura Huliska -Beith
Isabelle Follath
SOCIAL MEDIA
Quinta Brunson
Maxine Waters
Jessamyn Stanley
The Process 
• I Break the manuscript up into scenes. I am usually looking for where the book peaks and explore solutions of transitioning the reader through 3 phases of the story, the beginning, the climax and the end.
• My favorite part is thumbnailing the story out. What I consider to be my roadmap of execution. This is the most important part of the story. I will go through several solutions of how to approach the story.
• Character development: I first make a list of who this character's personality and physical attributes.
• After about 100 or more exploratory sketches, a character for the story emerge. I like drawing in ink… It allows me to quickly see and craft out the character. Once I can see the character, I then refine with pencil.
• Funny you should ask about location or office…At this point in my life, I seem to embrace having multiple locations to work from. A Studio in charming downtown Decatur Georgia and my most recent location…Rome and Sinalunga Italy. I love the diversity that each location brings. I find myself influenced by the winding streets, crumbling stucco building, unique stairwells, downtown country charm and more.

The Buzz
5 Star Review
This book is sure to warm your heart. It is an intimate cooking party between a grandfather and his beloved grandson. Written in rhyme the words dance across the pages as the duo peel, beat, twist, pound, scrape, bake and prepare the little guy's favorite Lemon Bar Cake.
Grandfather is patience personified. He smiles, hugs and encourages (even when spills occur) and bakes the special cake to perfection. The book is a celebration of quality time spent together resulting in the fruits of their labor… biting into that delightful yummy dainty. It boasts making a memory that will last forever in the little boy's mind and heart with his amazing Pop Pop.
The water-based painted illustrations seem truly animated and they invite the reader to join in on the fun baking adventure. The author brilliantly includes a recipe for the Lemon Bar Cake on the inside back cover. I highly recommend this book.
How do you measure success? What means the most to you?
What means most to me,
Watching others win. I love reading all the progress and success many African American are currently experiencing within the publishing industry. The biggest award is seeing the pictures of children enjoying books I have contributed to. Being part of a childhood memory and building relationships. 
Under The Radar
Derrick Barnes
Gordon C. James
Vanessa Newton
Kelly Starling Lyons
Rosalina Bradshaw
Mechal Renee Roe
The State of the Industry
I worked 25 plus years in the social expression industry. Many of my designs have been published on bedding, plates, cups and more. With the explosion of the digital industry came less ink on paper products. That being said, I believe you will see more digital books. Here in the US we are experiencing less book stores and smaller libraries. In regard to international markets, printed books are still in demand. In Rome Italy, a Sunday afternoon at the book store is a treat. Beautiful books with diec-uts, unexpected surprises, intelligent use of flitters and foils. Foreign publishing is accelerating, there is an increase of publishing in Japan as well as the middle east.