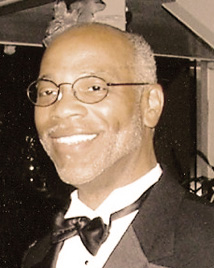 First I would like to say thank you to the Brown Bookshelf staff for recognizing author Deborah Hopkinson and myself for our collaborative efforts on Steamboat School. It is indeed an honor to be selected to participate in the annual February 28 Days Later recognizing those who have contributed to children's literature.
Guest post by Ron Husband
The Journey-
My journey on the path in publishing began over forty years ago. My college education prepared me to be a commercial artist doing illustrations for books and magazines. In 1975 a set of circumstances led me to the Walt Disney Animation Training program at their studio located in Burbank, CA. The program was designed to train young artists to be animators. Drawing was only a part of the training. Storytelling—how best to tell the story by the use of character design, color, music, sound, special effects and acting— became the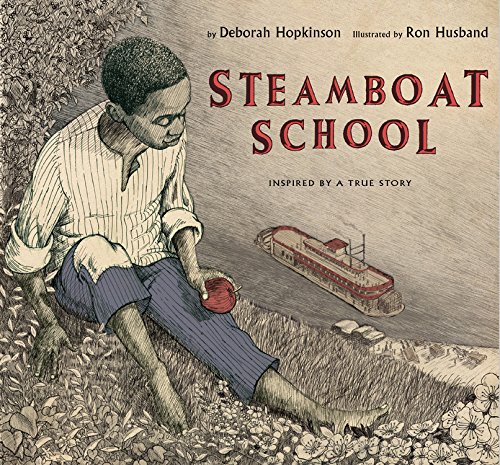 main focus. I was immersed in all aspects of conveying a message convincingly through the vehicle of animation.
In traditional two-dimensional animation, a story is told through a series of drawings,  twenty-four drawings per second of screen time. In an illustration, the story is told in one drawing, but the principles are the same. Those principles are: clear staging, silhouette, proportion, balance, perspective, negative and positive space, recognition and convincing acting or emotion (to read more on these topics see my book QUICK SKETCHING WITH RON HUSBAND).
My on going education in storytelling at the studio led me, in the mid 1980's, to take a night class at the Art Center College of Design called 'Children's Storybook Illustration'. Drawing and storytelling were not difficult for me in the class as I worked with these concepts daily at the studio. How to make contacts with potential editors and publishers were the big take away points for me. Fortunately, I had a' day job' as it took me few years of submitting samples of my work before I was given a freelance assignment.
Over the years I've had the opportunity to do more freelance children's book and magazine illustration, animate for the Disney studio, fill up hundreds of sketch books and do pen and ink illustrations. Little did I know these artistic endeavors were preparing me to illustrate Steamboat School.
The Back Story-
After thirty years I left Disney Feature Animation. Then I began to take projects with other studios. I worked at Disney Television Animation and Warner Brothers Animation.  I had a wonderful opportunity to go 'down under' to the Disney Animation studio in Australia  to do some training and then had an offer to work for Disney Publishing World Wide (DPWW)in Glendale, CA. My job at DPWW as a 'Storybook Artist' was to draw Disney characters for activity, coloring and chapter books.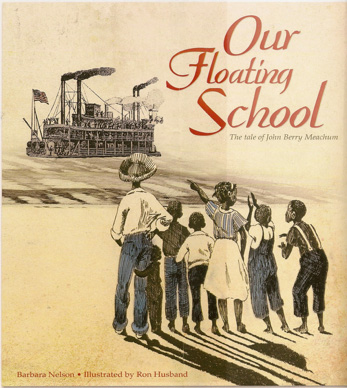 A colleague in the department wrote an original story called OUR FLOATING SCHOOL. The decision was made for me to illustrate the book using my pen and ink cross hatch style. The book would be overseen by our counterpart Disney-Hyperion located in New York. That division publishes hard back titles. Collaboration in our publishing department was responsible for the dimensions, aged paper look and the limited color palette used.
The Process-
Later, Deborah Hopkinson, award winning children's author, was brought in to add her talents to the story. She did a masterful job painting word pictures which stimulated my imagination giving much fertile ground to base my illustrations on.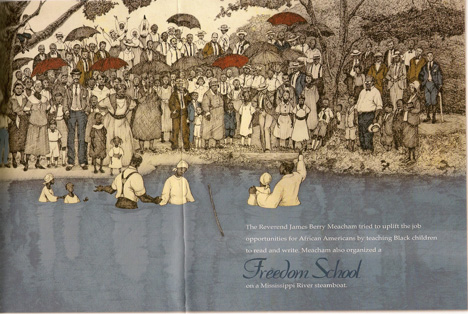 After much research of the the era and the history of John Berry Meachum, it was time to put pencil to paper. The design of the two main characters James and Tassie was my first priority. The steamboats, housing, clothing, furnishings, school and house utensils and more would add to the authenticity of the background of the storytelling. I used thumbnail sketches to visualize the page set up, the same as I would do when working out a scene in animation. Several of theses pencil sketches would be done before settling on the one that would best convey the feeling of the story point. These sketches were shown to the heads of the department Ken Shue, VP of DPWW and our department manager Brent Ford. With their input and ok it was on to the next step.
After all the pages were inked, there was another showing to management. Then I added color in Photoshop for the final step.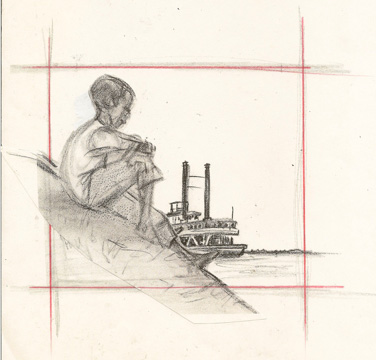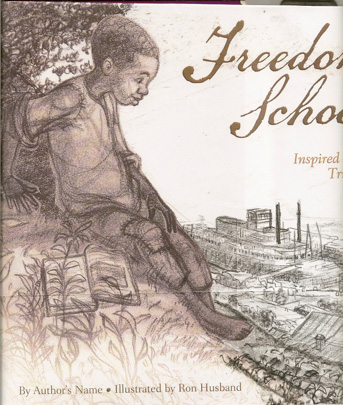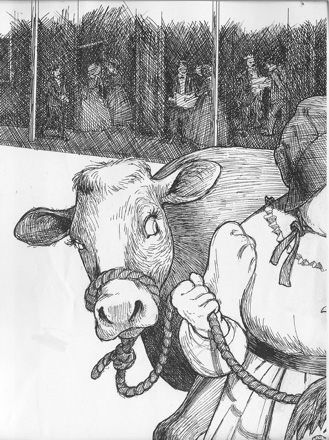 The Buzz-
The 'buzz' about Steamboat School started early for me. I would pin the rough sketches up on a board outside my cubicle and as fellow artist walked by they would often stop and observe the  artwork and though nothing was said verbally, the body language said volumes in positive comment.
And, when I showed Ken Shue a design for the front cover,  he jokingly (prophetically) commented that I should leave room for a sticker (award). And in January, six months before publication, Steamboat School was named a Junior Library Guild selection for 2016 (which includes a sticker). I learned that 95% of JLG selections go on to get positive reviews or awards and anxiously watched to see what would come next.
True to JLG predictions, Steamboat School got a starred review from Kirkus, positive reviews from Laughing Place, Huffington Post, The Wall Street Journal and numerous other publications. It was named one of the Best New Kid's Books June 2016 by The Children's Book Review, Chicago Public Library Best of the Best Book's of 2016, Booklist Online Book Review: Booklist Editor's Choice: Books for for Youth 2016 and from the Huffington Post: Best Picture Books of 2016 Most Powerful-Honorable Mention.
Additionally  the art work from Steamboat School was selected by jury for The Original Art 2016 an Exhibition of Children's Book Illustration by The Society of Illustrators New York, NY which ran from Oct. 26 to Dec.22, 2016.
In closing, I'd like to again, say thank you to The Brown Bookshelf for allowing me the opportunity to talk about the continuing journey of Steamboat School.
RH