"When I was crocheting, I didn't feel jumpy or jittery. I didn't feel like I needed to do something to get attention…Throughout the fifth grade, whenever I felt some kind of bad behavior starting up, I would take out my project and crochet away the urge to do something disruptive."
-Jonah Larson, Author
I'm a knitter. My mother and grandmother taught me to crochet when I was very young, but I've forgotten how and am in a neverending KNIT vs CROCHET battle with my sister, one that can rise to superhero (me) vs. supervillain (her) proportions. But I have to admit that Jonah Larson makes crochet look very, very cool. (OK, so does my sis, but I won't tell her that.)
HELLO, CROCHET FRIENDS is "a celebration of the beauty and power of crochet―specifically, the life-changing benefits this fiber art has brought to one extraordinary boy, 11-year-old crocheting prodigy, Jonah Larson." Jonah began crocheting at age five, and hasn't stopped since. Here to share more of Jonah's story is his publisher, Abby Nies Janowiec:
"As a parent, as a Black person, I'm so proud of you, Jonah."
 -ShaRhonda Knott Dawson, Education Scholar
Background
First, thank you to The Brown Bookshelf for including Jonah Larson, author of Hello, Crochet Friends! Making Art, Being Mindful, Giving Back: Do What Makes You Happy as one of this year's 28 Days Later honorees.
As Jonah's publisher, I was lucky to get to know this incredible young man during the creation of Hello, Crochet Friends!, and since its publication, have been honored by the feedback we have received about the book, particularly from teachers, librarians, and education scholars.
I first heard about Jonah the way many people did—through social media. When Jonah, then an 11-year-old crochet prodigy, went "viral" last winter, my company, KWiL Publishing, was one of several publishers to reach out to Jonah about publishing a book. The story that both Jonah and I were interested in sharing with readers was his life story, and in particular, the role that crochet has played in his life.
In addition to being something that brings Jonah joy and creates a way for him to give back (visit www.jonahhands.com to learn more about his charitable efforts), crochet also changed his life. In his book, Jonah shares with readers that until a teacher invited him to bring his crochet to class, school was not a place where Jonah, who had been diagnosed with ADHD, was finding success. He writes, "I made my teacher cry, I tore up my classmates' work, and I threw my shoes…I didn't want to act up, but I did."
When I speak to educators and young readers about Hello, Crochet Friends!, it is this section of the book that they find most profound. While perhaps pouring paint on the floor and sliding through it on one's belly (as Jonah did) may not be something that readers can relate to, exactly, many of them can relate to getting in trouble at school. And what is perhaps even more fascinating to young readers is how Jonah was finally able to stop "collecting" behavior slips. He writes, "When I was crocheting, I didn't feel jumpy or jittery. I didn't feel like I needed to do something to get attention…Throughout the fifth grade, whenever I felt some kind of bad behavior starting up, I would take out my project and crochet away the urge to do something disruptive."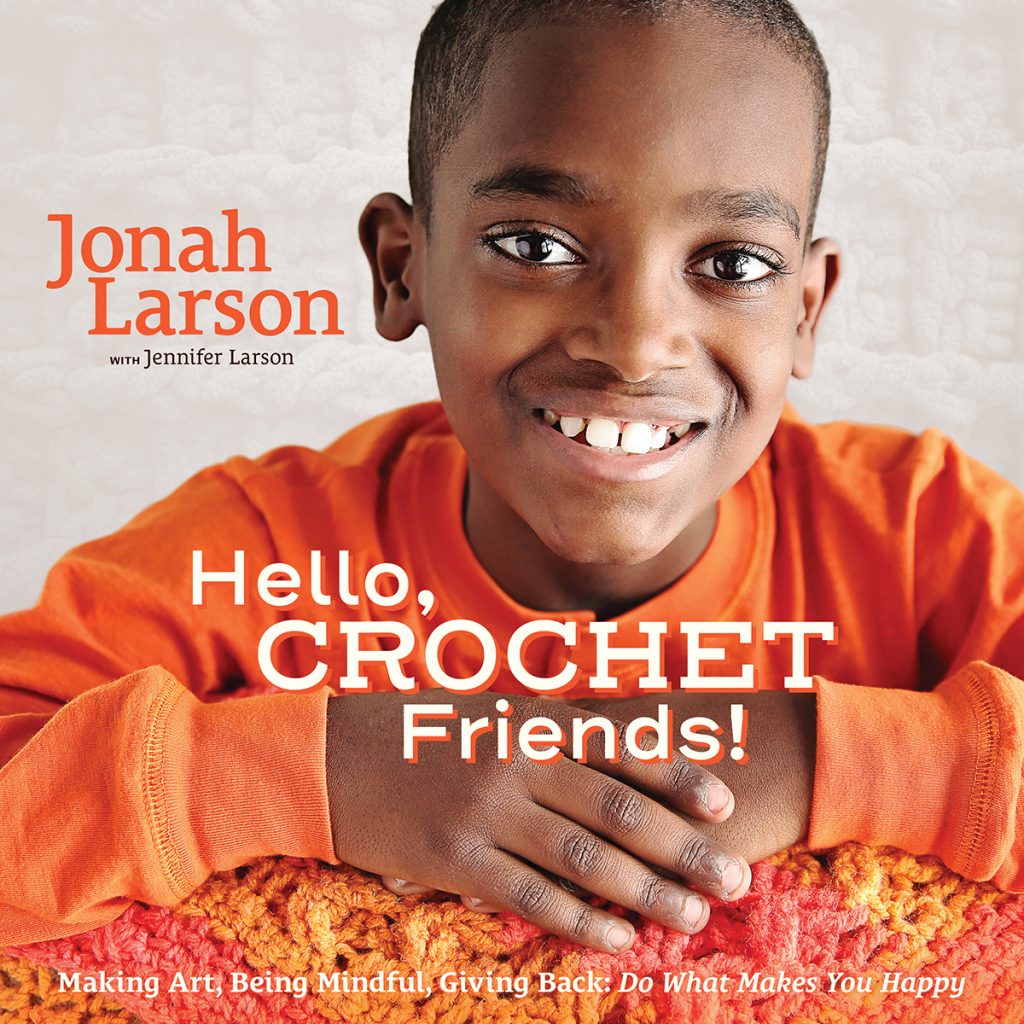 Interview with ShaRhonda Knott Dawson, Education Blogger on the Intersection of Race, Disabilities, & Schools
We asked education blogger ShaRhonda Knott Dawson to share her thoughts on Hello, Crochet Friends!, and we are excited to share her interview for the first time today on The Brown Bookshelf. In the video below she discusses what she finds most powerful about the book:
And here is the full transcript:
"You guys! I'm so excited to give my just really quick, wonderful review of Jonah Larson's Hello, Crochet Friends! book from KWiL Publishing.
It's so good. It's so good. It's so, so, so, so good, and it's—it's good just as a book on its own. It's interesting just to hear about his story and his journey. It's educational because you then get the tools to learn how to crochet at the end…and so just on every level—yes, yes, yes, yes, yes!
As a parent, as a Black person, I'm so proud of you, Jonah. You're so talented and just truly, truly, truly making some Black magic happen with your needles and your thread and your crocheting, and I'm so proud of you.
But also, as an education scholar and disability advocate, quickly in the book I recognized that Jonah had some sort of disability—even though it wasn't out, out there—and I think for teachers and educators you'll pick that up pretty quickly.
And what was so amazing about it, and what I think the power of this book is, is that studies tell us, and they show us over and over again that Black boys are overly disciplined, overly expelled, overly suspended, and that number only gets higher with disabilities. And the longer that it goes on, the more kids start to internalize that message—there's something wrong with them or that they're bad.
And you could see that.
But I believe it was God; I believe it was the spirit of his parents and his ancestors in Ethiopia, but they gave Jonah his tools, his therapy, his way to control his environment in his world and thrive. They gave him crocheting, and that's what he needed—an occupational therapy.
And in education now, we know that there's multiple ways to deal with behavior incidents. One is early detection for possible disabilities. There's also meditation; there's yoga; there's all these things and this is happening, you know, from scholars.
And Jonah discovered that on his own, and he implemented it, and it worked, and it's beautiful, and now he's sharing it with the world. And I hope the world embraces it, and it can also be a tool to help other kids just like Jonah.
Jonah, you rock."
(You can read more from ShaRhonda Knott Dawson on her website and blog, "ShaRhonda Tribune: True Social Justice and Racial Equity is Hard Work," which can be found at: https://sharhondatribune.com.)
The Buzz
Here at KWiL, we are proud that Hello, Crochet Friends! doesn't neatly fit into any one category. It is part autobiography, part how-to. It has appeal to readers of all ages—including Jonah's crochet fans from around the world and school-age children who may never have even heard of crochet. Most importantly, Jonah had an important and powerful story to tell, and he told it well.
His book has received positive reviews from the crochet world, as well as the following honors:
School Library Journal and "A Fuse #8 Production" blogger Betsy Bird wrote this endorsement of the book: "Immigration + crafting = a surprising take on a timely tale. Jonah Larson's story challenges our assumptions about kids with special needs, immigration, and gender roles with a book that is part memoir, part craft book, and all awesome."
Hello, Crochet Friends! was on the 2019 edition of "101 Great Books for Kids" from the Evanston Public Library in Illinois: https://www.epl.org/the-101-great-books-for-kids-2019-edition-is-here/
Hello, Crochet Friends! was nominated for a Cybils Award: http://www.cybils.com/2019/10/2019-nominations-elementary-middle-grade-nonfiction.html
You can learn more about the book and the media coverage of it here: www.hellocrochetfriendsthebook.com or at www.kwilpublishing.com. It is for sale wherever books are sold and is disturbed through Baker and Taylor Publisher Services. You can order signed copies through Jonah's website.
Finally, Jonah will be on the NBC's Little Big Shots this season. His episode will air on March 1st!
If you have any ideas about how to get Jonah's book into more readers' hands, please don't hesitate to contact me! Thank you, and as Jonah would say, "Crochet away!"
Thank you, Abby! And thank you, Jonah, for being such an inspiration!