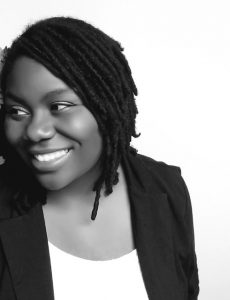 I have all the love in the world for all kidlit writers, but there's always a special tug at my heart at those who maintain a day job in addition to writing. Today's spotlight author is a member of Team Day job. She also writes in that niche area of new adult – where the protagonist is closer to college age than high school. These books are so important and I'd love to see more of them with Black characters.
Welcome, Claire Kann!
The Journey
I started writing NA because that was the closest age demographic I identified with when I decided to be a writer, but publishing wasn't (and still isn't) having it. Writers are advised to age the book up or down. To me, there's a difference between teen (what I would consider 13-18) and young adult (what I would consider 18-24). In American publishing, it's all lumped together. Young Adult stops at nineteen, which is supremely unfair.
I am fascinated by what it means to grow up, with the transitional ages and stages in life. I remember being thirteen, getting my period the day after my birthday, my mom saying, "You're a woman now" and having zero clue what that meant. But I could tell it was important so I repeated it–at school, in a class where everyone could hear me. When I turned eighteen, I said, "Wow, I'm officially an adult" in one breath and said, "I have absolutely no idea what I'm doing" with the next. But my parents told me to go to college so I did–and barely survived my first semester. I'm always striving to capture those moments of profound confusion wrapped in terrifying exhilaration. What's it like grapple with that while also trying to discover where you belong in the world–and realizing you might not be equipped to handle it.
My stories are written in such a way that young readers wouldn't have any issues reading, understanding, and relating to the contents. It might not interest them just yet, but they could read it because the hearts of my stories are always rooted in the same themes.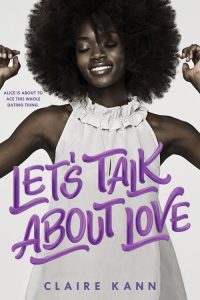 The Backstory
If it weren't for Brandy Colbert, Nicola Yoon, and posting some of my stories on Wattpad, Let's Talk About Love would have been a very different book. I never felt like I wasn't allowed to write about Black girls, but I did believe and internalize the age-old lie–that no would buy my stories, that no one would publish them, that no one wanted to read them.
Seeing Colbert and Yoon succeed on a traditionally published stage changed everything for me. Getting feedback from readers on Wattpad saying that they not only loved my stories but especially loved that my main characters were Black empowered me to keep going and see how far I could take it.
Stories about Black kids, in all their diverse splendor, became my number one priority. I left ambiguity behind, started writing what I knew about–being Black, fat, queer, and trying to just live in a world that maybe didn't really want me in it–and gave everything to my characters so they could experience it too and still get the happily ever after they deserved. LTAL isn't the first traditionally published YA book with an asexual main character, but it is probably the first one whose MC is Black. That might not seem like an extraordinary feat to some, but it definitely feels like one to me.
The Writing Process
I'm used to hustling, working hard and juggling responsibilities.
My first job was working nights and weekends at Target, a month after I turned sixteen and still in high school. After that, I had a full-time job during the day and took college courses, four nights a week for two years straight. All graduating college meant was trading school work for manuscripts. I worked full-time during the day and wrote my stories at night–and in the morning, on weekends, on lunch breaks and on the clock. I forewent any kind of social life for another two and a half years. I made time (and borrowed some) to finish my manuscripts.
And now… I still work full-time during the day. I get paid to write books, but that doesn't provide me with enough income to live on. It doesn't provide me with healthcare insurance. I'm still hustling. I'm still writing on evenings and weekends. I am a vicious outliner who sticks to a schedule because I chose to make writing my part-time job. Writing is my job, not a hobby.
However, a lot of writers will say, "You don't become a writer to make money" and that's also true. I keep going because I still have something to say. I'm not done using my voice to entertain and enlighten through my novels. I write because I love it. But I am getting tired hahaha definitely not as young as I used to be.
 The Buzz about Let's Talk About Love
2018 Goodreads Choice Nomination: Best Young Adult Fiction
2019 Rainbow Book List: Top Ten Pick
Coming June 2019