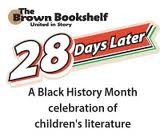 The Brown Bookshelf believes in promoting the work of Black children's book creators year-round. At the same time, we shine a special spotlight on select authors and illustrators during the month of February, in honor of the traditional Black History Month observance inspired by the efforts of historian Carter G. Woodson, who strove to illuminate the vast history and myriad contributions of African Americans at a time when society was particularly resistant to such. Day 23, baby! So let's meet our next honoree.
Personal story! I met Eden (virtually) years ago when she sought me out for freelance editing. So I was really thrilled to find out that she'd gotten her first novel, ROOT MAGIC  published. And how I found out was that Deborah Kovacs, SVP at Walden Pond, mailed me a copy of her ARC. I looked at it and thought, hey, I know that name.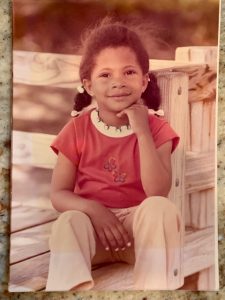 Tracey: How did you decide to start writing?
Eden: The short answer is that I've always been a reader and wanting to become a writer was a natural progression. The long answer is that I wanted to become a writer after I visited a library for the first time as a child. Books have always provided solace and companionship for me. But I didn't know how to become a writer or that I even could. I didn't know anyone who supported themselves as a creative.
So I lost sight of my desire to write. One evening I came home after a particularly stressful day at work, and I just sat at the computer and wrote. I wanted to escape that job, and while I couldn't at the time, I could create my own world and spend a little time there. That was when I knew I wanted to provide that escape for others.
Tracey: So how did you do it? How did you make the jump from something that seemed impossible to published author?
Eden: I've written short stories for years, and I decided I wanted to write a novel. Again, that natural progression. But the idea of writing that many words (upward of 50,000!) was daunting when everything else I'd written before rarely passed the 5,000 word mark. So I signed up for NaNoWriMo and wrote a collection of short stories. From what I'd read, few agents were looking for single author collections at the time, much less ones that were essentially one full storyline. So I decided to make these individual stories into a novel, and I wrote more to connect them into one narrative.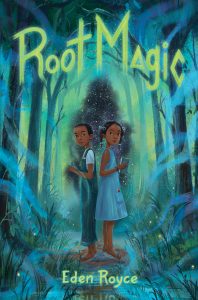 After trying and failing at online pitch calls, I joined Writing in the Margins, which was a mentorship for writers of color. Over that summer, I polished my manuscript. I'm so grateful to Justina Ireland, who created and ran Writing in the Margins, and Saundra Mitchell, who was my mentor for the program, for their input. After the mentorship, I was able to get an agent who found a home for my manuscript.
Lots of edits, a title change, and one publication delay later, Root Magic is now out in the world!
Tracey: Good 'ol NaNoWriMo. And yes, shouts to Justina and Saundra! This is clearly not easy work, so who or what inspires you to keep going?
Eden: The love of storytelling and the knowledge that so many of the stories of my ancestors haven't been told.
Tracey: Tell us a little about how you work.
Eden: I'm a hybrid writer, somewhere between plotting and pantsing. I usually have some sort of loose, handwritten outline of what I think should happen in the manuscript but it isn't set in stone. It gives me a plot structure but allows space for me to veer off in other directions if the story calls for it. I'll dab on my fragrance of choice to set the mood I want to create, then get to work on my laptop. My ideal place to write is my office with the door closed because I have a cat that likes to be too involved in the process.
Tracey: This is literally the first time I've ever heard a writer using scent to help with their process. Amazing. And don't we all have a little furball who thinks they're running the show? Alright, this is your chance to brag about yourself.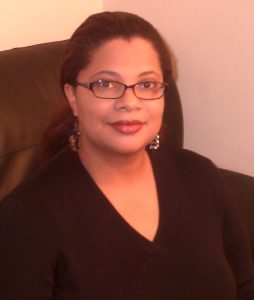 Eden: Oh it's so hard to brag about myself! However, I do have a braggable moment that I still can't believe happened with Root Magic. One of my absolute favorite authors blurbed my book! The amazing Jewell Parker Rhodes, whose work I've been reading for years, doesn't give blurbs often, so this was an incredible honor. She said this about my book:
"A terrific, wondrous glimpse of Gullah Geechee culture, richly detailed and inviting. Blending familial and ancestral lore with folk magic, Royce's novel set in a racist South, resonates powerfully. Spiritual and emotional truths are revealed. Root Magic—an original, compelling must-read."
– Jewell Parker Rhodes, New York Times bestselling author of Ghost Boys
While I rarely read reviews, my husband is kind enough to curate them for me. Here are links to a couple of my favorite reviews of ROOT MAGIC that I've seen.
Fiyah Literary Magazine of Black Speculative Fiction
Bulletin for the Center for Children's Books
ROOT MAGIC also made the Winter 2020 Indie Next List
Find Eden online here:
Website: http://edenroyce.com/
Twitter: @EdenRoyce
Instagram: @edenroycebooks