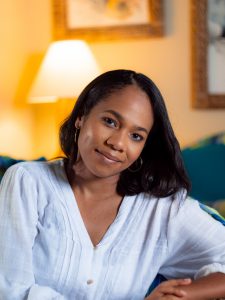 Today's author is a mirror author for me. One existence by day, another by night. No, we're not superheros (or are we?) but children's lit authors with day jobs!  There's a special type of focus needed when the rigors of the day job have to be sloughed off in order to engage with an entire world of characters later on. Out of that focus came Sarah's debut, Where the Rhythm Takes You, a contemporary YA that's based on Jane Austen's Persuasion.
You're curious, right?
On Day 23 of this year's campaign, we're excited to feature, Sarah Dass. Check out the video where Sarah invites you into her world.  Spoiler, she says the book is partially based on her own life experiences, which leaves me with only one question – does she have an Ex that's an international pop star? Hmmm…
The Buzz
"Inspired by Jane Austen's Persuasion, Dass interweaves the allure of the source material with the warm tropical winds and scents of Tobago. Readers, even those unfamiliar with Austen's work, will appreciate this cast of characters with believable motivations and fleshed-out ideas as they realize what they want and embrace second chances for love and for new adventures."  — Publishers Weekly (starred review)
"What a delightful debut! It's like the perfect island vacation: breezy, warm, romantic, lots of soul searching, and full to the brim with love." — Jasmine Guillory, New York Times bestselling author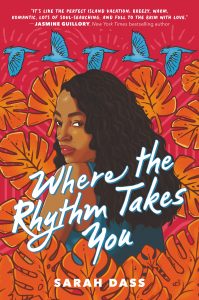 "Where the Rhythm Takes You
 is a literary breath of fresh air! An Austen remix filled with a vibrant cast of characters against the lush backdrop of the small island of Tobago, readers will root for Reyna as she navigates grief, dreams big, and falls in love all to the tune of sweet soca rhythms." — Ibi Zoboi, 
New York Times
 Bestselling Author of 
Pride
"Reyna's voice rings clearly from the very first page, painting a beautiful and heart-wrenching picture full of grief, hope, and love. Readers will root Reyna on through it all, wishing for a future for her that's just as beautiful as Tobago. 
Where the Rhythm Takes You
 sparkles brightly like the Caribbean Sea. Get ready to dive in!" — Maika Moulite and Maritza Moulite, authors of 
One of the Good Ones
Engage with Sarah
Twitter: @sarahdassauthor
IG: @sarahdasswrites