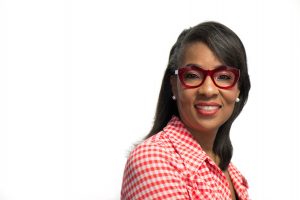 Alice Faye Duncan has been creating children's books for more than two decades. That's a testament to her faith, hard work and creativity. From Willie Jerome, the tale of a trumpet-playing boy whose sister believes in his talent, to Honey Baby Sugar Child, a mother's sweet ode to her little one, Alice Faye celebrates and centers us. No wonder that her 2018 picture book, Memphis, Martin and the Mountaintop: The Sanitation Strike of 1968, was highly anticipated and delivered on its promise. Best book lists, starred reviews, the Coretta Scott King Illustrator Honor, the accolades keep coming. Her next book, A Song for Gwendolyn Brooks, debuted to acclaim last month. Alice Faye has gathered lots of wisdom along her writing journey. Here, our Day 25 honoree talks about her path and passes the lessons on:
BIG DREAMS require long seasons to be born.  It took ten years to write Memphis, Martin and the Mountaintop.  Combing through Dr. King's life across the decade, I gained wisdom that impacted my writing and worldview. I call this education—5 Lessons from the Mountaintop. I encourage writers to consider these tenets as they pursue a life of words. Write ON!
Lesson #1
Take Your Orders from a Higher Power
Dr. King graduated Boston University with opportunities to preach on the East Coast in 1955.  Friends wanted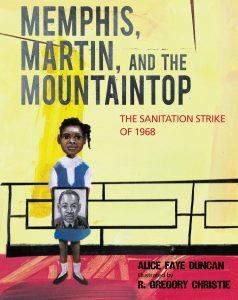 him to stay in Boston or move to New York. He followed that "still small voice" connected to the Spirit. It charged him to return to his native land—the American South to dismantle racial inequality.  This was not a safe or convenient choice. And yet, he surrendered to the hard task. I gather from Dr. King that a path without resistance does not lead to a consequential destiny.  Neither is writing what is easy. Like King, we must use our talents to answer the High Call wooing us. Be daring. Write a protest novel. Write about injustice.  Write about Black History. Write each story well and let Providence do the rest.  
Lesson #2
Make Plans With the End in View
When Dr. King met Coretta Scott in Boston, he shared his grandiose dreams on the first date.  After graduation he would go south to help Black Americans abolish the restrictions of Jim Crow.  This dream resonated with Coretta, who had waged her own protest in Ohio, when the Antioch school district would not allow her to teach white students.  Martin married Coretta and they made plans with the end in view.  They would tackle injustice and that is what they did.
In Montgomery the Kings helped to abolish segregation on public transportation.  In Washington D.C. they helped to inspire the signing of the 1964 Civil Rights Act.  In Selma, they marched against voter suppression and voting laws were changed in 1965. 
I approach writing with the end in view.  I draft my stories in a spare outline. I know the beginning, middle and ending before I start. I am never sure how many drafts will be required. The key to completing a successful story is vision.  Before I begin writing, I SEE the book on a library shelf or securely in a reader's hands.  
 Lesson #3
Expect Miracles and Chance Encounters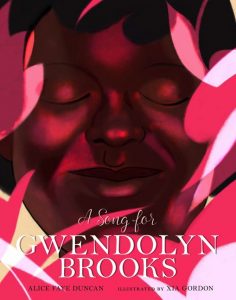 When Dr. King left Atlanta for graduate school, he forged ahead with his vision. However, miracles and chance encounters shaped the legacy that became his life. For instance, Martin found Coretta by some cosmic crossing.  They were Black scholars from Georgia and Alabama, who met in Boston through a friend. Without the steel-still calm of Coretta, who buoyed Martin through bouts of doubt, America would have no King.  Without King's chance meeting with Ella Baker, there may have been no American Civil Rights Movement.  It was Ella Baker, a leader in the NAACP, who spoke to the giant in him and encouraged King to use momentum from the Montgomery boycott to disrupt segregation not in the South alone, but the nation.
When writing Memphis, Martin and the Mountaintop I began the research only to discover my neighbors and friends marched with Dr. King.  I interviewed these activists and their lives became the breath of my book. No alliance had to be established. I knew the activists already.  Cosmic?  Yes! As a Memphian, who lived surrounded by people and landmarks from the movement, it feels to me that Memphis, Martin and the Mountaintop was the plan of Providence.  I say that the book was mine to write.  What books are in your future? What is your creative and cosmic destiny?
Lesson #4
Recruit a Dream Team
Dr. King formed the Southern Christian Leadership Conference (SCLC) to achieve racial equality under the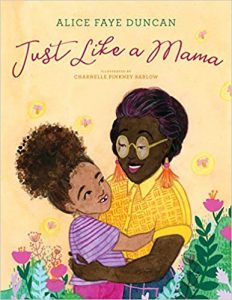 banner of non-violent action. While King was an intellectual and orator, he needed the gifts of others to make his organization effective. He recruited disparate personalities like Ralph Abernathy and Jesse Jackson. Abernathy was an earthy preacher, whose manner appealed to the rural Southern masses. Jesse Jackson was a youth minister, handsome and charismatic. He inspired college students to join the struggle.  With their differences, the three activists made the SCLC a powerhouse for social change.  And in America, great walls of injustice tumbled.  
I surround myself with a dream team of writers, who critique my work and offer advice that leads to publication.  I was a member of the Griot Shop in the 1990's.  Arthur Flowers, a student of John O. Killens led the writing circle. I published three picture books as a workshop participant. When the group disbanded, I stayed in contact with Griot writers. They remain my first readers and provide sage evaluations of my work. I could not write successfully without a team of critical readers. Thus, I advise aspiring creatives to join the Society of Children's Book Writers and Illustrators (SCBWI). Membership puts them in direct contact with critique circles that can reap a harvest of publishing success.    
Lesson #5
Use Your Power and Privilege to Help Others
Dr. King was born on Auburn Avenue in Atlanta, Georgia. At one time, his neighborhood was the richest Black community in the world.  His father was a pastor and graduate of Morehouse College. His mother was a teacher and graduate of Spelman. Dr. King never experienced a dearth of finances.  However, his comfortable life did not make him impervious to the vile reality of segregation. The leader was intentional to use his middle-class status and power of mind to serve Black people, "his people", relegated to second-class citizenship.
I approach writing in this way.  Each book that I publish is an effort to use my wealth of words to serve children knowledge and inspiration. Every book is a gift given to me by the Creator and I offer that gift to others.  I walk in purpose and receive soul satisfaction as I share my words from book to book.
Meditate on this. How can we use lessons from Dr. King's life to serve our publishing goals?  Now is the time for awakened dreams and promises fulfilled. Sharpen your pencils. RISE UP. Let us begin.
Learn more about Alice Faye Duncan at www.alicefayeduncan.com. Her forthcoming book, Just Like a Mama, will debut in January 2020 and is available for pre-order now.