A visit to Amber McBride's web page is a trippy visual journey with the author walking through what looks like a misty lane through a thick forest. It makes me shiver even though she's sleeveless in the bright sunshine.
Visual journeys are today's featured authors specialty. Her debut novel, Me (Moth) is a YA in verse about grief, identity and first love.  Today's teen reader requires truth and when given that truth in verse, there's a beauty to tapping into pain. With an MFA in Poetry and a BA in English, Amber McBride seems especially tapped into the words that give voice to contemporary teen readers. Excited that she's a fellow JMU alum, putting that good Madison degree to work teaching at University of Virginia.
Today's honoree is putting in work!
I'm honored to showcase our final 28 Days Later author, Amber McBride.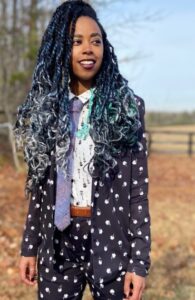 The Buzz
FINALIST FOR THE 2021 NATIONAL BOOK AWARD FOR YOUNG PEOPLE'S LITERATURE
2022 Coretta Scott King John Steptoe Award for New Talent Winner
A 2022 Willam C. Morris YA Debut Award Finalist
A BookPage Best Book of 2021
A Best Book of 2021, Shelf Awareness
An NPR Best Book of the Year, 2021
A School Library Journal Best Book of 2021
A Time Magazine Best Children's Book of 2021
People magazine's Best Children's Books of 2021